M A I N N E W S
Lahore Log
By Raj Chengappa


Balle balle! People power on Pak doorstep

The Pakistan General Election is turning out to be a test of the country's political maturity and democracy. Raj Chengappa, Editor-in-Chief, The Tribune Group of Newspapers, captures the heat, dust and flavour as the historic elections reach the climax
Entry by foot, mix masala & 'Urdinglish'
"Entry by air or by foot" was the cryptic stamp on the visa issued to me by the Pakistan High Commission in Delhi to cover the last mile of the 2013 General Election for which voting happens on Saturday. From Chandigarh it made more sense for me to drive to Amritsar and then enter "by foot" via the Wagah border late Thursday afternoon. Pakistani immigration officials whizzed me through the formalities and as I stepped out I noticed that Lahore began at the check-post itself.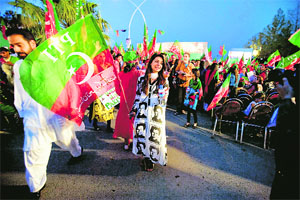 Poll party

Imran Khan's supporters at an election rally in Islamabad. — AP/PTI
It was the last day of campaigning and the streets, including Lahore's famed Canal Road, were festooned with colourful flags and hoardings of the three main political parties.
Portraits of front-runner Nawaz Sharif, the former Prime Minister and head of the Pakistan Muslim League - Nawaz (PML-N), stared out from a blaze of green with his election symbol, the tiger, painted in a gaudy yellow.
Banners of the Pakistan Peoples' Party Parliamentarians (PPPP), which headed the outgoing ruling coalition, had the youthful Bilawal Bhutto Zardari against the backdrop of a portrait of late Benazir Bhutto, his mother and a former
Prime Minister.
Star cricketer-turned-politician Imran Khan's Pakistan Tehreek-e-Insaf (PTI) though took Lahore by storm. Imran had ensured that not just street poles but most public carriers, including auto-rickshaws, carried his banners and street vendors sold T-shirts with his face and campaign line "Save Pakistan" emblazoned on them. Local radio stations played advertisement promos of Imran imploring voters to support him in his quest for bringing change. Like President Barack Obama, Imran also used social sites on the Net and text messages to spread the good word.
Everyone, including my taxi driver Mohammed Moazim Khan, had predictions about the outcome of the elections. Moazim Khan gave both the PML-N and the PTI a 50:50 chance of capturing Punjab.
As he spoke, he tuned in to an FM channel on the radio that belted old and new Hindi songs. The disc jockey, who spoke seductively with what can only be described as "Urdinglish", said: "Hello this is Mix Masala with 'balle balle' music just for you!" Sounded like back home.
Of metro buses & 'We Love You' slogans
Since Thursday was the last day for campaigning, I decided to attend a rally being addressed by Nawaz Sharif. On way to his headquarters in Lahore's Model Town, the taxi driver pointed with great pride to the brand new bus rapid transport called Lahore Metro Bus.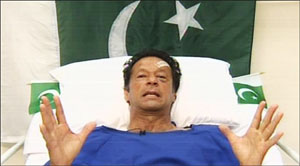 padded up

A video grab of Imran Khan addressing a rally from hospital bed in Islamabad.
The first section, which was inaugurated this February, covers a 27-km route with 29 stations that link dozens of residential and commercial localities along the city's main artery. Coloured a post-office red, the buses run on eco-friendly CNG, ply at regular intervals and are turning out to be a boon for the common man saving both time and money.
Since it was built by the Punjab provincial government, ruled till recently by PML-N Chief Minister Shahbaz Sharif, Nawaz's younger brother, it figures as a major achievement in their party's election strategy.
At Model Town, there are rows of Land Cruisers and Prados that line the PML-N residential headquarters and given the threat by extremists to Pakistan politicians, security is tight. I hadn't met Sharif for five years — the last being in 2008 when I covered the previous General Election — but the consummate politician that he is, he greeted me by name and shook hands warmly. Along with other waiting media, we were ushered into a meeting he was having with representatives of Pakistan's minorities that included Hindus, Christians, Sikhs and Parsis.
Nawaz gives them a patient hearing allowing each of the leaders to speak. The minorities constitute around 4 per cent of Pakistan's population. In a tight race, every vote counts and Sharif made sure that the event was covered live on television. When Bishop Yaqub Paul of Lahore spoke, apart from asking for reservations for minorities, he talked of a recent campaign rally of Nawaz in which the PML-N leader, addressing a young audience, said: "I love all of you." Paul, much to the amusement of the audience, said: "We all love you, Nawaz."
When it was Nawaz's turn to speak, he began by saying: "There are Pakistani Hindus here, Pakistani Christians, Pakistani Sikhs, Pakistani Parsis and I am a Pakistani Muslim. But we are all Pakistanis." It touched an instant chord with the audience. He said he had taken down all their issues (he actually did in a notebook) and that he would take action if he came to power.
He also used the occasion to talk of friendship with India and how the two countries "should sit down on the table" and talk about all contentious issues. Deftly he mentioned how though he was for friendship with India, it was Gen Pervez Musharraf who derailed the process with the Kargil incursions.
If voted to power, Nawaz said he would pick up the threads from where he left off.
World Cup, atom bomb & bullet trains
With extremists bent on instigating violence, the elections have already resulted in 121 people losing their lives. On the final day of the campaign, the interim Prime Minister warned all party leaders against holding rallies as intelligence agencies had indicated they would be targeted. Nawaz Sharif had scheduled three rallies for the final three hours. When the warning came, his core team went into a huddle with him. They decided that whatever the risk, word shouldn't go out that Nawaz was afraid of extremists and that he would address at least one of the rallies.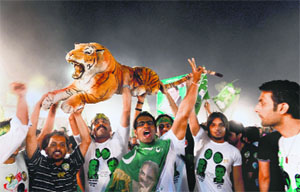 No paper tigers

Nawaz Sharif's supporters with the party symbol. — AFP
They chose Samanabad, a town in Imran Khan's constituency, as the one that Nawaz would attend to prove a point. As his convoy of Prados and Land Cruisers raced through the streets of Lahore, some of them extremely narrow, it was a miracle none of them met with an accident. At the rally venue, Nawaz's car was mobbed by flag-waving supporters on motorcycles who yelled: "Pakistan's sher (tiger) has arrived."
As a fork-lift (similar to the one from which Imran Khan fell down) took Nawaz to the podium, the music went up several octaves and the crowd roared waving the green flags of the party.
The rally itself bore a carnival atmosphere reminiscent of T-20 cricket matches with even Nawaz pausing during his speech to allow jingles of his campaign being played as the crowds danced and sang along raising stuffed tigers they were carrying. His empathy with the audience was obvious. Nawaz had an interactive style similar to that of India's Narendra Modi, getting the audience to affirm or cheer statements he made.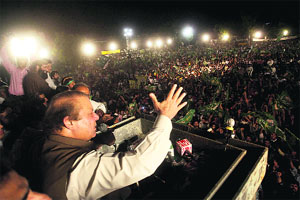 Fervent appeal

Former Prime Minister Nawaz Sharif campaigns in Lahore. — AP/PTI
Nawaz's campaign managers ensured that the crowd was largely made up of youth to counter the notion that Imran had captured this section of the voters. The PML-N leader spent much of his time rolling out schemes that promised jobs for the young, soft loans to permit them to set up business and better educational facilities. While acknowledging that Imran won for Pakistan the World Cup, Nawaz said: "Remember, I gave Pakistan its atom bomb."
Knowing that his speech was being telecast live across the country, Nawaz also appeared keen to be seen as a great unifier of the country rather than as a leader from Punjab. So he promised that if he came to power, he would start a "bullet train" from Lahore to Karachi (to appeal to the Sindhis), make Gwadar port into a Dubai (directed towards the Balochis), apart from building motorways linking all provinces of the country.
In contrast on the final day of the campaign, the other key contenders stuck to addressing their supporters over live video telecast. From his hospital bed in Lahore, Imran Khan, with the Pakistan flag draping his pillow, addressed over video a massive rally of supporters in Islamabad.
Not to be outdone, Bilawal Bhutto Zardari addressed PPPP rallies in Pakistan live via video from Dubai, where he had been whisked away ostensibly because of threats to his life. So did, Altaf Hussain, the Muttahida Quami Movement (MQM) chief, who addressed his supporters from London via video.
Political maturity & change vs experience
Two of Lahore's most prominent citizens that I spoke to believed that the General Election signalled a turning point for the country. Fakir Syed Aijazuddin, the former principal of Lahore's famed Aitchison College, believed the big message from this election was "the political maturity of the country. That democracy was here to stay despite the threats from the Taliban, despite political machinations and despite the Army."
Pakistan's most respected business leader Mian Mohammad Mansha, chairman of MCB Bank Limited, felt "it was an electrifying election campaign and the result would be too close to call" especially with the popularity of Imran Khan growing.
For him, the key factors were the change that Imran was promising with his "Naya Pakistan" slogan and the experience that Nawaz Sharif projected in his campaigns to pull Pakistan out of the rut that it has fallen into. It's a difficult choice that the Pakistan electorate has to make.