A panchayat zone with no eligible candidate!
Fazilka, May 10
The decision by the State Election Commission to hold elections on the basis of the 2001 Census, instead of the 2011 exercise, has resulted in the Hasta Kalan (reserved for Backward Class) panchayat samiti here going without polls.

At 21, she is the youngest in fray in Muktsar
Fattanwala (Muktsar), May 10
A labourer by profession, 21-year-old Rajpal Kaur is the youngest candidate contesting the panchayat samiti elections from Muktsar district. She is a People's Party of Punjab (PPP) nominee from the Scheduled Caste (woman reserved) zone Chak Jawahrewala.
Rajpal Kaur
Poll has little meaning for this village
Bathinda, May 10
Residents of Kanakwal village have not been showing the kind of interest they earlier used to in the zila parishad and block samiti elections. In fact, they have completely boycotted the poll — and rightly so! When the rest of Punjab is preparing to elect new representatives to the panchayati raj institutions, these villagers have been awaiting relocation to some other village, farther from the Bathinda refinery.
ballot boxes reach state

Ballot boxes kept at the Mini Secretariat in Ludhiana.
Photo: Inderjeet Verma

Over 35,000 ballot boxes have been procured from Rajasthan and Haryana for the zila parishad and panchayat samiti elections scheduled for May 19

State Election Commissioner SS Brar said 18,910 ballot boxes were procured from Rajasthan and 15,867 from Haryana

Brar said as more booths needed to be set up for these elections, it was not feasible to use electronic voting machines due to their limited number
Text: Shivani Bhakoo

Bhaniarawala, 7 others held guilty of sacrilege
Ambala, May 10
The court of Chief Judicial Magistrate AK Jain today held Baba Piara Singh Bhaniarawala and seven others guilty in two cases registered against them for hurting the religious sentiments of the Sikh community. Two FIRs (No 49 and 61) were registered against the controversial dera head and his 15 followers by Punjab's Ropar police at the Morinda police station in 2001.
Punjab gave false affidavit to SC: Cong
Chandigarh, May 10
Punjab Congress Legislature Party (CLP) leader Sunil Jakhar today accused the Punjab Government of submitting a false affidavit in the Supreme Court through the Home Ministry stating that it had constituted a police establishment board, police complaint authority and a state security commission.
Attack on Guruharsahai MLA
Congress charges found to be false, says police
Ferozepur, May 10
The Inspector-General of Police (Bhatinda Zone), NS Dhillon, today claimed that the allegation by Congress MLA Rana Gurmit Singh Sodhi regarding a murderous attempt on his life during a clash with Akali leaders near Chaupati village in Mamdot had been found to be false by the special investigating team (SIT) set up to probe the incident.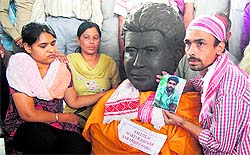 Tight security for Sarabjit's bhog
Amritsar, May 10
A bevy of dignitaries, including Chief Minister Parkash Singh Badal and Deputy CM Sukhbir Badal, are expected to attend the bhog ceremony of Sarabjit Singh at his native village Bhikhiwind in Tarn Taran district tomorrow. Lodged in a Lahore jail, Sarabjit was brutally attacked by jail inmates.

Partha Baruah (R), an artist from Assam, presents Sarabjit's bust to his daughter Swapandeep in Amritsar on Friday. A Tribune photograph

Memorial row: Takht chief's decision final, says SGPC
Amritsar, May 10
Avtar Singh Makkar, SGPC president, today said any decision taken by the Akal Takht chief, Jathedar Gurbachan Singh, on the Operation Bluestar Memorial controversy will be final.
Speaker's outburst leaves UT police perplexed
Chandigarh, May 10
The Chandigarh police finds itself in a tight spot after having posed some "unsavoury" questions to Punjab Assembly Speaker Charanjit Atwal regarding a case in which 15 Congress MLAs were booked for extortion and assaulting a head constable in the Vidhan Sabha complex.
Regulatory body for safe drinking water announced
Chandigarh, May 10
Punjab Chief Minister Parkash Singh Badal today announced the setting up of a "Drinking Water Quality Testing Regulatory Authority" to ensure adherence to the prescribed quality norms for potable water supply.
Vijender may be let off the hook
Patiala, May 10
Having failed to find concrete evidence against boxer Vijender Singh, the Punjab Police is unlikely to challenge the court orders restraining it from conducting drug tests on the pugilist.
SLIET shuts down for a month, students asked to vacate hostels
Sangrur, May 10
The authorities of the Sant Longowal Institute of Engineering and Technology (SLIET), Longowal, today closed the institute for a month and the students were told to vacate the hotels and leave the campus. Besides, the authorities also postponed the SLIET Entrance Test (SET)-2013 for a month.
To sell surplus power, CM gives nod to trading company
Chandigarh, May 10
Punjab Chief Minister Parkash Singh Badal today gave the nod to Punjab State Power Corporation Limitd (PSPCL) for establishing a power trading company to sell surplus power, which is likely to be generated from the upcoming thermal plants in the state, to other states.


Proceed against sellers of nazool land: HC
Chandigarh, May 10
The Punjab and Haryana High Court has set a six months' deadline for the State of Punjab to complete proceedings against sellers and buyers of nazool land.


A five-year-old girl was brutally tortured and raped by a youth last night.
A prisoner on parole, Dharminder Singh (35), was today shot dead allegedly by his brother-in-law Jasbir Singh along with one Bant Singh, both residents of Mehlan village. A case has been registered against the accused.
Three persons allegedly attacked a journalist of a Punjabi daily, Avtar Singh Chhajli, with a hammer and a 'gandasi', injuring him seriously near his residence here today. He was admitted to the local civil hospital, from where he was taken to Government Rajindra Hospital, Patiala.
An elderly woman, Lajja Devi of Agampur village, was duped of 260 gm of gold by two people here yesterday.