Directions on notebooks revoked, govt tells HC
Chandigarh, May 8
The Punjab Government today informed the Punjab and Haryana High Court that directions issued to government schools to ensure the purchase of practical notebooks by students from particular publishers have been revoked.
Zila Parishad and Panchayat Samiti Elections
Ruling SAD leaders' kin eager to hop onto political bandwagon
Chandigarh, May 8
Firmly entrenched in power, Akali leaders now want their kith and kin to be part of the grassroots political system. A number of relatives of SAD ministers, legislators and senior leaders are contesting the zila parishad elections while those of Congress leaders are staying away.
Malout
Liquor owned by Akali leader seized
Muktsar, May 8
The Excise and Taxation Department today seized a canter carrying 484 beer and 19 liquor boxes in Malout.

Fatehgarh Sahib
After Cong-PPP poll pact, going gets tough for rivals
Fatehgarh Sahib, May 8
As the Congress and the People's Party of Punjab (PPP) have reached a consensus on fielding of common candidates for the zila parishad and panchayat samiti elections, it would not be a smooth sailing for the Shiromani Akali Dal (SAD) nominees in the district.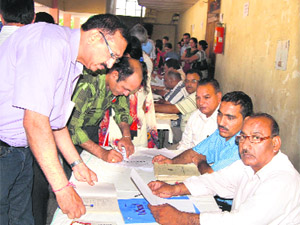 Election officials during a training session for the May 19 zila parishad and panchayat samiti elections, in Jalandhar on Wednesday. Tribune photo: Malkiat Singh
Patiala
SAD MLA's kin made poll official
Patiala, May 8
Congress leaders in Ghanaur are up in arms against the district administration for posting local SAD MLA Harpreet Kaur Mukhmailpur's brother-in-law as assistant returning officer for the forthcoming zila parishad and panchayat samiti elections.
Muktsar
CPI has most illiterate candidates
Muktsar, May 8
Literacy does not seem to be the criterion for selecting candidates as far as the zila parishad elections are concerned. A perusal of the affidavits submitted by the candidates to the district administration revealed that nearly half of them can only write their names and that too in Punjabi.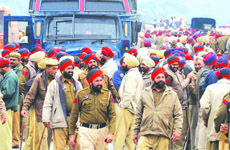 37% booths declared sensitive in Sangrur
Sangrur, May 8
Of the 960 polling booths set up for the zila parishad and panchayat samiti elections in Sangrur district, 37 per cent have been declared sensitive and hypersensitive.


3,681 policemen to be deployed

Succession row: Namdhari Sangat to protest on May 15
Ludhiana, May 8
Followers of the Namdhari sect loyal to Thakur Dalip Singh plan to intensify their fight with their "opponents" at Bhaini Sahib, the sect's headquarters.
Moga Jan Aushadhi store flouts norms
Moga, May 8
Irregularities and violations of rules have come to fore at a Jan Aushadhi drugs store run by the Red Cross Society on the premises of the district hospital in the city.
Synthetic drugs making their way into region
Chandigarh, May 8
The recovery of 10.5 kg of mescaline from the possession of Simranjit Kaur and her relatives near the Urban Estate, Patiala, on Sunday has sent the Punjab Police in a tizzy.
Six-laning of Beas to Kartarpur stretch soon
Amritsar, May 8
Following a letter from Amritsar MP Navjot Singh Sidhu, the Union Ministry of Road Transport and Highways has decided to execute the six-laning of national highway stretch from Beas to Kartarpur on the Amritsar-Jalandhar section under public-funded EPC mode of execution.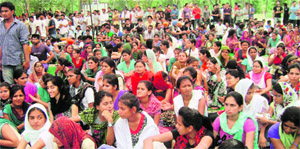 Attempt to murder charges slapped on SLIET students, protest on
Longowal (Sangrur), May 8
The Longowal police has booked an unspecified number of students of Sant Longowal Institute of Engineering and Technology (SLIET), Longowal, for resorting to violence on campus on Monday. No one has been arrested by the police so far.
Students on a dharna near the Director's residence on SLIET campus in Longowal on Wednesday. Tribune photograph

Director's effigy burnt
Sangrur, May 8
Members and activists of the Naujwan Bharat Sabha (NBS) and the Punjab Students Union (PSU) today took out a protest march in Longowal, supporting the protest marked by students of Sant Longowal Institute of Engineering and Technology (SLIET). They also burnt the effigy of the Institute Director.
Ludhiana chemists to go on strike on May 10
Ludhiana, May 8
On the call of the All India Organisation of Chemists and Druggists, Ludhiana Distict Chemists Association will go on strike on May 10. There are 3,900 chemists in Ludhiana and over 8,000 in Punjab.
Liquor firm's licence cancelled
Muktsar, May 8
The excise and taxation officials yesterday cancelled the licence of the local Unique Wine Developer Ltd (L-1) located on Malout Road here. Deputy Excise and Taxation Commissioner (DETC), Ferozepur, Jaspal Garg said, "There was a discrepancy in the official and physical stock available at the godown of Unique Wine, Muktsar, and they were issued a challan by our officials in this regard. They were summoned today at my office and their licence was cancelled after they failed to produce the required documents."
Teachers will have to spend 5 hrs in college daily
Ludhiana, May 8
Government college teachers will now have to spend at least five-and-a-half hours at their respective colleges and the principals concerned will have to maintain a record of the entry and exit time of teachers.



Delimitation widely publicised, HC told
Chandigarh, May 8
The Punjab Government today denied there was a blanket veil of secrecy over the entire process of wardbandi or delimitation; and except for mere publication of notifications in the official gazettee, there was no publicity whatsoever.
Ex-MLA's murder case: Canadian citizen acquitted
Moga, May 8
District and Sessions' Judge Karamjit Singh Kang today acquitted India-born Canadian citizen Jagdev Gill in the murder case of former Congress MLA Nachattar Singh Gill, father of former DGP Paramdip Singh Gill.
Revisional Authority rapped for passing illegal order
Chandigarh, May 8
Rapping Punjab Special Secretary, Department of Housing and Urban Development-cum-Revisional Authority, for passing a totally perverse, illegal and wholly unwarranted order in a plot resumption case, the Punjab and Haryana High Court has asserted the authority chose to overlook material facts and made casual observation.