Riot victims disrupt rail services in state
In Delhi, angry protesters scuffle with police; several SAD leaders injured
Kuldip Bhatia & Ashok Kaura
Ludhiana, May 5
More than 12 trains running on the Amritsar-New Delhi and Jammu-New Delhi sections were delayed by hours owing to the "rail roko" protest by 1984 riots victims here today.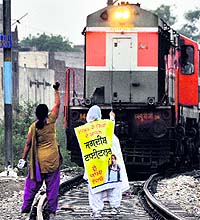 They were protesting against the acquittal of Congress leader Sajjan Kumar in a riots case.The victims, including a large number of women, squatted on the rail track near the Jagraon bridge in the morning. They raised slogans against the Congress-led UPA Government and the judiciary and brandished swords and sticks.
Owing to heavy police deployment and adroit handling of the situation by senior police and Railway officials, the protesters were prevented from reaching the local railway station.
More than a dozen main route trains, including Shane-Punjab, Shatabdi Express, Jalandhar-New Delhi Intercity, Amritsar-New Delhi Intercity, Amritsar-Chandigarh Intercity, Chhattisgarh Express, Malwa Express, Garib Rath, Sachkhand Express, Pashchim Express and Amritsar-Haridwar Janshatabdi were delayed, some for five hours.
PHAGWARA: Riot victims and activists of the Sikh students Federation , demanding action against Congress leaders Jagdish Tytler and Sajjan Kumar disrupted rail movement at various sections.
Amritsar mail, Andaman express and a goods train were stopped near Ludhiana, New Delhi-bound Shatabdi Express at the Phagwara railway station , Garib Rath Express at the Phillaur railway station, Amritsar-Chandigarh Superfast Express at the Jalandhar railway station, Nanded Sahib-bound Sachkhand Express at the Beas railway station and Ravi Express at the Batala railway station during the protest. Railway Sources said the trains were stopped by the authorities only at main railway stations to prevent harassment to commuters. Activists of the Janta Jal Sewa Samiti, Phagwara, led by Vipin Khurana and former Nagar Council president Malkiat Singh Ragbotra served sweet water to stranded passengers.
New Delhi: A scuffle broke out between Sikh protesters and the Delhi Police while the former were on their way to the Prime Minister's residence to submit a memorandum seeking Sajjan Kumar's speedy trial in the High Court.
Sajjan Kumar was last week acquitted by a Karkardooma court in a 1984 riots case. At least 90 protestors were arrested and seven members of the Shiromani Akali Dal (SAD), including Manjinder Singh Sirsa, SAD's general secretary, president of Youth Akali Dal, Kuldeep Singh Bhogal, and Onkar Singh Thapar, received minor injuries. At least nine policemen were injured too. While the protesters claimed that the police had hit them with lathis, the Delhi Police denied the same.
"We wanted to submit a memorandum in support of Nirpreet Kaur and others on fast at Janat Mantar. We proceeded towards the PM's house but were stopped and hit with lathis even though the march was peaceful. Three of our members suffered injuries and were hospitalised," said Manjit Singh GK, Delhi Sikh Gurdwara Management Committee (DSGMC) president. He said he and his colleague Avtar singh Hit were taken into custody.
Deputy Commissioner SBS Tyagi refuted the allegations. "Police barricades were damaged. We had to detain 90 protesters who were later let off. Those injured were admitted to RML Hospital."
At 2 pm as the protesters, including Aam Aadmi Party and BJP activists, marched from Jantar Mantar towards the PM's residence, they crossed two barricades at Parliament Street even as the police personnel tried to stop them. The 2,000-strong crowd then tried to break the third barricade but were stopped. "The Delhi Police lathicharged the protesters for demanding justice but they failed to do anything against those responsible for the 1984 massacre," said the DSGMC chief.
On being released, the protesters resumed their protest at Jantar Mantar.
Amritsar: The 1984 Sikh Katle-am Pirit Pariwar Sangharsh Committee held a protest rally against the acquittal of senior Congress leader Sajjan Kumar in a 1984 riots case. The protesters raised slogans against the UPA Government. Committee president Kashmir Singh Saggu alleged that the Congress and the CBI had colluded to ensure that Sajjan Kumar was acquitted. — TNS
Amritsar: Avtar Singh Makkar, SGPC chief, has flayed the "lathi charge" on DSGMC office-bearers and SAD leaders in New Delhi. He said the UPA Government should deliver justice to the Sikhs by putting all those behind the 1984 riots behind bars. "The government should listen to the voice of the community rather than resorting to oppressive measures," he added. — TNS