Bathinda village in limelight again, for wrong reasons
Jai Singh Wala, April 26
Years after one of its residents, Dilawar Singh, hogged the headlines for his role in the assassination of Beant Singh, this village on the Bathinda-Badal highway is in the limelight again, for the wrong reasons.
MBBS fee doubled in Punjab
Chandigarh, April 26
The Punjab Government has almost doubled the fee for MBBS courses in the state from the current academic session. The fee for first year will now be Rs 25,000 instead of the existing charges of Rs 13,500. This includes a tuition fee of Rs 17,000 which earlier was only Rs 8,500.
Bajwa hails court order
Chandigarh, April 26
Pradesh Congress president Partap Singh Bajwa today welomed the directions of the Punjab and Haryana High Court to the state government to decide on Rs 3 lakh grant to each of the panchayats elected unanimously in 2008.
Shutrana poll official shifted, Cong cries foul
Patiala, April 26
The local Congress cadre in Shutrana constituency today cried foul, as the district administration wrote to the Election Commission to post a new Returning Officer (RO) there ahead of the panchayat elections.
BJP leader protests, alleges vendetta
Ferozepur, April 26
Miffed over the registration of vendetta cases against his supporters, former Chief Parliamentary Secretary Sukhpal Singh Nannu on Thursday handcuffed himself and sat on a dharna inside the cantonment police station here.



Shingar Cinema blast convict found dead in Nabha prison
Patiala, April 26
Dreaded terrorist Sandeep Singh, an accused in the 2007 Shingar Cinema blast in Ludhiana, which killed six persons and left 37 injured, was today found dead in his barrack inside the maximum-security Nabha jail.
Smart cards for visitors in prisons soon
Chandigarh, April 26
Smart cards may soon be introduced in Punjab jails to ensure a check on visitors and address the security concerns of the prison staff. Jails Minister Sarwan Singh Phillaur took this decision following a meeting with senior officers of the department here today.

SS Phillaur, Jails Minister

Strong winds flatten wheat crop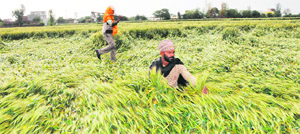 Amritsar/Jalandhar, April 26
Panic gripped farmers today as high-velocity winds and showers lashed various parts of the state. Though experts believe the damage to their wheat crop was negligible, it may lead to an extra economic burden.


Assessing losses: A farmer checks the damage to his wheat crop at a field near Amritsar on Friday. A Tribune photograph

Help make state defence production hub: Badal to CII
Chandigarh, April 26
With a view to developing the state as a major defence production hub, Chief Minister Parkash Singh Badal today asked the Confederation of Indian Industry (CII) to submit a concept plan within a month for setting up a defence production park in the state.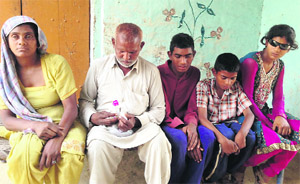 Loss of sight stares at poverty-stricken family
Rupana (Muktsar), April 26
Apart from poverty, this Scheduled Caste family of five has had a bigger adversary in life. Over the past seven years, all of them have turned partially blind — one after the other.


Raja with his wife and children at their house in Rupana village of Muktsar district. Photo by writer

Smoke-free status for Sangrur district on cards
Sangrur, April 26
As Sangrur is heading towards attaining smoke-free district status, the health authorities here have strictly directed owners of hotels having 30 or more rooms and restaurants or eateries having a seating capacity of 30 or more to set up designated smoking areas.


Novel protest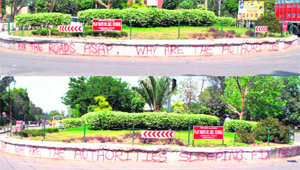 Residents exhibit their anger on damaged roads in the city by writing on the kerb of YPS Chowk in Patiala on Friday. Tribune photo: Rajesh Sachar
Students without books 3 weeks into session
Fatehgarh Sahib, April 26
The in-house examinations due to be held in May are fast approaching and students of Class VI to VIII have still not received many of their books. As against the nine books required for all the subjects, Class VI students have received books for only two subjects while Class VII and VIII have received books for four subjects each.
Project to help addicts quit drugs on anvil
Patiala, April 26
The Patiala police will start a Monitoring Programme (MP) next month to help addicts quit drugs.
ITI for girls being run from youth hostel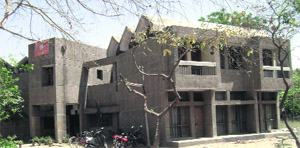 Sangrur, April 26
Government Industrial Training Institute (ITI) for girls is being run from a portion of the Nehru Yuva Kendra hostel here for the past over three years. The ITI has no land to set up a building though the institute authorities have funds to the tune of Rs 2.50 crore to construct the building and purchase equipment.
A view of the hostel in Sangrur where girls enrolled in the ITI have been studying for more than three years. A Tribune photograph

Matrimonial dispute turns violent
Fatehgarh Sahib, April 26
A matrimonial dispute turned violent as two groups clashed outside the district administrative complex here today.



Appeal for quashing delimitation
Court questions PPCC's locus standi on petition
Chandigarh, April 26
Just about a fortnight after the Punjab Pradesh Congress Committee (PPCC) moved the Punjab and Haryana High Court for quashing the entire process of wardbandi or delimitation, a Division Bench today questioned its locus standi to file the petition.
HC seeks record of case against Badal
Chandigarh, April 26
The Punjab and Haryana High Court today sought record pertaining to the case filed against Punjab Chief Minister Parkash Singh Badal in the Chandigarh sessions court.