OPED

Security
India's nuclear weapons not for national pride
Shyam Saran
Security analysts, both Indian and foreign, often make puzzling assertions that India's nuclear weapons programme has been driven by notions of prestige or global standing rather than considerations of national security.
Shyam Saran, former Foreign Secretary, analyses India's quest for security, its nuclear doctrine and the command system. The article is the second in a three-part series.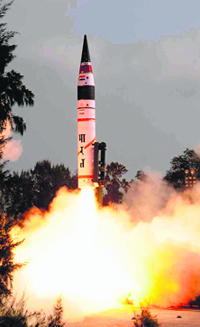 The accuracy and range of Agni missiles will improve with the acquisition of further technological capability and experience. Agni V was successfully test-fired recently. — PTI

US analysts often make the remarkable observation that "India now lacks a credible theory of how nuclear weapons might be used other than as an instrument of national pride and propaganda". India does have a credible theory of how its nuclear weapons may be used and that is spelt out in its nuclear doctrine. One may or may not agree with that doctrine but to claim that India does not have a credible theory does not accord with facts. Since January 4, 2003, when India adopted its nuclear doctrine formally at a meeting of the Cabinet Committee on Security (CCS), it has moved to put in place, at a measured pace, a triad of land-based, air-delivered and submarine-based nuclear forces and delivery assets to conform to its declared doctrine of no-first use and retaliation only. It has had to create a command and control infrastructure that can survive a first strike and a fully secure communication system that is reliable and hardened against radiation or electronic interference. A number of redundancies have had to be created to strengthen survivability. In all these respects, significant progress has been achieved. To expect that these should have emerged overnight after May 1998 is rather naive. India today has a long-range ballistic missile capability and is on the road to a submarine-based missile capability.
These capabilities will be further improved as time goes on and more resources become available. The record since the May 1998 nuclear tests demonstrates a sustained and systematic drive to operationalise various components of the nuclear deterrent in a manner best suited to India's security environment. This is not the record of a state which considers nuclear weapons as an "instrument of national pride and propaganda".
Chinese viewpoint
There is a similar refrain in Chinese commentaries on India's nuclear weapons programme. Here is a typical Chinese comment: "Unlike China, which was forced to develop its nuclear option under a clear nuclear threat, India has never been faced with an immediate major military or nuclear threat that would require New Delhi to have a nuclear weapon option to ensure its national survival. The acquisition of nuclear weapons appears to have been almost entirely motivated by politics. India seems to have an explicit strategic goal; to be accepted as a world power. And this goal seems to reflect India's deep-rooted belief that nuclear weapons constitute an effective physical signature of world power status, and even shortcut to this status".
And this extraordinary assessment of India's quest for security in a nuclearised regional and global environment comes from an analyst in a country which over the years actively and relentlessly contributed to the clandestine nuclear weapons programme of Pakistan, firstly by providing it with the design of a tested weapon and later by assisting it with developing its missile capabilities, both directly and through its North Korean ally.
This is a rare case where a nuclear weapon state has actively promoted the acquisition of nuclear weapon capability by a non-nuclear weapon State, though similar allegations have been made about US and French assistance to Israel. Chinese assistance to Pakistan's strategic programme continues apace.
Could India ignore the implications of this alliance and the role of Pakistan as a Chinese proxy to pose a nuclear threat to India? The narrative that I have sketched out does not square with the observation that "India has never been faced with an immediate major military or nuclear threat that would require New Delhi to have a nuclear weapon option to ensure its national survival". And it is rather odd that a representative of a country whose iconic leader Mao Zedong called for "politics in command" can now say that India's nuclear programme has been "almost entirely motivated by politics". Of course, it has been, but not the politics of seeking world power status as is claimed, but the politics of keeping India and its citizens safe from nuclear threats. We have long been familiar with the Chinese predilection to dismiss India's role in international affairs as that of a pretender too big for its boots, while China's superpower status is, of course, regarded as manifest destiny. One should reject such self-serving assertions.
Prestige or deterrence?
What is worrying, however, is that this status-seeking argument has been finding an echo among some Indian analysts as well. One analyst recently claimed: "During its long and unfocused nuclear weapons quest, India came to develop a highly self-absorbed approach. This was because India's dominant objective was political and technological prestige, while for every other nuclear weapon state it was deterrence."
Such sweeping statements show a lack of familiarity with the history of India's nuclear weapons programme, set against the broader political and security backdrop. They also serve to diminish the very legitimacy of India's nuclear weapons status though this may not be the intention. For if deterrence was not the reason for which India became a nuclear weapon state, but only for "political and technological prestige", why should it have nuclear weapons in the first place?
If the argument is that India has and does face threats that require a nuclear deterrent, but these have been ignored by successive generations of India's political and security elite, then obviously it must be a mere fortuitous coincidence that we have strayed into a strategic capability. This elite, it is implied, comprehends neither the security threats nor the manner in which this accidental acquisition of nuclear weapons and delivery capabilities must be operationalised. This does not square with facts.
The thesis that India's nuclear deterrent is mostly symbolic is, for some, driven by the perception that India's armed forces are not fully part of the strategic decision-making process and that they play second fiddle to the civilian bureaucracy and the scientific establishment. Even if this perception was true, and in fact it is not, one cannot accept that the credibility of India's nuclear deterrence demands management by its military. The very nature of nuclear deterrence as practised by a civilian democracy dictates that decisions relating to the nature and scope of the arsenal, its deployment and use, be anchored in the larger architecture of democratic governance. It is the civilian political leadership that must make judgements about domestic, social and economic priorities as well as the imperatives imposed by a changing regional and global geopolitical environment.
The military must be enabled to provide its own perspectives and inputs, just as other segments of the state must do. Undoubtedly the military's inputs and advice would have to carry weight, especially in operational matters. But to equate exclusive military management of strategic forces, albeit under the political leadership's overall command, as the sine qua non of deterrence credibility is neither necessary nor desirable. One should certainly encourage better civil-military relations and coordination. It may also be argued that the military's inputs into strategic planning and execution should be enhanced to make India's nuclear deterrent more effective. But one should not equate shortcomings in these respects with the absence of a credible nuclear deterrent.
If we look at the current status of India's nuclear deterrent and its command and control system, it is clear that at least two legs of the triad referred to in our nuclear doctrine are already in place. These include a modest arsenal, nuclear capable aircraft and missiles both in fixed underground silos as well as those which are mounted on mobile rail and road-based platforms.
These land-based missiles include both Agni-II (1,500 km) as well as Agni-III (2,500 km) missiles. The range and accuracy of further versions, for example Agni V (5,000 km) that was tested successfully only recently, will improve with the acquisition of further technological capability and experience. The third leg of the triad, which is submarine-based, is admittedly a work in progress. We need at least three Arihant class nuclear submarines so that at least one will always be at sea. Submarine-based missiles systems have been developed and tested in the form of the Sagarika but these are still relatively short in range. It is expected that a modest sea-based deterrence will be in place by 2015 or 2016. There is also a major R&D programme which has been in place since 2005 for the development of a new, longer range and more accurate generation of submarine-based missiles which are likely to be ready for deployment around 2020.
Command authority
The National Command Authority (NCA) is in charge of India's nuclear deterrent. At its apex is the Political Council which is headed by the Prime Minister and includes all ministerial members of the Cabinet Committee on Security such as the Ministers of Defence, Home and External Affairs. Below the Political Council is the Executive Council which is headed by the National Security Adviser and includes the Chiefs of the three armed forces, the C-in-C of India's Strategic Forces Command and a three-star officer, among others.
There is an alternative NCA which would take up the functions of the nuclear command in case of any contingency when the established hierarchy is rendered dysfunctional. The NCA has access to radiation hardened and fully secured communications systems where, too, redundancies have been put in place as back-up facilities.
In order to support the NCA, a Strategy Programme Staff has been created in the National Security Council Secretariat to carry out general staff work for the NCA. This unit is charged with looking at the reliability and quality of our weapons and delivery systems, collate intelligence on other nuclear weapon states, particularly those in the category of potential adversaries, and work on a perspective plan for India's nuclear deterrent in accordance with a 10-year cycle.
The Strategy Programme Staff has representatives from the three services, science and technology establishment and other experts from related domains, including External Affairs. A Strategic Armament Safety Authority has been set up to review and update storage and transfer procedures for nuclear armaments, including the submarine-based component. It will be responsible for all matters relating to the safety and security of our nuclear and delivery assets at all locations. This will function under the direct authority of the NCA.
The NCA works on a two-person rule for access to armaments and delivery systems. Regular drills are conducted to examine the possible escalatory scenarios, surprise attack scenarios and the efficiency of our response systems under the no-first use limitation. Thanks to regular drills, the level of confidence in our nuclear deterrent has been strengthened. Specialised units have also been deployed for operation in a nuclearised environment.
I am highlighting these details to make the point that while further steps may be required to make our deterrent more robust, it is unhelpful to peddle the impression that it is dysfunctional, or worse that it is non-existent.
Nuclear control in Pakistan
In much of western literature, one finds frequent comments about the professional manner in which the Strategic Planning Group, in charge of Pakistan's nuclear assets, is run and how effective and transparent measures have been put in place to ensure the safety and security of these weapons. What is rarely highlighted is that among nuclear-weapon states today, Pakistan is the only country where nuclear assets are under the command and control of the military and it is the military's perceptions and ambitions which govern the development, deployment and use of these weapons. This is a dangerous situation precisely because the military's perceptions are not fully anchored in a larger national political and economic narrative. The pursuit of a more powerful, effective and sophisticated nuclear arsenal, dictated by the military, may run in parallel with a steadily deteriorating political, social and economic environment. Would it be possible to island an efficiently managed and sophisticated nuclear arsenal amid an increasingly dysfunctional polity?


The nuclear deal 'exception' provided to India by the US rests on India's universally acknowledged and exceptional record as a responsible nuclear state with an unblemished history in non-proliferation as contrasted with Pakistan's equally exceptional record as a source of serial proliferation.

There is an air of unreality about the often adulatory remarks about Pakistani military's stewardship of the nuclear assets. There are anxieties about its continuing buildup of nuclear weapons and delivery vehicles but these are conveniently ascribed to the threat perceived from India.
More recently, Pakistan's buildup of its nuclear arsenal, refusal to allow the Conference on Disarmament in Geneva to undertake multilateral negotiations on a Fissile Material Cut-Off Treaty and its threat to deploy theatre nuclear weapons to meet a so-called Indian conventional armed thrust across the border have all been laid at the door of the Indo-US Civil Nuclear Agreement, which it is claimed has upset the "nuclear balance" in South Asia. The votaries of non-proliferation in the West have criticised the agreement as having allowed "exceptionalism" in favour of India, which has encouraged a nuclear arms race between India and Pakistan. Pakistan openly demands that it too be given a nuclear deal like India, otherwise it would continue to produce larger quantities of fissile material and push the nuclear threshold even lower in order to retain the credibility of its nuclear deterrent. The exception provided to India rests on it's universally acknowledged and exceptional record as a responsible nuclear state with an unblemished history in non-proliferation as contrasted with Pakistan's equally exceptional record as a source of serial proliferation and a nuclear programme born in deceit.
There is no moral equivalence in this respect between the two countries and this point must be driven home every time Pakistan claims parity. We should not allow such an insidious campaign to affect our proposed membership of the NSG and the MTCR.
— Excerpted from a lecture organised by the Subbu Forum Society for Policy Studies and the India Habitat Centre on April 24 in New Delhi. The views expressed are personal. The concluding part of the series will appear tomorrow.