Justice delayed, and perpetually denied

Manpreet Badal
Nobel Prize winner Elie Wiesel had once written about the Jewish holocaust — "To forget it is to kill twice." Tragically, by acquitting the devils of 1984, we have killed the innocents once again.




Manpreet Badal

The protracted proceedings of Indian courts are often ridiculed through the pithy aphorism that "justice delayed is justice denied". Unfortunately, in the case of the massacre of Sikhs in 1984, it is not even "delayed justice". It is a case of justice that is perpetually denied. Every country has its share of low and horrific moments, but the difference between a great country and a not-so-great country is that while the former learns from it, the latter, to quote the words of George Santayana, is condemned to repeat it.
No wonder, a critical failure of our state is the refusal to learn from our mistakes. We did not learn our lessons and our society continues to be repeatedly accosted by incidents that remind us of our past. And yet, we seem to possess an unpardonable amnesia when it comes to our hours of national shame.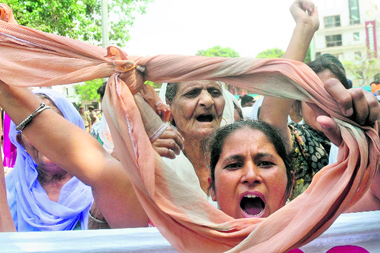 A sense of justice eludes the riot victims even after decades. Photo: Manas Ranjan Bhui

The acquittal of Sajjan Kumar is an example of what has become a sad and predictable pattern in India. A monstrous crime took place, following which the government made some vacuous platitudes. Perfunctory inquiries were constituted which took decades to come out with their self-contradictory findings and provided sufficient red herrings for another inquiry to be constituted. But the unfortunate story does not end there. State agencies continue to collude with their political bosses and in their attempt to save yet one more ruling party politician, they end up weakening our judicial system.
Consider the acquittal of those criminals who have shockingly received clean chits from the judiciary in the last few years. This means that people who saw their near and dear ones torched, raped, murdered and looted, but kept faith in their country's legal establishment, have now been callously told that there is "lack of sufficient evidence" against monsters who eradicated their worlds in from of their own eyes.
What of thousands of depositions that the victims had made before countless commissions where they relived their horrific memories? What about candid depictions by some of the most venerable national and international media houses and journalists? What about the disclosures by some of the pre-eminent citizens of India? Do we ignore the myriad ground-level inquiries which unequivocally prove the culpability of these people? Does it imply that the numerous unbiased eyewitness accounts and subsequent admissions by administrative officials are tantamount to nothing?
The Nanavati Commission was constituted to investigate the 1984 massacre. Its report in particular was full of obfuscations and circumventions, which were clearly aimed at saving a few individuals. We had hoped that the glaring inadequacies of these investigations would embarrass the government, and that at least the second time around, there would an attempt to restore some semblance of justice. But it appears that we live in a nether world, where the sun never rises.
Our system has now gone beyond Nanavati, and after his whitewash job, it systematically goes to acquit even those whom Nanavati had dared to touch.
While injustices continue to be heaped upon the victims, there is an inhumane "rationale" coming from so-called pacifists and intellectuals that is both appalling and disgusting. The argument of "letting the past go" is the sort of thinking that has let this nation down repetitively. This has allowed criminals to misuse the emotions of people and make a violent case for "settling of scores" which vitiates the politics of the nation and causes further misery to the people.
One of the main reasons that the quality of polity has stooped to such abysmal levels is because of our system's inability to punish wrongdoers. If inciting violence can generate gains, more and more criminal politicians would be happy to do so. True to the Orwellian prophesy, 1984 was an apocalyptic year for our nation. Victims of the Bhopal gas tragedy and the violence against Sikhs are still seeking justice. While the perpetrators of the gas leakage were foreigners, the genocide was wreaked upon us by our own government.
Nobel Prize winner Elie Wiesel had once written about the Jewish holocaust — "To forget it is to kill twice." Tragically, by letting go the devils of 1984, we have killed the innocents once again.