Hundred, and going strong...
by Nonika Singh
You'll find India in its cinema, and cinema in the life and blood of Indians. A century of pirouetting around trees, love, lust, death and drama, the silver screen is only getting bigger.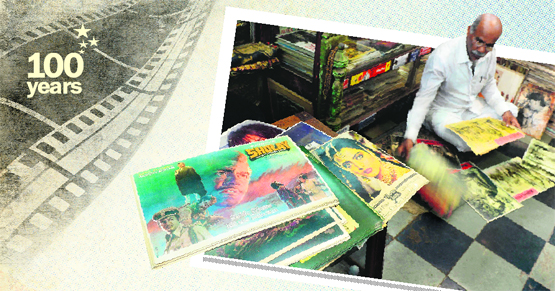 Indian cinema memorabilia dealer Shahid Mansoori sifts through posters for an order at his shop 'Mini Market' in Mumbai — AFP

As Bollywood turned a grand 100 on May 3, 1913, it has every reason to rejoice and celebrate. From the silent era to talking images, from black and white montages to a melange of colour, it has in one century come to represent the best and also the worst in us. Coming as close as possible to the notion of national cinema, in its own unique way it binds us, defines our collective consciousness, dictates our fashion sense, gives us a sense of moral victory, mirrors our dreams, frustrations and much more. Today, a hundred years after the first film Raja Harishchandra was screened, it stands at a threshold from where it can only go higher and grow stronger. Few can deny that it's the most exciting times for the Hindi film industry — there is room for all kinds of films. From avant garde to masala potboilers, from middle-of-the-road cinema to cutting edge films, all can co-exist in the same space and have their own rasion de etre and audience. There couldn't be a better time than this to jog back and take account of the years that have made Bollywood the phenomenon that it is.
1913 Birth of Indian cinema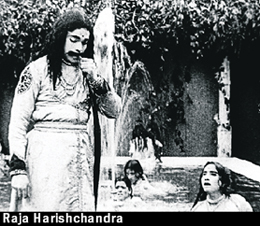 The year 1913 saw India's first film made by Dada Saheb Phalke, today remembered as the father of Indian cinema and in whose name the country's most prestigious cinematic honour (conferred on veteran actor Pran this year) was instituted. The film as is common knowledge was called Raja Harishchandra based on the well-known mythological character and went on to become a milestone not only because it was the first full-length Indian feature film. India's first hit film too came from Phalke and was called Lanka Dahan. In 1914, three of his films, Raja Harishchandra, Bhasmasur Mohini and Satyawan Savitri were screened in London and lauded for technical quality.
'20s Moving ahead
Till the twenties the silent era reigned. The decade witnessed India's first international co-production Nal Damyanti made in 1920 and saw the rise of India's first female producer-director Fatima Begum, whose first film Bulbul-e-Paristan was released in 1925. In 1929, V Shantaram (who later went on to give us memorable films like Do Aankhien Barrah Haath and Dr Kotnis ki Amar Kahani) formed Prabhat Film Company along with Damle, Dhaibar, Phattelal and Kulkarni in Kolhapur. The first film under their banner was Gopal Krishna.
'30s Talking and singing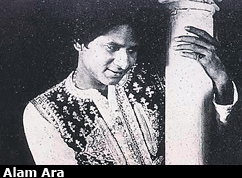 In the thirties the films began to talk. While the first talking and singing film was called Alam Ara, made by Ardeshir Irani and screened in Bombay in 1931, films began to talk in Tamil, Telugu and Bengali, and guess what, English too! It was called Karma (directed by Himanshu Roy) and attracted much attention for a four-minute kissing scene between him and Devika Rani. As for Alam Ara, it had seven songs and ran for seven weeks. A costume drama among many other actors, it also starred legendary Prithviraj Kapoor, generations of whose family would be devoted to cinema. Hindi cinema got its second talkie Ghar Ki Lakshmi with songs. Clearly it was a decade of songs and Indrasabha directed by JJ Madan had no less than 71 songs.
'40s History revisited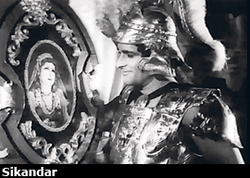 Forties had period films and several with social protest as the main genre. Notable films were Sohrab Modi's Sikandar, Pukar and Prithvi Vallabh, Kidar Sharma's Chitralekha, Madhu Bose's Raj Nartaki, Mehboob's Roti and Andaz, S Mukerji's Kismet, Abbas's Dharti Ke Lal, V Shantaram's Dr Kotnis Ki Amar Kahani, Raj Kapoor's Barsaat and Aag, Bimal Roy's Humrahi and Vijay Bhatt's Bharat Milap and Ram Rajya. Incidentally in 1943 its believed that Mahatma Gandhi saw Ram Rajya.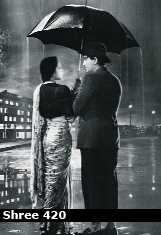 '50s Golden era
Undisputedly it was the decade of classics. Be it Guru Dutt's Pyaasa and Kaagaz Ke Phool or Raj Kapoor's Awaara and Shree 420, the films had a conscience and an emotive appeal. Mehboob Khan's Mother India that was nominated for the Oscars in the best foreign film category and Bimal Roy's Madhumati added lustre to the golden decade. Devdas established Dilip Kumar's image as the tragedy king. Pather Panchali directed by Satyajit Ray had its world premiere at Museum of Modern Art, New York, and went on to win the National Award.
'60s Romance in the air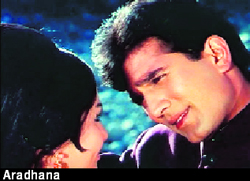 The golden era rolled on and in 1960 came the ultimate magnum opus, K Asif's Mughal-e-Azam. The sparkle was evident in movies like Bandini and yet another Guru Dutt classic Saheb Biwi Aur Gulam hit the screens. The latter film continues to inspire filmmakers till today. The first multi-starrer Waqt also set into motion the lost-and-found theme that was to become the leitmotif of a number of movies. Romance became the stuff that movies are made of… Only it truly peaked in the late sixties when superstar Rajesh Khanna made women go weak in the knees with his inimitable ada. Shakti Samanta's Aradhana was released in 1969 and Khanna became the ultimate heartthrob of millions. In the same decade, Guide based on Pearl S Buck's novel was made. Today rated highly, it met with little commercial success back then.
'70s Rise of the angry young man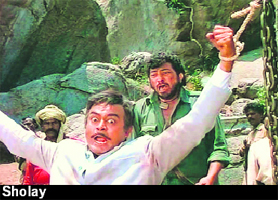 While in the early seventies romance was still palpable, by mid-70s it had given way to angst. Epitomised by none other than Amitabh Bachchan, the angry young man of Hindi cinema, it stirred the rather disgruntled nation as Zanjeer launched him in 1973. Later 1975 became a hallmark year with the release of two cult films Sholay and Deewar. Sholay was not only India's first film in 70mm stereophonic sound, but also broke all conceivable box-office records. The parallel or art cinema movement too came into existence in this period and many a hard-hitting and socially relevant film like Ankur that cock a snook at commercial success were made. Seventies is also known for the fashion statement that Bollywood made and the retro look of the seventies is what cinema keeps going back to. The best of Hrishikesh Mukherjee, lilting melodies by father and son SD Burman and RD Burman too defined this interesting decade.
'80s From best to worst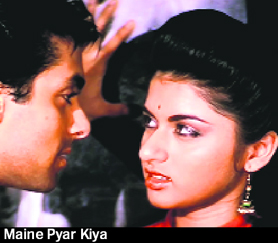 A critic may have dubbed it the worst decade of Hindi cinema when inane films like Himmatwala, which was only remade recently, were a staple diet of Bollywood. However, it was a decade that bequeathed us many a milestone film. Aakrosh, Sparsh, Ardhsatya, Jaane Bhi Do Yaaro, Izzazat, Chasme Badoor, Masoom, Mirch Masala and Saraansh… the list of must-watch films was endless. Some of the mainstream films that made a mark in this decade were Mr India, Qayamat Se Qayamat Tak, Chandni, and of course Maine Pyar Kiya. Actually in the late eighties, musical love stories were the toast of the silver screen and the two Khans —Salman and Aamir — made outstanding debuts.
'90s Mixed bag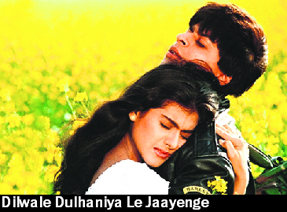 Though no particular genre ruled, and movies like Ghayal and family entertainers like Ham Aap Ke Hai Kaun were smashing hits, romance did find a firm toehold, what with Shah Rukh Khan on centre stage. Three of his blockbuster movies Dilwale Dulhaniya Le Jaayenge, Kuch Kuch Hota Hai and Dil to Pagal Hai created cinematic history as he became the new king of romance. Yet another winner was Salman Khan, Ajay Devgn and Aishwarya Rai starrer Hum Dil De Chuke Sanam.
2K Winds of change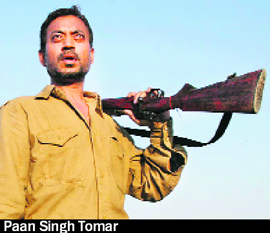 Though today the new crop of directors like Anurag Kashyap, Tigmanshu Dhulia, Dibakar Banerjee and Shoojit Sircar have challenged all known notions of Hindi cinema and are moving in a new direction, the actual change began much earlier. Movies like Lagaan, Swades, Rang De Basanti, Black, Munna Bhai MBBS and Taare Zameen Par made between 2000 and 2010, and many others have proved that in the 21st century Bollywood is not afraid to experiment. Directors like Raju Hirani have successfully fused the line between commercial success and critical acclaim. The new crop is only taking the baton further. Willing to take chances, they are eager to make Indian cinema, that has seen many glorious moments, scale new heights.