Murder of a prisoner
The no land's men
Ajay Banerjee
Even at the peak of Cold War, the US and USSR exchanged spies arrested after their cover was blown. India and Pakistan cannot even begin to think of that as neither side would acknowledge any spies exist.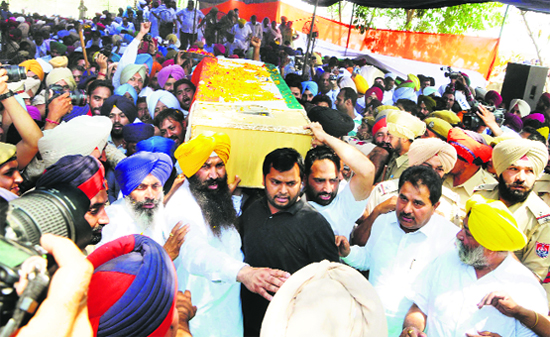 Sarabjit Singh's body being carried in a coffin to the cremation ground at his native village Bhikhiwind in Tarn Taran district on Friday. Tribune photos: Sameer Sehgal

It was on July 8, 2010, that the US and Russia exchanged prisoners on the tarmac of an airport in Vienna, Austria. 'Prisoners', in this case, was euphemism for spies. Both countries, once bitter Cold War rivals, had accepted the existence of these men and women, and agreed on the swap, easing tensions for their families.
Two years later, an event in India stood in sharp contrast to the Vienna exchange. A grey-bearded Surjeet Singh was freed by Pakistan after 30 years of imprisonment there. On June 28, 2012, he walked across the Radcliffe Line at the Attari-Wagah check post. On arrival, he declared: "I was a spy for India and had been sent there by the R&AW (Research and Analysis Wing)". India officially denied he was a spy. His son later got a job in the office of the Deputy Commissioner, Ferozepore, and he was paid a compensation of Rs 5 lakh.
For 30 years, Surjeet Singh, released at the age of 73, had remained a forgotten entity in the prisons of Pakistan. Just as the Russians and Americans who were 'traded' at Vienna in 2010, Surjeet Singh was also a civilian, not formally on the rolls of any organisation. However, unlike the US and Russia, India and Pakistan have not been able to agree on a system to exchange 'prisoners', arrested on the charge of spying.
Surjeet's release had come amidst confusion after Pakistan announced 'Sarabjit Singh' had been granted pardon and would be released. Later, Pakistan said there was a mistake, and it was Surjeet who was to be released. The confusion sparked a brief moment of celebration at Sarabjit's home in Bhikhiwind.
No owning up
Last week's killing of Sarabjit Singh in a Lahore prison by his fellow inmates has rekindled a debate in the security circles on how to ensure the dignity and security of life of men and women who work 'behind enemy lines'. New Delhi does not recognise Sarabjit Singh as an agent hired by it, and someone who worked for the country. He is described simply as a man who crossed the border (there was no fencing at the time) in a drunken state, and was nabbed by the security agencies on the other side.
Following his death, however, Sarabjit has been granted a state funeral by the Punjab Government. Chief Minister Parkash Singh Badal and Congress vice-president Rahul Gandhi attended the cremation, telecast live to millions of homes across India. Pakistan had convicted Sarabjit of carrying out blasts in Lahore, and he was sentenced to death.
The list of persons claiming to have worked for Indian intelligence agencies is long. In 2011, Gopal Dass returned after decades in Pakistan prisons to narrate his story. Then there were Kashmir Singh and Daniel, just to name a few.
In 1974, Mohan Lal Bhaskar had returned after years in prison. A decade later, he wrote a book "An Indian spy in Pakistan" in which he claimed his task was to get details on the nuclear programme of the neighbouring country. The novel, originally written in Hindi, has been translated into English by Jai Rattan. Acclaimed author Khushwant Singh noted in the foreword to the book: "Jai Rattan's translation from the original Hindi reads very well. I can recommend it to readers who have the stomach to take in suspense and horror."
Bhaskar's son Gaurav Sagar says: "India neither has a policy to rehabilitate, nor does it acknowledge such work by spies. It is all pick and choose, and depends on the media attention." People simply serve their sentence and return, says Bhaskar. Alleging a callous attitude, he recalls: "In 1974, India asked for 'Sohan Lal Bhaskar' to be released, while Pakistan said it only had 'Mohan Lal Bhaskar' in prison. The release came about following efforts of Harivansh Rai Bachchan (Amitabh Bachchan's father), who was then working in Switzerland. He took pains to establish that the Bhaskars in the records of the two countries were actually the same man".
Across a river
The grouse is genuine, especially when we compare globally. During the Cold War, the USSR-US rivalry was legendary. Even as the KGB and CIA carried out their cloak-and-dagger missions, the two sides are known to have exchanged 'prisoners' four times between 1962 and 1986. The Glienecke Bridge — also called the "Bridge of Spies" — across the Havel river was the location of these exchanges. The bridge that links Berlin with Potsdam in Germany spanned the front line of the Cold War for three decades. Agents on either side were exchanged — and they simply walked across the steel bridge.
The USSR even sent back British secret service agent Greville Wynne, in 1964, who is credited with having smuggled out Soviet nuclear secrets and ensured correct deployment of nuclear-tipped missiles of the NATO combine. As opposed to Wynne, the misfortune of men like Bhaskar, Surjeet Singh or Gopal Dass is that the two rival Asian neighbours do not even acknowledge the existence of spies.
The lack of acknowledgement is reflected in the book "Mission Pakistan", written by former Joint Director of the Intelligence Bureau Maloy Krishna Dhar, who has always maintained that it is a true story of an Indian undercover spy leading a double life inside the Pakistani armed forces. Dhar died last year.
The story is based on Ravindra Kaushik, who hailed from Ganganagar in Rajasthan. Dhar has claimed Kaushik moved to Pakistan, converted to Islam, married a Pakistani woman, and joined that country's army under the alias "Nabi Ahmed". In 1983, Inayat Masiha, an Indian intelligence operative who was captured by Pakistani counterintelligence agents, blew Kaushik's cover. The undercover spy was arrested soon afterwards, and jailed in the Pakistani city of Multan. He reportedly died there in 2002, aged 50. He had even written a letter to his brother from prison. India has never acknowledged him, Dhar has said in his book.
It may be a good time to deliberate how to acknowledge what everyone seems to know.