Riot victims hold up trains for second day


Issue raised in Parliament


Badal, Sukhbir to meet President, PM
Memorial row
Adamant Taksal warns of 'serious' consequences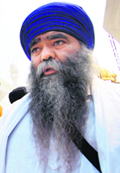 Amritsar, May 6
The controversy over the Damdami Taksal's move to dedicate Operation Bluestar Memorial to Jarnail Singh Bhindranwale and "other martyrs" further deepened today with the Sant Samaj submitting a memorandum to the Akal Takht chief, urging him not to remove plaques with Bhindranwale's name at the memorial. Jathedar Gurbachan Singh has called a meeting of the Sikh clergy on May 15 to deliberate on the issue. Talking to mediapersons, Taksal chief Harnam Singh Khalsa warned that they would not tolerate any "tampering with the boards/plaques carrying Bhindranwale's name".
Baba Harnam Singh Khalsa in Amritsar on Monday. A Tribune photo
HC: Independent agencies to investigate custodial deaths
Chandigarh, May 6
Custodial death cases will now be investigated by independent agencies. Taking up a custodial death case in Sherpur, in Sangrur, the Punjab and Haryana High Court today ruled that such cases would be probed by independent premier investigating agencies of the state or the Centre.
Order comes in Sangrur youth's case; govt told to pay Rs 10 lakh relief to kin
Chandigarh, May 6
In yet another embarrassment for the Punjab Government, the Punjab and Haryana High Court today minced no words in saying its police personnel authored the custodial death of a Sangrur youngster.
Four injured as SLIET students go on rampage
Longowal (Sangrur), May 6
Hundreds of angry students today went on the rampage at the local Sant Longowal Institute of Engineering and Technology (SLIET) after the institute authorities reportedly declined to hear their demands and grievances. Two policemen, a faculty member and a student sustained injuries and were taken to the Sangrur Civil Hospital.
A fragile bridge connects this border village to the mainland
Daoke (India-Pakistan border), May 6
This non-descript village on the India-Pakistan border, surrounded by border fence on three sides, presents a picture of total neglect. Its main link to the mainland, a bridge, is on the verge of collapse. A farmer, Kashmir Singh, says such dilapidated is its condition that the residents fear it could collapse anytime under the load of a heavy vehicle.
Kin in fray, Akal Takht chief must quit, says Congress
Muktsar, May 6
State Congress spokesperson Sukhpal Singh Khaira today asked the Akal Takht chief, Giani Gurbachan Singh, to step down as his daughter-in-law Lakhvir Kaur was contesting zila parishad elections on the SAD symbol from Muktsar's Harike Kalan zone. "The Jathedar has clearly associated himself with the SAD. By doing so, he has compromised his position as the Pope of the Sikhs," he said.

Teachers object to new rationalisation policy
Patiala, May 6
Teachers and parents alike have given thumbs down to the rationalisation policy for 2013 as the Education Department has not sanctioned any posts for mathematics and English teachers in government middle schools. Instead, the department is hiring master cadre science and social teachers to teach these subjects.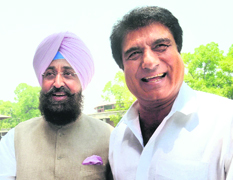 Punjab Congress president Partap Singh Bajwa and party leader Raj Babbar outside Parliament in New Delhi on Monday. Tribune photo: Mukesh Aggarwal

Govt schools see higher enrolments
Chandigarh, May 6
In an encouraging development, government schools in Punjab have shown a considerable improvement in the enrolment of students in Class IX. For example, Government Senior Secondary School (GSSS), Samrala, registered 242 admissions this academic session against 121 last year. There are numerous such schools that have witnessed higher admissions.
State may amend Revenue Act for easy mutation
Chandigarh, May 6
The state government is mulling amending the Revenue Act to make mutation of property hassle-free and execute it immediately upon registration of property.
Ex-spies say govt should frame policy for their rehabilitation
Chandigarh, May 6
Three former spies, who had reportedly spent several years in the same jail (Kot Lakhpat Jail) where Sarabjit was lodged, today rued that the Indian Government had abandoned them. The three spies, Paramjeet Singh, Gurbachan Lal, Karamat Ali alias Karam Singh, said the Indian Government should frame a policy for the financial and social rehabilitation of former spies.
Attack on inmates: Capt says India, Pakistan equally at fault
Mohali, May 6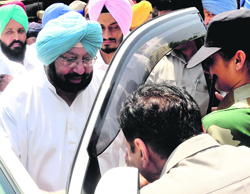 Former Chief Minister Capt Amarinder Singh today said India and Pakistan were equally responsible for the attacks on Sarabjit Singh and Sanaullah Khan in their respective jails. In the city for a court hearing in the alleged Amritsar Improvement Trust land scam, Amarinder Singh said, "Both the neighbours are to blame for the attacks on the prisoners. While Pakistan cannot shy away from the murder of Sarabjit Singh, our country cannot justify the assault on Sanaullah Khan in a Jammu jail."
Former Chief Minister and senior Congress leader Capt Amarinder Singh outside the Mohali court on Monday. Tribune photo: Vicky Gharu

Punjab govt asks colleges to trim their budget
Ludhiana, May 6
Fund-starved state government has asked colleges to trim their budgets. It issued these directions to four government colleges at Derabassi, Amritsar, Ludhiana and Ropar after their budgets exceeded Rs 7 crore. The government says it will equally disburse a grant of Rs 70 crore to various colleges so as to help them improve their infrastructure.
Notification on merging Mohali villages still to be issued
Mohali, May 6
Over one lakh residents of 20 villages in Mohali district are uncertain as to whether or not their villages will be included in the limits of the local Municipal Corporation (MC). The issue becomes pertinent as the gram panchayat elections are around the corner.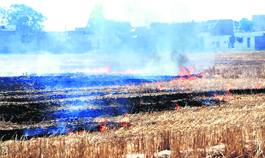 Ban goes up in smoke:

Despite a ban, farmers continue to burn wheat stalk in their fields in Rajpura on Sunday. Photo: JS Virdi

Funds okayed for Patiala's Quila Mubarak, HC told
Chandigarh, May 6
The state government has sanctioned funds for the upkeep of Patiala's Quila Mubarak. The government has also made it clear before the Punjab and Haryana High Court that there was no proposal to shift Patiala Central Jail.
Team of experts studies gadget used to pilfer oil
Bathinda, May 6
Over two months after the Mansa police exposed a state-wide racket of under-filling of fuel in vehicles by the staff at several petrol stations, a team of experts today studied the pumping machines and the remote control device used to carry out the illegal activity.
Teachers flay varsity for delay in depositing GPF
Patiala, May 6
Guru Nanak Dev University Teachers Association (GNDUTA), in its emergency executive committee meeting has taken serious note of the efficacy of the management of their finances by the officials of the Punjabi University, Patiala.


Fake currency seized in Rajpura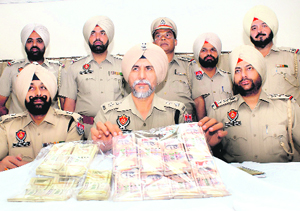 Patiala, May 6
The Patiala police today nabbed Abdul Mehmood, a resident of Sripur Malpara, Maldah district, West Bengal, with fake Indian currency worth Rs 5.60 lakh from Jansuha village bus stand near Rajpura. Patiala Senior Superintendent of Police (SSP) HS Mann said as per the preliminary investigation, the currency was smuggled from Pakistan and was to be delivered at Srinagar.
SSP Hardyal Singh Mann displays the fake currency recovered in Rajpura on Monday. Photos: JS Virdi

VB arrests deed writer taking Rs 20,000 bribe
Ropar, May 6
The Vigilance Bureau today caught deed writer-cum-advocate Sandeep Kakkar red-handed while allegedly taking a bribe of Rs 20,000 at his chamber in Ropar district court complex. Ludhiana zone bureau Senior Superintendent of Police Satinder Singh led the operation.