It was a planned murder, says Sukhraj's family
Patti (Tarn Taran), May 9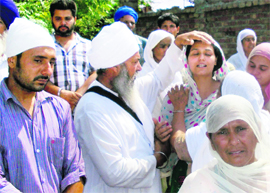 The family of Youth Congress leader Sukhraj Singh, who was shot dead last evening, has alleged that there was a political conspiracy to kill him and that the police was hand in glove with the killers. Senior Congress leaders attended Sukraj's cremation today.


Grieving family members of slain Youth Congress leader Sukhraj Singh in Patti on Thursday. A Tribune photograph

punjab
Zila parishad polls
It's SAD vs BJP in 4 Muktsar zones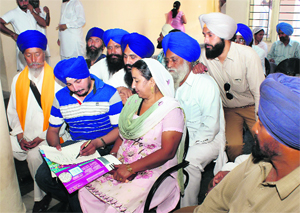 Muktsar, May 9
Fissures in the ruling SAD-BJP alliance have come to the fore in Muktsar, Chief Minister Parkash Singh Badal's home district. After the completion of nomination withdrawal process today, it is SAD versus BJP in panchayat samiti elections in four zones of the district.


LAST MINUTE RUSH: Candidates for block samiti elections with their supporters at the SDM's office in Rajpura on Thursday. Photo: JS Virdi
Going tough for Cong in Gurdaspur
Gurdaspur, May 9
The SAD-BJP combine is putting up a united effort to win the maximum number of seats in the Gurdaspur and Pathankot zila parishads. But the faction-ridden Congress is yet to get its act together.
No Cong candidates against prominent SAD leaders
Muktsar, May 9
The Congress has given an edge to its archrival SAD in Muktsar district by preferring not to field its candidates against prominent SAD candidates in the district. These included SGPC member Sukhdarshan Singh Marar's son, Malout MLA Harpreet's wife and Badals' close aide Tejinder Singh Middukhera's brother.
'Saada Haq' to be screened today
Jalandhar, May 9
Ahead of the screening of controversial film "Saada Haq" tomorrow, the Commissionerate Police today conducted checks in all multiplexes and passed orders to the respective SHOs to ensure proper deployment of adequate force.
Officials loath to join election duty
Patiala, May 9
A substantial number of government employees in various districts have sought exemption from poll duty, citing one reason or the other, the prominent being sickness.
Disregard for hygiene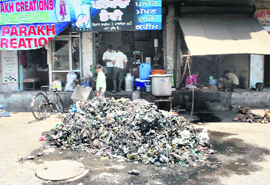 Heaps of garbage dumped in front of a dhaba in Patiala on Thursday. Tribune photo: Rajesh Sachar
polldigest
Ex-MLA's son unopposed
Muktsar: Jaspal Singh Marar, son of former Muktsar MLA and SGPC member Sukhdarshan Singh Marar, has been elected unopposed as member of panchayat samiti from Marar Kalan zone.
Drug addicts to be shifted out of overcrowded jails
Chandigarh, May 9
The Punjab Government is looking for alternative lodging facilities for addicts in state jails. The district administrations are learnt to have been told to look for appropriate places to lodge these addicts with the necessary infrastructure and staff for their rehabilitation. The drive to nab drug addicts (official sources put their number at more than 1,800) during the past couple of months has led to overcrowding of jails.
Marathon against drug addiction on May 12
Chandigarh, May 9
Taking a leaf from village panchayats who have said no to liquor in their villages, the Sangrur District Athletics Association has decided to organise a marathon on May 12 to start a movement against drugs in the district.
Policy for acid attack victims soon, HC told
Chandigarh, May 9
The Punjab Government today informed the Punjab and Haryana High Court that the Chief Minister has given his nod to the policy for free medical treatment and compensation for acid attack victims. The policy will be approved by the Council of Ministers in the next meeting.
Millers protest against FCI
Moga: Tension between the rice millers and local authorities of the Food Corporation of India (FCI) came to the fore at Moga on Wednesday over the allegations of corruption and rude behavior of an FCI official with an employee of a rice miller.
PEDA attracts Rs 2,500 crore investment
Chandigarh, May 9
The Punjab Energy Development Agency (PEDA) has attracted an investment of Rs 2,500 crore by way of bidding for 300 mw solar photovoltaic power (SPW) projects.
Cong men lift dharna on SSP's assurance
Ferozepur, May 9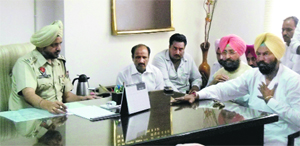 After an assurance by the district police chief on registration of an FIR against Akali leaders and workers who allegedly attacked Congress MLA from Guruharsahai Rana Gurmit Singh Sodhi near Chaupati village two days ago, protesting Congress workers today lifted their dharna from outside the SSP's office here.

MLA Rana Gurmit Singh Sodhi (right) and PPCC chief PS Bajwa at the Ferozepur SSP's office on Thursday.

Unauthorised use of generator sets banned
Mohali, May 9
Teams will be set up to check the unauthorised use of diesel generator sets in market areas. These will be headed by Sub- Divisional Magistrates (SDMs).
Police 'tortures' Cong man's son
Tarn Taran, May 9
Local Congress man Yashpal Sharma today alleged that his son Himmat Sharma was kept in illegal detention and tortured by the police. He said his son was mercilessly thrashed by constable Pritpal Singh over a trivial matter. When he went to the police station to secure his release, the head constable refused to do so.
JE held for taking bribe
Fatehgarh Sahib, May 9
The Vigilance Bureau today caught a Junior Engineer (JE) of the Electricity Board accepting a bribe of Rs 5,000. The accused, Ajit Singh posted at Khamano sub-division in the district, took the bribe for allocating a power connection to a flour mill.