Pak policy smacks of nuclear blackmail
In dismissing India's nuclear deterrent as driven by pride and prestige, Pakistan's nuclear deterrent is sought to be projected as somehow more justified, as unlike India it is said to be driven by so-called real security threats.
Shyam Saran
Shyam Saran, former Foreign Secretary, studies Pakistan's nuclear posturing and failure of India's strategists to clear the air about its own nuclear programme. The article is the last in a three-part series.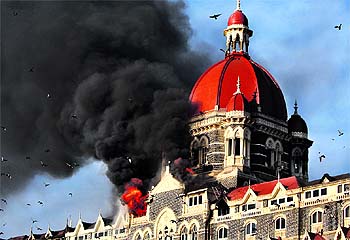 The Pakistani motivation is to dissuade India from contemplating conventional punitive retaliation to sub-conventional but highly destructive and disruptive cross-border terrorist strikes such as the horrific 26/11 attack on Mumbai. AFP file photo

Shrill articulation of imaginary security threats by Pakistan has justified its rapidly growing nuclear arsenal in the eyes of some motivated analysts. The next link in the argument would be that if only India could be persuaded to discard its pride and false sense of prestige and status, a strategic restraint regime, if not a non-nuclear regime, between the two sides would become possible and the world relieved from having to deal with the "most dangerous part of the world".
Pakistan's nuclear weapons are certainly focused in large part on the threat from India, real or imagined. In the present case, the Pakistani motivation is to dissuade India from contemplating conventional punitive retaliation to sub-conventional but highly destructive and disruptive cross-border terrorist strikes such as the horrific 26/11 attack on Mumbai. What Pakistan is signalling to India and to the world is that India should not contemplate retaliation even if there is another Mumbai because Pakistan has lowered the threshold of nuclear use to the theatre level. This is nothing short of nuclear blackmail, no different from the irresponsible behaviour one witnesses in North Korea. It deserves equal condemnation by the international community because it is not just a threat to India but to international peace and security.
Perceived threats of Pak
Should the international community countenance a licence to aid and abet terrorism by a state holding out a threat of nuclear war? But today given the evidence available, is it even possible to claim that the so-called Indian threat is the sole motivation which drives Pakistan's nuclear programme?
Some of the significant shifts that have taken place recently in Pakistan's nuclear posture, taking it from declared "minimum deterrence" to a possible second strike capability, are:
There is a calculated shift from the earlier generation of enriched uranium nuclear weapons to a newer generation of plutonium weapons.
Plutonium weapons would enable Pakistan to significantly increase the number of weapons in its arsenal, Pakistan is reported to have overtaken India's nuclear weapon inventory and, in a decade, may well surpass those held by Britain, France and China.
Progress has been claimed in the miniaturisation of weapons, enabling their use with cruise missiles and also with a new generation of short-range and tactical missiles. This is not yet fully verified but the intent is clear.
Pakistan has steadily pursued the improvement of the range and accuracy of its delivery vehicles, building upon the earlier Chinese models (the Hatf series) and the later North Korean models (the No-dong series). The newer missiles, including the Nasr, are solid-fuelled, which can be launched more speedily than the older liquid fuelled ones.
Pakistan's nuclear programme brings its scientific and technological accomplishments into the limelight. Pakistan repeatedly draws attention to its being the only Islamic country to have a sophisticated nuclear weapons programme. This gives it a special standing in the Islamic world. One should not underestimate the prestige factor in this regard.
These developments are driven by a mindset which seeks parity with, and even overtaking India, irrespective of the cost this entails. However, it is also driven by the more recent fear that the US may carry out an operation, like the one mounted in May 2011 to kill Osama bin Laden in Abbotabad, to disable, destroy or confiscate its nuclear weapons. The increase in the number of weapons, planned miniaturisation of warheads and their wider dispersal, are all designed to deter the US from undertaking such an operation. This aspect has acquired increasing salience in Pakistani calculations.
Recent articles which claim that the US has contingency plans to take out Pakistan's nuclear weapons in case of a jihadi takeover of its government or if the Pakistan army itself splits into a pro-jihadi and an anti-jihadi faction with the danger that the country's nuclear arsenal is no longer in safe and secure hands, must have heightened the paranoia among Pakistan's military and bureaucratic elite.
Multiple nuclear actors
Pakistan has, nevertheless, projected its nuclear deterrent as solely targeted at India and its strategic doctrine mimics the binary nuclear equation between the US and the Soviet Union which prevailed during the Cold War. But in a world of multiple nuclear actors, there is pervasive uncertainty about how the nuclear dynamic will play itself out even if a nuclear exchange commenced with only two actors. What may be a zero-sum game with two actors may not be so for a third or a fourth actor. For example, the long history of the Sino-Pakistan nuclear nexus determines that China will be a factor influencing security calculations in New Delhi, Islamabad and Washington. How will a nuclear exchange, often posited between India and Pakistan, impact on China and would India be prudent not to factor that into its nuclear deterrence calculations?
In the context of Japan and South Korea, can the nuclear threat posed by North Korea be delinked from China's strategic posture in the region? How would these calculations affect the US nuclear posture? And how would Russian strategists react? It is because of this complexity that notions of a flexible response and counter-force targeting, which appeared to have certain logic in a binary US-Soviet context, lose their relevance in the multi-dimensional threat scenario which certainly prevails in our region. It is no longer sufficient to analyse the India-Pakistan or India-China nuclear equation only in the bilateral context. Therefore, Pakistan's nuclear behaviour should be a matter of concern not just to India but to the international community. It obviously is for the US though it is usually made out to be a matter for and related to Pakistan's relations with India.
It is also this complexity in multiple and interlinked nuclear equations which argues for an early realisation of global nuclear disarmament through multilateral negotiations and India's championing of this cause is not all contradictory to its maintenance of a robust nuclear deterrent in the meantime. The above background must be kept in mind when evaluating India's continued insistence on the central tenet of its nuclear doctrine that India will not be the first to use nuclear weapons, but if it is attacked with such weapons, it would engage in nuclear retaliation which will be massive and designed to inflict unacceptable damage on its adversary.
The label on a nuclear weapon used for attacking India, strategic or tactical, is irrelevant from the Indian perspective. A limited nuclear war is a contradiction in terms. Any nuclear exchange, once initiated, would swiftly and inexorably escalate to the strategic level. Pakistan would be prudent not to assume otherwise as it sometimes appears to do, most recently by developing and perhaps deploying theatre nuclear weapons. It would be far better for Pakistan to finally and irreversibly abandon the long-standing policy of using cross-border terrorism as an instrument of state policy and pursue nuclear and conventional confidence-building measures with India which are already on the bilateral agenda. An agreement on no-first use of nuclear weapons would be a notable measure following up on the commitment already made by the two countries to maintain a moratorium on nuclear testing.
As would be apparent, in the case of India, it is the security narrative which is the most significant driver of its strategic nuclear capability though India has consistently followed a cautious and restrained approach. India's nuclear doctrine categorically affirms India's belief that its security would be enhanced not diminished in a world free of nuclear weapons. The elements of pride and prestige are supplementary as they always are in the complex basket of elements that influence strategic choices which countries make.
People must know
The mostly self-serving and misconceived notions about India's nuclear deterrent that have found currency in the recent past, have much to do with the failure on the part of both the State as well as India's strategic community to confront and refute them. The ease with which motivated assessments and speculative judgments invade our own thinking is deeply troubling.
The secrecy which surrounds our nuclear programme, a legacy of the long years of developing and maintaining strategic capabilities, is now counterproductive. There is not enough data or information that flows from the guardians of our strategic assets to enable reasoned judgments and evaluations. There has been significant progress in the modernisation and operationalisation of our strategic assets, but this is rarely and only anecdotally shared with the public. The result is an information vacuum which then gets occupied by either ill-informed or motivated speculation or assessments. To begin with, the government should make public its nuclear doctrine and release data regularly on what steps have been and are being taken to put the requirements of the doctrine in place.
It is not necessary to share operational details but an overall survey such as an annual strategic posture review should be shared with the citizens of the country who, after all, pay for the security which the deterrent is supposed to provide to them. An informed and vigorous debate based on accurate and factual information should be welcomed, because only through such a debate can concepts be refined, contingencies identified and the most effective responses formulated. In a democracy, this is critical to upholding a broad consensus on dealing with the complex and constantly evolving security challenges our country confronts.
— Excerpted from a lecture organised by the Subbu Forum Society for Policy Studies and the India Habitat Centre on April 24 in New Delhi. The views expressed are personal.