Why India went down nuclear weapons path
India's policy towards nuclear weapons evolved over a period of nearly three decades and this evolution was impacted
by several significant developments in the country's security environment
Shyam Saran
In the first of this three-part series Shyam Saran looks at issues of contemporary relevance to India's national security drawing on his experience of dealing with disarmament and international security at the Conference on Disarmament in Geneva, the two-year stint he had at the Prime Minister's Office in 1991-92, handling issues relating to External Affairs, Defence and Atomic Energy, and more recently his involvement in the Indo-US negotiations on a civil nuclear cooperation agreement, both as Foreign Secretary and as the Prime Minister's Special Envoy
INDIA became a declared nuclear weapon state in May 1998, although it had maintained a capability to assemble nuclear explosive devices and had developed a delivery capability both in terms of aircraft as well as missiles several years previously.In May 1998, this capability was finally translated into an explicit and declared nuclear weapon status through a series of nuclear tests.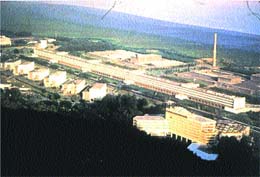 A view of the Bhabha Atomic Research Centre, Trombay, the hub of nuclear research
This is important to recognize because India did not overnight become a nuclear weapon capable state in May 1998, but until then a deliberate choice had been made to defer the acquisition of a nuclear weapon arsenal as long as there was still hope that the world would eventually move towards a complete elimination of these weapons of mass destruction. India's leaders recognised the prudence of developing and maintaining national capability and capacity to develop strategic assets if this became necessary but the preference remained for realising the objective of a nuclear weapon free world.The events of May 1998 reflected the judgement that nuclear disarmament was no longer on the agenda of the nuclear weapon states. On the contrary, their objective was to make permanent the division of the world into nuclear haves and have-nots, which India had rejected since the very dawn of the atomic age.
What led to nuclear test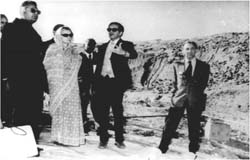 The 1974 Pokhran blast site being inspected by Prime Minister Indira Gandhi along with top nuclear scientists.
India's policy towards nuclear weapons evolved over a period of nearly three decades and this evolution was impacted by several significant developments in the country's security environment. The testing of a nuclear weapon by China in 1964 was the first major driver.There is evidence that both Nehru and Homi Bhabha had not excluded the possibility of India acquiring nuclear weapons even earlier, in case India's security and defence warranted it. India's first plutonium separation plant came up in 1964 itself at Trombay when both Nehru and Bhabha were still in office. The pursuit of strategic capability took time and each subsequent stage would be linked to certain adverse developments in India's security environment. It would be 10 years before India carried out a peaceful nuclear explosion, in 1974, to signal its capability to design and fabricate a nuclear explosive device. In the background were a series of developments which had heightened India's security concerns and led to Prime Minister Indira Gandhi's decision to approve the nuclear test:
The conclusion of the Non-Proliferation Treaty (NPT) in 1968 which sought to prevent the emergence of any new nuclear weapon states, without a concomitant and credible commitment on the part of the existing nuclear weapon states to achieve nuclear disarmament within a reasonable time frame. India had to stay out of the treaty in order to maintain its nuclear option.
The NPT was followed by the 1971 Bangladesh war and an unwelcome Sino-US axis targeting India. The appearance of USS Enterprise in the Bay of Bengal heightened India's sense of vulnerability.
The next phase in the acquisition of capabilities is also linked to certain new developments adversely affecting India's security. Reports began to appear that China had delivered a fully tested nuclear bomb design to Pakistan in 1983. China may have tested a Pakistani weapon at the Lop Nor test site in 1990.Pakistan emerged as a "front-line state" in the war against Soviet forces in Afghanistan in the decade of the 1980s, bringing fresh worries to India's security planners. Its feverish and clandestine pursuit of nuclear weapons capability also heightened threat perceptions in India, particularly when it became clear that the U.S. was not willing to deter Pakistan from the quest, given its equities in the ongoing war. This also marks the phase when Pakistan's nuclear weapon programme, which was led by its civilian political leaders, Zulfiqar Ali Bhutto and later Ghulam Ishaaq Khan, passed into the hands of its military establishment, thus acquiring an altogether more sinister dimension.
Today, Pakistan is the only nuclear-armed state where it is the military and not the civilian political leadership that is in effective control of its nuclear arsenal. During this period, India's sense of vulnerability increased due to the surge in the violent Khalistan movement aided and abetted by Pakistan as also the blow back from the ongoing war in Afghanistan. Despite these developments Prime Minister Rajiv Gandhi launched a major initiative at the United Nations in 1988 to promote a world free of nuclear weapons through the Action Plan on Nuclear Disarmament. This was a serious effort to promote nuclear disarmament which would enable India to avoid the less preferable alternative of itself becoming a nuclear weapon state in order to safeguard its security and its political independence.
The 1998 'break-out'
The decade of the nineties marks the next phase in India's nuclear trajectory, leading up to the "break-out" in May 1998. This phase was marked by a serious debate within the political leadership over whether the time had come to go ahead with a declared nuclear weapon status or whether the likely international political and economic fallout made this a costly choice. As the decade of the 1990s unfolded, it became abundantly clear that the choice was being forced on India as a consequence of several serious geopolitical developments.
What were the drivers during this phase? One, the U.S. emerged as a hyper-power after the demise of the Soviet Union and this severely narrowed India's strategic space. Two, the nuclear weapon states moved to enforce a permanent status on the NPT in 1995, thereby perpetuating the division between nuclear weapon states and non-nuclear weapon states, with oblique threats to use the U.N. Security Council to sanction and to penalise those countries which resisted the universalisation of the NPT. This would have put India in state of permanent strategic vulnerability to nuclear threat and nuclear blackmail. This may have happened during India-Pakistan tensions in 1990 though the record is ambiguous on this score (Yaqub Khan's visit to Delhi in 1990 is said to have been undertaken to convey the threat of nuclear retaliation against India in case the latter moved its conventional military forces to threaten or to attack Pakistan).
During 1991-92, one was also witness to a determined attempt by the U.S. to put serious limits on India's civilian space and missile programme by pressuring Russia under President Yeltsin to deny India the cryogenic engine technology that it needed to upgrade its civilian space capabilities. The precipitating factor proved to be the effort in 1996 to push through a discriminatory Comprehensive Test Ban Treaty (CTBT), which would have permanently foreclosed India's options to develop a credible and fully tested nuclear deterrent.
These developments meant that India could no longer have any credible assurance of its security in the absence of its own independent nuclear deterrent. It would confront increased vulnerability vis-a-vis its adversaries, its security would have been severely undermined and made its quest for strategic autonomy a mirage. It is against this background that a decision was taken in May 1998 to breach the narrowing nuclear containment ring around the country and assert India's determination to retain its ability to deter threats from States hostile to it and to ensure an environment in which it could pursue its development priorities without disruption. This is clearly articulated in India's Draft Nuclear Doctrine released in August 1999. The official Doctrine based mainly on the draft was adopted in January 2003, but its full text has not been shared with the public.
It is important to keep this historical perspective in mind because the nuclear tests carried out in May 1998 were not a mere episode driven by current and largely domestic political compulsions (though this may have influenced the precise timing), but rather the logical and perhaps an even inexorable culmination of a decades-long evolution in strategic thinking, influenced by an increasingly complex and hostile security environment. The timing may have also been influenced by geopolitical developments. The end of the Cold War and the rise of China brought a sense of strategic opportunity to India . The collapse of the Soviet Union meant that the U.S. was no longer inimical to Indian interests as it had been during the Cold War years, with India seen as being on the wrong side of the fence. China's emergence as a potential adversary to the U.S. made a more rapidly growing India an attractive countervailing power, quite apart from the opportunities it offered to U.S. business and industry. India's swift emergence as an I.T. power and the rising affluence and influence of the India-American community, reinforced the positive shift in American perceptions about India. Therefore, while fully conscious of the adverse fallout from its decision to undertake a series of nuclear tests and to establish itself as a declared nuclear weapon state, Indian leaders may also have calculated that such fallout would be temporary and India's growing strategic relevance would eventually overcome such impediments. This judgement has proved to be true in most respects.
India's nuclear doctrine
There is no doubt that the shift to a declared nuclear weapon state posture confronts India with new and more complex challenges. These challenges involve the nature and structure of the nuclear weapon arsenal as well as delivery assets. India has articulated a nuclear doctrine that is appropriate to the current geopolitical environment, is aligned with its existing and projected levels of technological capabilities and affordability and most importantly, is reflective of India's domestic realities and its value system. The people of India want their leaders to pursue an independent foreign policy, maintain strategic autonomy and safeguard the security of the country and its citizens by having adequate means to deter threats to national sovereignty and territorial integrity. Sustaining democracy within the country is seen as integrally linked to the ability of the State to deliver on these fundamental aspirations.
At various stages of India's contemporary history, the Indian state has pursued different strategies to achieve these objectives in a nuclearised, asymmetrical and often hostile regional and global environment. It has had to make difficult choices including embracing a three decades long strategic partnership with the Soviet Union which helped the country to meet the threat from an implacably hostile and belligerent Pakistan and a China that turned into a threatening and often arrogant adversary post India's humiliating defeat in the 1962 border war. Those who perennially bemoan India's lack of strategic culture such as the recent Economist article, seem strangely reluctant to acknowledge the difficult choices that governments of every persuasion in the country have made whether in seeking strategic partners, maintaining a nuclear option or eventually exercising that option despite the odds confronting us. That mistakes have been made, that sometimes opportunities have been missed or our judgments were misplaced is undeniable. But if having a strategy means the readiness to make reasoned choices, then India has demonstrated an ability to think and act strategically.
Excerpted from a lecture organised by the Subbu Forum Society for Policy Studies and the India Habitat Centre on April 24, 2013, in New Delhi. The views expressed are personal