Team inspects Rohtang Pass area to regulate tourists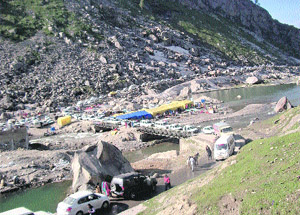 Manali, May 7
A joint inspection team, headed by Deputy Commissioner, Kullu, Sherab Negi, today took stock of illegal dhabas, vendors, snow scooters and multi-terrain vehicles (MTVs) in the Beas Nullah, Marhi and the 13,050-ft-high Rohtang Pass to chalk out a strategy to regulate tourists in the region as directed by the high court in its recent order.


A view of tourists at the Beas nullah, 25 km short of the Rohtang Pass. Photo by writer

Villagers seek science, commerce classes in school
Bilaspur, May 7
Led by School Management Committee office-bearers, including president Dinesh Patial and prominent leaders Mahender Singh, gram panchayat president Vijay Luxmi, Sapna Devi, Prakash Chand, Prakasho Devi, Preetam Singh, Balwant Singh, Santu Ram, Vandana Kumari, Rama Nand Sharma, Kesari Devi, Kehar Singh Rana, Ajay Kumar, Rakesh Kumar and Rajiv Kumar, a large number of villagers staged a dharna and raised slogans at the main gate of Government Senior Secondary School at Gaaliyan near Jhandutta, 55 km from here, yesterday.
KCCB pensioners flay chairman's statement
Hamirpur, May 7
The Kangra Central Cooperative Bank (KCCB) Pensioners' Welfare Association has condemned the statement of newly appointed chairman of the bank regarding the pension scheme of the KCCB.
IFFCO cuts prices of complex fertilisers
Shimla, May 7
Indian Farmers Fertiliser Cooperative Limited (IFFCO) has reduced the prices of complex fertilisers, providing substantial relief to farmers.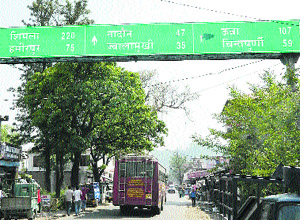 Tribune Impact
Misleading signboard on NH-88 corrected
Kangra, May 7
Despite repeated complaints the National Highways Authority of India for nearly five years, tourists and pilgrims were facing inconvenience due to official apathy. At last, the signboard was corrected today.



The signboard on National Highway 88 at Kangra. Photo: Ashok Raina

Class XII HPSEB Result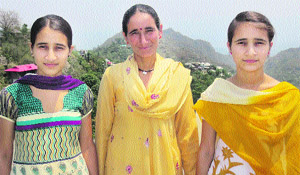 Shilpa tops science stream with 97%
Mandi/Tihra, May 7
Shilpa of Naliana village in Sarkaghat topped the science stream of Class XII of the Himachal Pradesh School Education Board (HBSEB) after securing 97 per cent marks. The result was declared yesterday.

Shilpa (left) with her mother and sister at Tihra.

National Book Trust to launch e-format
Dharamsala, May 7
The National Book Trust (NBT) of India will be launching an e-format for its 17,000 title publications in 32 languages. Coordinator for the NBT Shekar Sarkar gave this information while talking to mediapersons here today.
MCI team points out staff shortage at Tanda medical college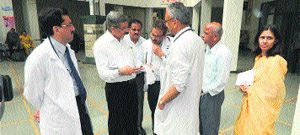 Kangra, May 7
A team from the Medical Council of India (MCI) today completed a two-day inspection of Dr Rajendra Prasad Government Medical (DRPGM) College, Tanda. However, shortage of staff as per the norms of the MCI was reportedly pointed out by the team.

Members of the MCI team Dr Deeraj Kapoor, Dr Suresh Verma and Dr Sanjeev Choudary in the OPD of the DRPGMC, Tanda, on Tuesday. Photo: Ashok Raina

Include thalassaemic patients in disabled category: Trust
Shimla, May 7
Umang Foundation, a charitable trust, has urged the government to include those suffering from thalassaemia in the category of disabled so that they could avail various facilities and concession being provided to physically challenged persons.
ABVP for action against pvt varsities violating norms
Shimla, May 7
Alleging that the state Private Education Regulatory Commission has become a helpless spectator to the blatant violations of rules and regulations and fleecing of students by private universities, the state unit of the Akhil Bharatiya Vidyarthi Parishad (ABVP) has demanded stern action to safeguard the future of the students.
Man found hanging from tree
Bilaspur, May 7
Pravin Kumar (27) of Panjgaain village, who was living at Maakadi village with his uncle, was found hanging from a tree in a forest near Markandeya last evening.