I N T E R V I E W

on record


ĎBig challenge ahead for Pakistaní
ó Nawaz Sharif, president of the Pakistan Muslim League-N and former Prime Minister
Raj Chengappa


Editor-in-Chief, The Tribune Group of Newspapers,
talks to Nawaz Sharif in Lahore on the day of polling

On Saturday, while the rest of Pakistan was in a whirl, Nawaz Sharif was a study in calm. The former Pakistan Prime Minister, who heads the Pakistan Muslim League-N, chose to spend a relaxed morning at his sprawling farm house in Raiwind. He showed no anxiety on the outcome of the polls and appeared confident of his party emerging as the single largest in terms of seats and of him forming the government. Excerpts from an exclusive interview over endless rounds of kahva:

Judging from the current trends, it appears no party is likely to get a majority and the mandate would be a fractured one. So even if you become the Prime Minister for the third time, you will be riding a tiger in terms of governance and managing a coalition.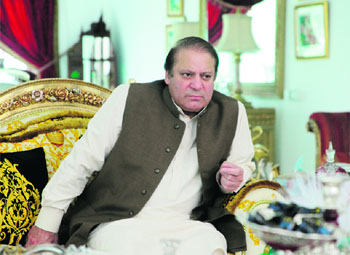 Nawaz Sharif speaking to The Tribune at his farmhouse in Raiwind, 40 km from Lahore, on Saturday. Photo: Amir Butt
If the mandate is fractured, then we will have to see what the available options are. I cannot really tell you what we will do as it depends to what extent the mandate is fractured. Do we have a simple majority, or we do not have a majority. What is the total number of seats that we have and the others will have. The other parties in this election campaign have been attacking us, indulging in character assassination, hitting us below the belt. It was something that was very undesirable and I am very sorry that the present leadership of the Pakistanís Peoples Party did not learn any lesson from the past mistakes and the blunders that they have been committing. Also, the Pakistan Peopleís Party and Imran Khan were all together in attacking us, though we never answered in the same language. We never adopted any foul language. We told the people that this is what we did when I was the Prime Minister and when [my brother] Shahbaz Sharif was the Chief Minister. The people know our performance, so letís see the result and then we will decide what we are going to do.
In the 2008 General Election, the mandate was fractured and at that time I recall you proposed a national government consisting of all parties. Do you think that the concept is still relevant if none of you gets the majority?
Yes, if the other parties are prepared to share the vision that we have for Pakistan and also the manifesto that we have, and the programme that we have ó and we do not mind sharing the vision of anybody else as well, if that vision pulls this country out of the problems that we have been facing. The problems are huge and there are big challenges. One doesnít know how to meet those challenges. What I am saying is that whosoever is elected to Parliament will have to join their heads and sit down and formulate a common agenda and move together. This perhaps is the real concept of a national government. During the last elections, I was very clear that although we fought against each other, it was our party that actually provided support to the Peopleís Party government in 2008, and their Prime Minister was elected unanimously. That was the first example of its kind in this country in the past 65 years. But that was the time when we were all against dictatorship and we all joined hands. I think we should still have been friends if the Peopleís Partyís government headed by Mr Zardari had conducted itself properly in a democratic fashion and performed. But there is so much hatred against the Peopleís Party that people of this country will once again start blaming me.
Many political pundits felt it would have benefited the country and your party if this General Election was held much earlier by bringing down the PPP-led government. Why didnít you do that?
I think what we did was the wisest thing that we could do. It is the best thing that has happened to this country because after many decades the government of the day has been able to fulfil its full term in office without any hindrance and problems. We made a pledge, not to the Peopleís Party but to the people, that we will adhere by the constitution and that we will allow the mandate of the people of this country to be fulfilled by any party that it is given to. We stood by it and we made sure that it happened. I am very happy, no regrets at all.
Do you see yourself doing business with Imran Khan if his party wins sizeable numbers and you need to join hands to form a coalition government?
I just mentioned that everybody will have to sit together and formulate a national agenda ó that is what the country needs done.
Even if that means doing business with Imran Khan?
Whoever it needs doing business with, I think we should be prepared for that in the interest of the country.
What were the big issues on which the election was fought?
The biggest issue was the state of the economy. We have terrible power shortages in this country. There was a time the 1990s, when I was in office, we had surplus of power, the economy was moving ahead. Now we have lost so much in terms of economy, which has suffered very badly. Economy is the number one issue in this country, and if we are able to address it, we would be able to resolve most of our problems. The other big problem is that we have lost more than 40,000 lives at the hands of terrorism in Pakistan. I think we have got to pull the country out of the terrible mess we are facing.
Many of the public sector institutions and corporations in Pakistan are failing, whether it is the airlines or railways. If you come to power, would you now move towards greater privatisation of these institutions?
That is the only answer. We have got to fix these organisations very quickly as they are not only highly inefficient but they are also losing very heavily. The national exchequer has to pay all this money to them. All the losses have been picked up by the government. How can the government keep on picking up the heavy losses of these organisations? Why canít these organisations stand on their own legs? Many state-owned enterprises are incurring heavy losses. It is not the job of the government to run factories and industries. Jiska kaam usi ko saje, we have got to at least think on those lines ó that we set them right and prepare them for privatisation.
The other issue is the deteriorating internal security situation. Unless you tackle the problem of terrorism and militancy, no foreign country would like to invest in Pakistanís economy. What do you think needs to be done to improve the internal security situation, including dealing firmly with extremists and the hardliners?
We have got to set all these things right. We need to have a consensus on the issue and Parliament will have to play its role in this. We did that in 2008, when after Parliament was formed a parliamentary committee was constituted, and the terms of reference finalised. It was to chalk out a policy to deal with these elements that would lead towards establishment of peace in this country. But when the parliamentary committee was ready to start doing its work, the Pakistan government took no action. It did not lend any support to the parliamentary committee, which was a tragedy. I think had that committee been allowed, things today would have been totally different.
Would you prefer entering into a dialogue with these elements to bring them back to the mainstream?
I prefer a multifaceted and a multi-pronged approach, but we will have to make our minds clear first. Let the government be formed and let all the stakeholders sit down together, clear their minds and also talk to our foreign friends and listen to their concerns. They also have to listen to our concerns. Once we are able to form a consensus, then we will initiate any policy that we have.
What about Pakistanís relations with India, which have not improved despite efforts? Your own initiative in 1999 was derailed after the historic Lahore visit by Atal Behari Vajpayee. Where would you pick up the threads to improve relations with India?
From where we both left it in 1999, that was a defining moment and I think we will have to start the journey again from the same point. I am quite inclined and prepared to do that. I think that this is the only answer to the problems of these two countries.
Recently, relations have further worsened over the murder of two prisoners in Pakistani and Indian jails, Sarabjit and Sanaullah...
These are very unfortunate incidents. But they are happening on both sides, I wish they could stop.
Can India and Pakistan do what Russia and the USA did by giving amnesty after several decades to exchange their spies who had been arrested?
I think one day we will have to do that. Rather than pushing that day farther away, we should try and do it as quickly as possible and live like dignified nations.
Another big challenge Pakistan faces is in dealing with the USA and Afghanistan, post the pull out of American troops next year. There has been considerable anger in Pakistan over the drone attacks by the US.
We have good relations with the USA. We would keep them good and even strengthen the relationship. I have worked with my US counterparts before and had a good rapport, including with then President Bill Clinton. We would need to address each otherís concerns.
The other is your relations with the Pakistan army. When you were last Prime Minister, you were deposed in a coup. How do you see your relations with the Army now?
My relations with the army are excellent. I do not hold anything against the army. What happened in 1999 was not initiated by the Army; it was General Pervez Musharraf who was responsible. The army never liked that action of Musharraf. The army had not accepted that Musharraf for his own sake takes over the country and overthrows the elected government.
Would you now assert the supremacy of the civilian government over the army, and ensure such things are not repeated?
If all the institutions of Pakistan adhere to the constitution, nothing will go wrong with this country. We have all learnt that lesson. I believe now all of us would like to adhere to the constitution. My party firmly believes in the rule of the law and adhering to the constitution and the judiciary. We have struggled for that, as well as for the reinstatement of judges who were sacked by Musharraf.
But how will you ensure that the civilian government gets and retains supremacy over the army?
I have already answered this question. Adherence to the constitution means all this.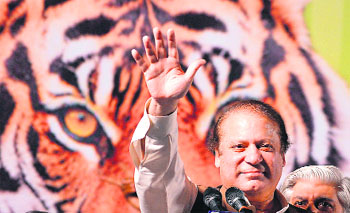 If you become Prime Minister, this would be your third stint at the top job. What would be your agenda?
My energies will be focused on the economic revival of the country and also establishing the rule of the law. There is a great amount of disorder in Karachi and Balochistan. The situation is not peaceful there. We will pay our attention to all these things and extremism in the country.
What were the lessons you learnt, including from being sent off on an exile?
Humility ó it always pays you. Never be arrogant, arrogance ko bhagao. If you are to serve your country sincerely and be happy, then you should rise above personal interests. Also, you have to do things here and now. You have to be a go-getter on the job.