Two city advocates declared POs
Jalandhar, May 15
Two city-based advocates have been declared proclaimed offenders (POs) by a local court in a case pertaining to the alleged forging of documents in connection with a property case on Ladowali Road here. Judicial Magistrate Manav, who is hearing the case, titled CK Bali vs Satpal Kagra, has recently declared Satpal Kagra as PO, while the second lawyer Om Parkash was already a PO in the case.
From schools and colleges
Foundation stone of Ramgarhia College of Education's administrative block laid
Jalandhar, May 15
A foundation stone-laying ceremony of Brichpal Singh Bhogal Memorial Golden Jubilee Administrative Block was held at Ramgarhia College of Education here. President-cum-chairman of Ramgarhia Educational Council Phagwara Bharpur Singh Bhogal laid the foundation stone on the occasion.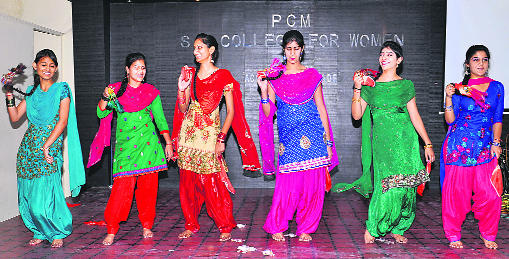 Students of PCM SD Collegiate Senior Secondary School perform at a cultural programme during a freshers' party in Jalandhar. A Tribune photograph

Ladhar raises eyebrows over ADC probe into Rs 2.75 crore embezzlement
Jalandhar, May 15
Even as an administrative inquiry into a 15-month-old alleged embezzlement of Rs 2.75 crore from embossing fee collection has been submitted by Additional Deputy Commissioner (ADC) Praneet Bhardwaj, it perhaps has not gone down well with Divisional Commissioner SR Ladhar in whose office the alleged scam had taken place.
SBI branch celebrates 90th foundation day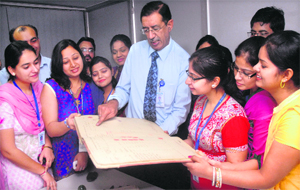 Jalandhar, May 15
The main branch of the State Bank of India (SBI) today celebrated its 90th foundation day with much fanfare on its premises here. Ancient documents, including ledgers, salary registers and a lock of the bank were also displayed in the exhibition on the occasion.
Assistant General Manager of the main branch of the State Bank of India shows a salary register of the employees of the Imperial Bank of India on the 90th foundation day of the branch in Jalandhar on Wednesday. Tribune photo: Malkiat Singh
POSCON hails French cooperative for aiding farmers
Jalandhar, May 15
The Confederation of Potato Seed Farmers, Jalandhar, convened its monthly meeting here today. POSCON president Sukhjit Singh Bhatti and general secretary Jang Bahadur Singh Sangha addressed the meeting. Bhatti and Sangha said since the government was encouraging diversification in agriculture, a large number of farmers had taken to potato and vegetable cultivation.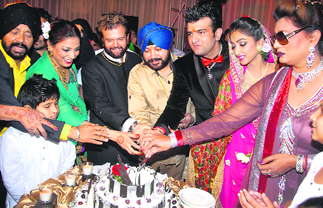 Engagement ceremony: Navraj Hans, son of singer Hans Raj Hans, and Ajit Kaur, daughter of singer Daler Mehandi, cut a cake at a city hotel in Jalandhar on Wednesday. The ceremony was attended by various personalities from the field of art and culture and political leaders of Punjab. Tribune photo: Malkiat Singh
Tension prevails in Basti Danishmandan
Jalandhar, May 15
Tension prevailed as leaders of the Hindu community were at loggerheads with a Christian group demanding that the latter wind up a programme being organised at Basti Danishmandan on the Gakhlan Road here.
Two killed in road, rail accidents
Phagwara, May 15
A Bihari migrant labourer, identified as Priras, presently residing at Jamshed village, was killed as he was run over by a tipper near Bilga village on the Phillaur-Nakodar road last night.
Bank donates ceiling fans to schools
Jalandhar, May 15
The State Bank of India (SBI), Bast Adda Road, and the Harbans Nagar branches today donated 20 ceiling fans to three government schools here.
NRI's house burgled at Dosanjh Kalan village
Phagwara, May 15
The house of a non-resident Indian (NRI), Surjit Singh, was burgled at nearby Dosanjh Kalan village last night.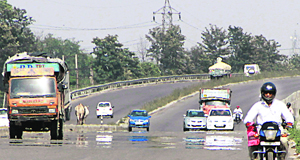 Mirage: The heatwave creates an optical illusion on a road having hardly any traffic in Jalandhar. Photo: Sarabjit Singh

20 buses challaned
Jalandhar, May 15
The traffic police challaned as many as 20 buses for using pressure horns during a naka in front of Lyallpur Khalsa College here today. Of the total buses, two were of the Punjab Roadways while the remaining were of private transport companies, including Doaba, Prince, Sutlej, Kartar, Azad and Dhaliwal. The police also removed pressure horns from more than 100 buses. Asked as to why they were spared, ACP (Traffic) Mahinder Singh said challaning could only be done if the bus driver used the horn. "These 100 buses had not used the horn near the naka. But we stopped them for checking and removed the horns," he said. — TNS
Two killed
Jalandhar, May 15
Two youths were killed and three other persons injured in a head-on collision between a Zen car and a Scorpio near Kartarpur here today. Both the deceased, Inderjeet Singh of Gandhi Nagar, Kartarpur, and his friend Simarjeet Singh (18), a student of St Soldier College, were travelling in the Zen car. — TNS