Getaway
Wanderful adventures
Taru Bahl
Dehradun and its adjoining areas have something for everyone — religious tourists as well as adventure enthusiasts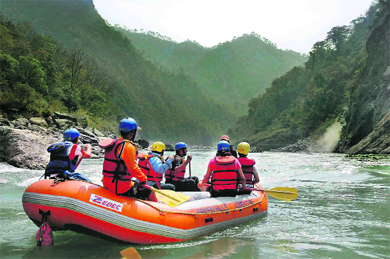 Adventure lovers can enjoy the white water rafting camps in Rishikesh; With a sparkling view of the Doon valley and Shivalik ranges, Mussoorie is a universal favourite. Tribune photos: Vinod Pundir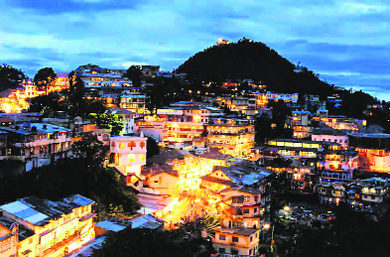 Come summer and you want to head to cooler climes. Dehradun is a good option. If you make it your base, you can see half a dozen places, each a destination in itself. From temples to trekking trails, noisy touristy mall roads to quiet unspoilt picnic spots, there is much to choose from. With the magnificent Himalayas, Shivalik Hills, the sacred Ganges and Yamuna rivers, the valley can be explored at leisure. There is Haridwar, Mussoorie, Tehri, Rishikesh, Dhanaulti, Chamba and Chakrata, among others which you can pack in as independent day trips or spend a weekend, depending on your time and interest.
At a height of 1,880 metres (6,170 ft), Mussoorie is a universal favourite. Its impressive snow ranges to the North-East, and sparkling view of the Doon Valley and Shivalik ranges in the south. Its highest point is Lal Tibba at 2,290 m (7,510 ft). You can take a shared cab from Dehradun or hop onto a state transport bus. In less than an hour, you will reach the Mall, which stretches from Picture Palace at its eastern end, to the Public Library at its western end. The cable car ride is recommended for a good view of the mountains, taking you up to the imposing Gun Hill. You can head back and check out the famous Kempty falls. Lesser-known, though equally attractive are the Bhatta Falls, Jharipani and the Mossy Fall. For the temple darshan, you can pay obeisance at the Nag devta temple and the Jwalaji temple.
Dhanaulti is 24 km from Mussoorie, at an altitude of 2286 m. Quiet and serene, thanks to the alpine forests of Deodar, Rhododendron and Oak. Two of its parks have been developed as eco destinations. Both "Amber" and "Dhara", which are almost adjoining, have used a number of eco-friendly techniques to cultivate flora and fauna. If driving down from Dehradun, a stop at the Himalayan Weavers is recommended. There is a wide variety of local hand-woven shawls, stoles, scarves and throws using natural dyes and wool, eri silk and pashmina. As you head up, you could go to the Aloo Khet (Potato Farm), a sprawling Government Potato Farm. Dhanaulti is also popular as a camping site. A good time to visit is Dasehra when you get a feel of traditional customs and fanfare, though summer is when it sees the crowds.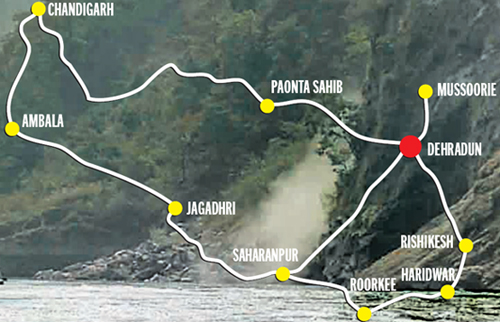 About a 100 km from Dehradun is Chakrata, which lies between the Tons and Yamuna rivers. Popular with trekkers, nature and adventure lovers, it is reminiscent of its British lineage. Once a cantonment town, it is flanked by dense forests of conifers, rhododendrons and oaks. Apart from trekking, it is also known for some of its skiing slopes, which see a lot of activity from November to April. There is Mundali (2,776 m), about 35 km from Kathyan, onwards Tuni. You can do the drive in a jeep too. In the vicinity are the Tiger Falls, where water cascades from a height of 50 m. Once you have soaked in these places during the day and if you are planning a night halt, you could head to Kanasar, 26 km from Chakrata and 105 km from Dehradun. The place has some decent Forest Rest Houses, each with a view of its own.
While on your Dehradun sojourn, you can pack in a few more places like Tehri, which is 104 km from Doon, Devban, which is 16 km from Chakrata and, of course, Nainital, but it is Haridwar and Rishikesh, which have a timeless appeal. Haridwar, for most Hindus, is a place of sacred pilgrimage. A dip in the Ganges is braved, be it summer or winter, teeming with the crowds, sadhus and pickpockets. An experience to behold, the seekers check into the many ashrams that the town boasts of, apart from some good hotels and resorts. While here, you can go to the Brahma Kund. Located at Har ki Pauri, it is considered to be the most sacred ghat of Haridwar. Experiencing the evening aarti as a participant or even observer is an absolute must.
During the day, the holy city of Rishikesh can be explored, especially if you are an adventure sports buff. Many white water rafting camps have sprung up, which cater to different groups from across the world. The white sands and gushing water of the Ganges are a tempting sight, promising to help you unwind. A lot of Israeli and German backpackers can be spotted, many of who know the place better than even the locals. Fenced by Tehri Garhwal and Pauri Garhwal, there is a lot to do, both for those seeking salvation, peace and quiet and the adventure enthusiast who is looking for an adrenalin rush.