Harsh weather hits wheat arrivals
Chandigarh, May 19
Wheat arrivals in Haryana have almost dropped to a trickle several days ahead of the deadline. The production drop ranges between 10 to 48 per cent across various districts. The government agencies have managed to procure only 58.60 lakh metric tonne (MT), a sharp overall drop of 33 per cent from last year's procurement of 87.52 lakh MT.
Rors, Dalits vow to restore peace in Pabnawa village
Chandigarh, May 19
The joint peace committee of Rors and Dalits of Pabnawa village in Kaithal arrived at a final "settlement" which involves a little give and take. At a meeting held in the village school, the Rors, the dominant caste of the village, took guarantee for the safety of Dalits while the latter agreed to withdraw the police case registered against 50-odd Rors for the April 13 violence . This would, however, not be applicable to last week's "attack" on two Dalit villagers.
Parole to Hardened Criminals
Keep conviction history in mind, orders HC
Chandigarh, May 19
The Punjab and Haryana High Court has made it clear that the circumstances in which a person was convicted have to be taken into consideration before declaring him a hardened criminal for the purpose of granting him parole. The high court has, in fact, made it clear that a reference to the facts resulting in conviction has to be made before formulating an opinion on the issue of granting parole.
Crime Against Women, Children
Efforts on to ensure speedy justice to victims: SC Judge
Gurgaon, May 19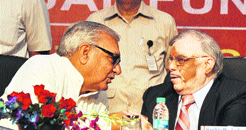 "Following the Delhi gang rape, the Indian judiciary is now identifying and prioritising cases related to women and children to ensure speedy justice to victims," said Justice P Sathasivam, Judge, Supreme Court, and Executive Chairman of National Legal Services Authority (NALSA).
Chief Minister Bhupinder Singh Hooda and Supreme Court Judge P.Sathasivam discuss a point at the fourth annual function of Students' Legal Literacy Mission organised at Bhora Kalan Village (Gurgaon), on Sunday. Tribune photo: Sayeed Ahmed

5 hurt in clash at Hisar village
Hisar, May 19
Five persons, including two women, were injured after a minor quarrel between children turned ugly at Sarsod village in Hisar today. Firearms were used in the clash. Balbir Singh (50), who received a bullet injury in his belly, has been rushed to the PGIMS, Rohtak, in a critical condition.
Political leaders should work for change: Speaker
Kaithal, May 19
Haryana Speaker Kuldeep Sharma today said the country was passing through a very crucial and challenging phase and the political parties should act in such a way that people's faith in democracy was not shaken.
Students taken ill: BJP moves NHRC
Fatehabad, May 19
The BJP human rights cell has taken up the matter of schoolchildren taking ill after consuming iron and folic acid (IFA) tablets in Fatehabad villages with the National Human Rights Commission (NHRC).
Protest against polluted, erratic water supply
Sonepat, May 19
In a protest against polluted and erratic drinking water supply, residents of Sudama Nagar and INLD women activists led by the district president of the women cell of the party, Babita Dahiya, organised a 'Matka Phor' demonstration at Murthal Chowk today.
Roadways contractual staff to be insured
Chandigarh, May 19
Haryana Roadways has decided to insure all its contractual drivers, conductors, daily-wage and ad hoc staff against accidents. All employees working in the depots of Haryana Roadways would be covered under this scheme.
2 killed, 2 hurt in road mishap
Karnal, May 19
Two members of a family were killed while two other sustained serious injuries when their bike was hit by a dumper near Churni turn, 14 km from here. The vehicle carrying Shamlal, his wife Kiran, son Navin and Vikas was on its way from Kurali village to Indri. All four were rushed to the trauma centre, Karnal, where Sham Lal (33) and his son Navin (9) succumbed to their injuries. — TNS
Cop killed in attack
Jhajjar, May 19
Rakesh a constable of the Haryana Police belonging to Surkhpur village, was killed in an attack by armed assailants at a naka on the Jhajjar-Beri road late on last night. A special police team was checking vehicles at a naka on Beri road. A jeep arrived there and its occupants opened fire on the police when the vehicle's papers were demanded. Rakesh who suffered bullet injuries was rushed to the civil hospital, Jhajjar, from where he was referred to the PGIMS, Rohtak. He later died there.
5 dera followers hurt as bus overturns
Sirsa, May 19
A bus carrying followers of Dera Sacha Sauda overturned near Ellenabad in Sirsa today resulting in injuries to five devotees. Reports said the devotees were coming to Sirsa from Ganganagar district of Rajasthan for weekly congregation in the dera. When the bus was near bypass on the outskirts of Ellenabad town, its driver lost control and the bus fell into a roadside ditch. As many as five devotees were hurt and shifted to the community health centre, Ellenabad. The condition of the injured devotees is stable. — TNS
152 bottles of cough syrup seized
Sirsa, May 19
A team of the Food and Drug Administration (FDA) sealed a chemist shop at Jagmalwali village in Sirsa after large quantities of cough syrups containing codeine, a narcotic drug were recovered from the shop. GL Singal, Joint Commission, Food and Drug Administration -cum-State Drug Controller, Haryana, said a case under the Narcotic Drugs and Psychotropic Substances (NDPS) Act had been registered against the owner of the shop, who managed to escape. GL SingalSingal said the Food and Drug Administration team had recovered 152 bottles of cough syrup with narcotic contents. — TNS
Fire breaks out in tape factory
Bhiwani, May 19
A fire broke out in a factory manufacturing cellulose transparent tapes, situated on Hansi road of Bhiwani, yesterday. Fire tenders from Dadri and Bhiwani took several hours to extinguish the fire, which broke out in the afternoon and spread due to the presence of inflammable material in the factory. The owners of the factory said the fire broke out due to a short-circuit. The exact loss due is not known yet. — TNS