Plastic engineering
Fantastic plastic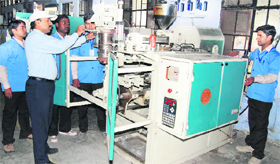 Our day starts with the buzz of the alarm clock, swish of the toothbrush, click of a camera — the common thread among all these is plastic. We are all surrounded by plastics in some way or the other. Owing to its morphological genesis to the word 'Plastikos', which means 'something that can be moulded in any shape of size', today plastic has become a necessity to fulfil our daily needs and requirements.

HANDS ON: Technical training and lab work are important components of a course in plastics engineering or diploma in this field.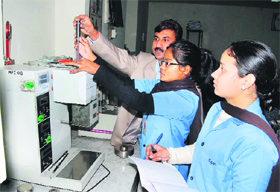 CIPET, Amritsar
Moulding future
The Central Instituteof Plastic Engineering and Technology (CIPET) centre at Amritsar is one of its kind in the region. It was established in 1989 by Government of India for providing Training & Technical services to plastics and allied industries in the northern region. The institute has facilities for mould/die design and development, plastics processing, testing and quality control of plastics material and products. Some of the main courses and services provided by this centre include:
Career Hotline


Can I opt for a distance learning law course?


I want to change career


Is starting own venture a wise choice?
newsboard
ISB students win laurels
Students from the Indian School of Business (ISB), Mohali, walked away with top honours for contributions to business education, the MBA programme and community at large at the 30th Anniversary of the global Graduate Business Conference (GBC) held at the ISB recently.
Healthy hiring trends on campuses
The Manav Rachna International University, India's premier private university, has claimed to have achieved a 100 per cent record in campus placements this year for the 2009 –2013 batch of students of the Faculty of Engineering and Technology.
scholarship roundup
Polonsky Foundation grants
Polonsky Foundation is funding grants for international students at Lincoln College, University of Oxford in UK. Applicants must hold a place, or an offer of a place, at Lincoln College before applying.
study abroad: canada
Host of opportunities for UG courses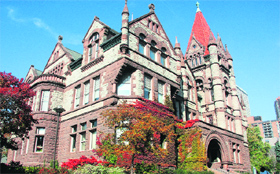 Canada offers great quality education, often at a lower cost as compared to USA and the UK. The country offers flexible work-study options and at the end of the programme provides ample opportunities to work and gain professional experience.



Canadian universities like Tronto University offer various flexible undergraduate programmes for Indian students

career compass: digital marketing
Net gains
In an age when everything is available at the click of a mouse, why should marketing and shopping be any different? Want to find out about a new model of a mobile or a car, a company or an individual, or learn about schemes under which you can buy a product and even have it delivered at your doorstop — just check the internet.
course cruising
Picasso-centennial programme
Picasso Animation College, New Delhi, invites applications for three-year BSc with specialisation in Digital Film Making and Visual Effects and two-year MSc in multimedia courses for the 2013 session.


Career Cature
Sandeep Joshi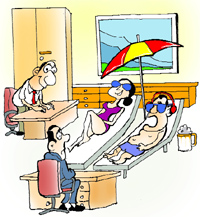 Sorry, now it's too late to approve my leave.

smart strategy: dining etiquette
Business on the table
In the current corporate culture where when one is either a guest or a host to an overseas or domestic client, dining etiquette has come to gain an increasing significance.
Clearing pitch for objective interviewing
If you don't get a job even after facing many interviews, it may not necessarily mean that you are not fit for a good job. The interviews you had faced were certainly not the final assessment of your abilities. The way your interviewer reacted to you plays a very important part in you getting the offer letter.
Uninor best working place
International NGO Social Accountability (SAI) has conferred Indian telecom operator Uninor SA8000 certification for complying workplace standards based on International Labour Organisation and UN conventions.
B-school grads in demand
The job market continues to improve for graduate business school degree holders, as more employers plan to hire MBAs and specialised business master's talent than last year, according to the 2013 Corporate Recruiters Survey.
PSUs lure management students
Sense of career stability is winning over faster growth prospects in private sector as more and more B-school graduates are prefering jobs in public sector undertakings (PSUs) and central government, says a survey by industry body Assocham.