Summer veil
Don't know what to wear in this heat? Thin, flowing fabrics in citrus colours are a safe bet...
It's tough to put together an outfit that looks hot and feels cool! Neither are they going to ease the dressing norms in office nor unreserve the rights of admission in the evening. Just when the sun's shouting June and you don't feel like making any more efforts than a tank top and shorts, a couple of ideas to make both ends meet…thin floaty fabrics, summer's citrus hues, linen and a classic white shirt work wonders! Office office: A white shirt can be worn all through the day while flitting in and out of varied roles. "A crisp white shirt is a must for summer, especially cotton and shiffon. Team it up with linen pants to look like a thorough professional or with a high waist skirt to feel breezy, all day. The same shirt can be teamed up with shorts for a lunch party. Also complete the look with a pair of neon footwear and a nude bag," Nimrat Kaur, of the soon-to-be-launched label and fashion website, Cotton Candy, swears by the practicality and versatility of the classic garment and throws open the myriad options. She adds, "Other than that, at work one can wear linen pants with a fitted shirt. The look does wonders without much effort. If you are into experimenting, then probably a formal jumpsuit with a nice belt will make heads turn."
Of lost land & dreams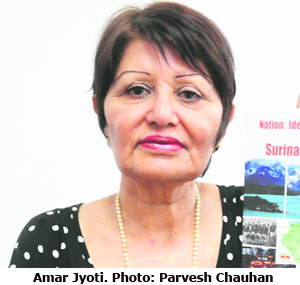 I cannot live without reading or writing — this one sentence summarises Amar Jyoti's life that has spanned across three countries, including India, Netherlands and England. A prolific Punjabi writer, Amar has six collections of poems in Punjabi and one in English; a few prose and children books as well. Her latest Nation, Identity and Diaspora in Surinamese Poetry is her research work in the form of a book; a theme close to author's heart! Quitting her job with the Punjab Education Board and moving to Amsterdam with her husband and kids for greener pastures seemed just right to Amar, an explorer. Once there, language barrier made her feel out of place. So started the quest to learn Dutch language and read whatever was available.
The 'in' side
Light house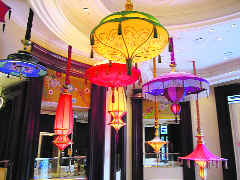 The art of creating paper lanterns is a Chinese tradition that dates back to thousands of years. Today, these are highly valued interior decoration items used all around the world. Paper lanterns are best used to completely alter the ambience of your home in the shortest possible time and money. If you are looking for a stylish and budget friendly way to add more light to your home then paper lanterns are the best option. Light of creativity: These lanterns sometimes come with beautiful and intricate designs on them. For the artists, these have become an interesting canvas through which they can express their creative ideas. Paper lanterns are constructed of translucent rice or wax paper that is stretched over a wood or wire frame that houses an interior light source. One of the advantages of paper lanterns is that they can be easily assembled at home, using minimal resources.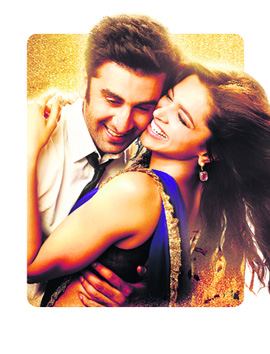 First day first show
It's all about love & madness
The Hangover III
Produced by Legendary Pictures, Hangover III is a sequel to 2011's The Hangover II, and the third and final film in The Hangover film series. The film stars Bradley Cooper, Ed Helms, Zach Galifianakis, Ken Jeong, Heather Graham, Jeffrey Tambor, Justin Bartha, and John Goodman with Todd Phillips. The film follows the Wolfpack (Phil, Stu, Doug, and Alan) as they try to get Alan the help he needs after facing a personal crisis. Despite negative reviews from film critics, The Hangover Part III had the second biggest worldwide box office opening for an R-rated comedy following The Hangover Part II in 2011.
A still from Yeh Jawani Hai Deewani
Mann of the moment
Sharry Mann is not afraid to be tagged as 'yet another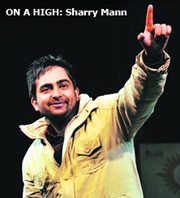 singer turned actor' in the Punjabi film industry...
This is his first step towards what is called the burgeoning industry, his first shot towards becoming a star, his first stint in a Punjabi film. Singer-turned-actor Sharry Mann has informality written all over him. He doesn't come up with thought-provoking answers, or slip into a freshly acquired American accent. Sharry Mann says and does what he wants to. It might sound like trying to be desi, but you soon figure out this is what he is, an informal desi not trying to be modern star in the making. When everyone thought of him as one song wonder (remember his super-hit track Yaar Anmulle), he went on to give another super-hit album Aatey di Chiddi, and now he wants to step up with his soon-to-be released debut Punjabi movie Oye Hoye Pyar Ho Gaya directed by Aditya Sood.
All is well
Kamayani Kanwar intends to bring wellness to your doorstep...
Being in the wellness industry is what Kamayani Kanwar was always destined to do. The woman behind Asian Roots Spa intends to bring wellness to all. From established Med Spa, her business grew into the field of cosmetic procedures to improve one's self-esteem. Direct Hair Transplant (DHI) is another successful venture. This Welham School pass-out spent her college years in Chandigarh; had her fair share of geris, HM burgers and walks on the Lake and recently she brought her DHI in Chandigarh. "It's my gift to the city I love," says Kamayani.
Astro turf
ARIES: Keep your eyes open. Someone will try to pull a fast one on you. Be careful if dealing with property matters. If an old friend needs your support, listen to their doubts and worries.
Chatter box
Carrie on!
Pulsing with the explosive energy of the unknown and the exciting urban setting of New York in the 1980s, The Carrie Diaries stars the enticing Anna Sophia Robb as Carrie Bradshaw, an inquisitive and thoughtful teen coming of age in the suburbs, who is beckoned by a distant glamorous and gritty Manhattan as she maneuvers high school and asks her first questions about sex, love and loss. With hints of her burgeoning fashion sense and love for the written word, this series is the beginning of Carrie's affair with Manhattan. Leaving the safe confines of the Connecticut suburbs, Carrie is drawn toward the city—itself the most colorful of characters—and its influence on her eclectic style and self-confidence will be paramount as she finds her way in the world.
The back-up plan
Many film actors who are rising in their careers did not plan to make a foray into Bollywood. They have solid education behind them. Take a look:
Amrita Puri: She has a post-graduate degree in mass communication and used to work in an advertising agency before she got into modelling, plays, commercials and movies. Sonakshi Sinha: She has a degree in fashion designing and even had her collection showcased at the Lakme Fashion Week. After that she lost weight and became an actress. Her sense of fashion is not really helping her as she is often criticised for her choice of clothes.
Pantaloons launches its first flagship store in Chandigarh
A perfect blend
Shopping undeniably gets us in a happy mood.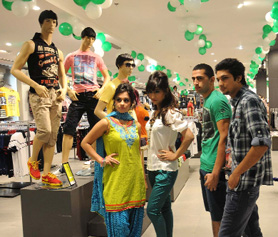 But what usually follows is guilt for blowing away all the money. For the well balanced combination of the latest fashion and an affordable price tag is of course a rarity. Pantaloons promises such a combo. After the huge success in Zirakpur and Ludhiana, Pantaloons now has launched in Elante Mall, Chandigarh with an interesting notion to serve 'Bharat' - India as it is. Chandigarh, when it comes to fashion, is at par with any metro city. "Chandigarh has an elegant sense of styling, an awareness to keep up with what's latest," says, Shital Mehta, CEO, Pantaloons Fashion and Retails Limited.
Trend talk: Models showcase the latest collection. Photo: Manoj Mahajan


TRENDSETTER
Simply irresistible
He has a passion for photography. He loves to be clicked too! His love for his pets is known among his friends and family. His hobbies include body-building, mixed martial arts and playing football. Multi-talented Karan Hari loves to spread his charm but at the same time stay grounded. He talks about his signature style…
Scary saga
Shruti Haasan, who will be next seen in Nikhil Advani's D-Day, has already created a flutter after her pictures from the film were released. In the film, Shruti plays the character of Suraiya, a Karachi-based prostitute. As a part of the character's look, Shruti required to have a scar on her face. A source says, "The story of the scar dates back to Suraiya's past when she entered the world of sex trade at 16. The scar came up when her face was cut open by a pimp." It was Shruti's father, the legendary Kamal Haasan, who has over the years experimented with his looks in various films involving make-up and prosthetics, gave his inputs on the look. Not a lot of people know the fact that Shruti, herself, has done a prosthetic make-up course. She was heavily involved in her look, giving inputs on the right colour, depth, how it would look as it ages etc.
Katrina gets a tan!
Breaking away from her regular looks, Katrina Kaif will be seen in a different avatar in two of her upcoming action films Dhoom 3 and Bang Bang. Both the films will see the actress playing the role of a fearless girl. The films contain many action sequences that have performed perfectly by her. In a move to differentiate her personality in both the films, Katrina has decided to get her skin tanned. Resultantly, for the first time ever, Katrina will be seen in a dusky avatar in Bang Bang.
Welcome the Brothers

The classic American clothing brand, Brooks Brothers has opened its first flagship store in India in Elante Mall, Chandigarh. Spread over 3800 sq ft area, the store will offer both classic and contemporary menswear wardrobe solutions that cater to all lifestyle needs. In Chandigarh, the brand will offer formal wear and day wear, including tuxedos, tailored suits, suiting separates (sport coats, waist coats, and trousers), shirts, ties, shoes, and accessories. Recently Brooks Brothers has served as the official menswear clothing partner for Baz Luhrmann's film "The Great Gatsby." Brooks Brothers is mentioned numerous times in original 1925 novel by F. Scott Fitzgerald as a representation of the ultimate gentleman's purveyor of fine clothing to the American man of distinction and hence the collaboration is a perfect fit for the movie. —TNS
Just rumours
Nargis Fakhri is hot and gorgeous and at a recent event in Pune, she clarified that she is single and very busy with her films with John Abraham and Varun Dhawan. She has another with Akshay Kumar. She says she does not know why the relationship rumours have started. Hmm, wonder what Uday Chopra has to say about this!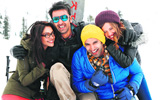 Reaching Russia
Yeh Jawaani Hai Deewani will open in Russia and Israel, becoming the second Hindi movie after the success of Cocktail in recent years because these are non-traditional Hindi film markets. Other films that will release over there are Desi Boyz, Zindagi Na Milegi Dobara and Rockstar.
Copy creature
Vikram Bhatt is open to admitting that he makes copies of Hollywood movies. He has said that his next movie Creature which stars Bipasha Basu is similar to Steven Spielberg's Jurassic Park and is India's first creature driven horror film.