Candidates using code words for liquor
Panchkula, May 31
Like bookies, candidates contesting the municipal corporation elections in Panchkula are reportedly using code words for buying liquor from vends to escape from the prying eyes of the police.
Only 30 of 10,553 students of govt schools get a perfect 10
Chandigarh, May 31
Government schools in the city have put up a poor show in the CBSE Class X examinations, the results of which were declared yesterday, with only 30 of the total 10,553 students scoring a perfect 10 CGPA. Only one in every 351 students has managed to hit the bulls' eye.

Prof Arora selected PEC Director
Chandigarh, May 31
The UT Administration has selected Prof Manoj K Arora, an alumnus of PEC, as the new Director of the PEC University of Technology. Professor Arora is a faculty member at the IIT, Roorkee.
Verka milk prices up
Chandigarh, May 31
The city residents will have to shell out more to purchase the Verka milk as the Punjab State Cooperative Milk Producers' Federation (Milkfed) has increased the prices of Verka milk with immediate effect.



16 malaria cases reported in 4 weeks
Chandigarh, May 31
As many as 16 new cases of Malaria have been reported in the city over the past four weeks, a majority of them from the periphery.
Summer rush stretches train waiting lists
Chandigarh, May 31
If you are planning to go on a vacation this summer by train, think twice. A majority of the long-route trains have huge waiting lists. The Chandigarh-Lucknow Express leads in the trains with huge waiting lists. It has a waiting list of 386 passengers for the next one week. Following it is the Chandigarh-Allahabad Unchahar Express, which has a waiting list of 225 passengers for the next 10 days. Even the train to Guwahati has a waiting list of 324 passengers (till June 5).
Sec 30 residents grapple with low water pressure
Chandigarh, May 31
The residents of Sector 30 have been facing the problem of low water pressure for the past few days. Those residing in the upper floors are the worst hit.
Know your candidate
Contestants list their priorities
Panchkula, May 31
Ward 18 comprises the mini Panchkula that is Sector 20. It has approximately 110 societies. This ward has always remained neglected. As many as 13 candidates are contesting the elections from this ward. Some of the strong contenders are:
Candidates create mess at venues
Panchkula, May 31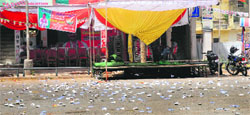 Candidates contesting the Municipal Corporation elections are having cleanliness and development in the city as their main agendas, but they did not bother to get the garbage removed from the venues where they were holding meetings. Even after five minutes of the meeting, the littered garbage was not noticed by any of the candidates.
Garbage littered at a market after a party meeting in Panchkula. Tribune photo: S. Chandan

Small reptile found in drinking water
Panchkula, May 31
In a shocking incident, a small reptile was found in the drinking water when a resident was filling the water from a tap in Sector 7, Panchkula.



A man shows a reptile (circled) which was found in the drinking water supply in Sector 7,Panchkula, on Friday. Tribune Photo: Nitin Mittal
Police recruits give tough time to tutors
Chandigarh, May 31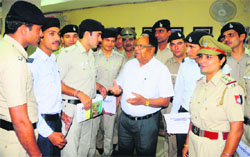 More than 40 per cent of the new UT police constable recruits do not know even the basics of the English language. They gave a trying time to the instructors at a three-week English-speaking course conducted at the recruit training centre in Sector 26. A batch of 30 constables are now know only 200 sentences in English of common use and are still ignorant of the tenses, grammar and pronunciation.
Capt S Chaudhery (retd), former Principal of DAV (PG) College, Pehowa, interacts with police constables after the completion of a three-week English-speaking course in Chandigarh on Friday. Tribune photo
Dhawan's cleanliness drive a sham
Chandigarh, May 31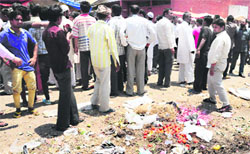 Former Union Minister and senior BJP leader Harmohan Dhawan today launched a cleanliness campaign in the Sector 26 grain market. Though it was a cleanliness drive, garbage from only the market committee area was removed. There were many other areas in the market were heaps of garbage could be seen.
Garbage lies on a road in the grain market, Chandigarh, where former Union Minister Harmohan Dhawan launched a cleanliness drive on Friday. Tribune photo
Deputy Mayor, Chief Engineer spar over road recarpeting
Chandigarh, May 31
Differences among the MC officials and councillors surfaced when an ugly verbal spat between Deputy Mayor and the Chief Engineer took place in the Chief Engineer's office last evening.
2 months after man dies of burns, police registers murder case
Chandigarh, May 31
Two months after a 32-year-old resident of Fatehgarh Sahib died of burn injuries, the UT police has registered a case of murder against a dismissed UT police constable and his wife. The police has booked the dismissed constable Kulwinder Singh and his wife Karamjeet Kaur for the murder of Ranjot Singh by setting him ablaze on Match 24 this year.
Latest setup to improve mobile connectivity at PGI
Chandigarh, May 31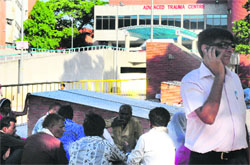 In a move that will save patients and their attendants from shuttling between various buildings at the PGI for locating and communicating with each other, the institution is soon going to install a setup that will improve mobile network connectivity on the campus.



A man uses his mobile phone on the PGI complex. a tribune photograph
Brain stroke is preventable, says PGI expert
Chandigarh, May 31
A public lecture on stroke (brain attack) was organised at the PGI today. A stroke occurs whenever there is either a blockage in the blood supply to the brain or the rupture of blood vessels causing a brain haemorrhage.
Britain sets up mission in city
Chandigarh, May 31
British diplomat David Lelliott's dream of working in Chandigarh has come true as he has been appointed the British Deputy High Commissioner here.
Ropar admn to improve school infrastructure
Ropar, May 31
Twenty-three resource rooms in addition to equal number of class rooms will be constructed in various schools of the district at a cost of Rs 1.75 crore. This was stated by Ropar Deputy Commissioner PK Aggrawal, while convening a meeting to review the works being carried out under Sarva Shiksha Abhiyan, Rashtriya Madhyamik Shiksha Abhiyan and Mid-Day Meal Scheme recently.
Govt teachers demand Maluka's ouster
Mohali, May 31
Demanding scrapping of the new rationalisation policy, government schoolteachers today protested near the office of District Education Officer.


Lack of uniformity raises questions
Chandigarh, May 31
Questions are being raised on parameters of assessment being followed in the school-based examination system for Class X by many Central Board of Secondary Education-affiliated schools.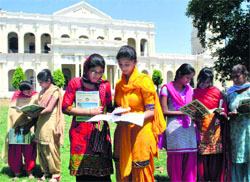 Admission time: Students go through application forms at Government Mohindra College in Patiala on Friday. Tribune photo: Rajesh Sachar
AIIMS to hold entrance test today
Chandigarh, May 31
After appearing for the National Eligibility Entrance Test (NEET), medical aspirants from the city are now all set to try their luck for another coveted medical entrance examination for admission to the MBBS courses at the All-India Institute of Medical Science (AIIMS), New Delhi.
PU paper-setters goof yet again
Chandigarh, May 31
Not learning from previous mistakes, paper-setters at Panjab University goofed again; this time in the sixth semester exam of BA (honours) held at the economics department today.
Appointment of joint HoD in PEC dept surprises faculty
Chandigarh, May 31
In a surprising move that has raised many an eyebrow, the Director of PEC University of Technology has created a parallel post to the head of department (HoD) in the electronics and electrical communications department. The post named as the joint HoD will jointly take all the decisions and look after administrative work of the department.