star track

A beautiful nerd!
Miss India contestant Rakul Preet to play a mathematician in her debut film Yaariyaan
The glamourous industry of Bollywood owes a lot to the Miss India pageant; a talent house which has produced some of the biggest film stars. The names include Nutan, Zeenat Aman, Juhi Chawla, Meenakshi Seshadri, Sushmita Sen, Aishwarya Rai, Lara Dutta, Mugdha Godse, and Priyanka Chopra.
And now another Miss India participant Rakul Preet is all set to enter the glittering world with Yaariyaan; the directorial debut of T-Series' head honcho Bhushan Kumar's wife Divya Kumar.
"Yaariyaan is about five college friends and I play a nerd in the film. One who is very good with numbers," quips the leading lady. The character is quite of her liking, as the tall and lissome Rakul is a mathematics graduate, who has studied financial management.
Moreover, like many previous beauty pageant winners, she comes from the Army background. Rakul won various titles in the Miss India pageant of 2011. She bagged Miss India People's Choice, Miss Beautiful Eyes, Miss Beautiful Smile, Miss Fresh Face, Miss Talented and emerged the third runner-up finalist.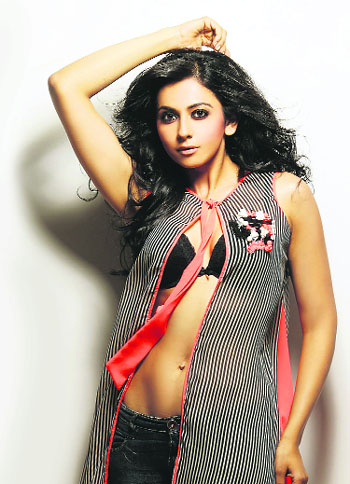 Soon after, she participated in Miss Tourism in China and rose to the sixth position in the international pageant. But that's not all to her Libran multi-faceted personality! Apart from Hindi, English and Punjabi, the gal has now learnt to speak Tamil and Telugu and also acted in Southern hits.
Her die-hard interests include horse riding, Bharatanatyam, and hold your breath; golf too. Now, now! How many Bollywood actresses would have engaged in playing golf? But if you think, that's enough for Rakul, you are mistaken!
The girl is a fitness freak with gymming and swimming being her daily addictions. She's a blue belt in karate, plays cricket, basket ball and lawn tennis. And wait, did we tell you, she's particularly proud of her 36-24-36 figure!
all rounder: Rakul Preet
Simple life
Ayushmann Khurrana talks about everything but films—from his friends to his son to education and his belief in the supernatural.
No Shakespeare please!
I majored in English literature but I will never read Shakespeare again. I never understood him but that could be because I used to bunk my classes a lot. I once played Shylock in our rendition of Merchant of Venice and I had to read the play so many times that I do not want to go near it again.
Friends forever
We just had a get-together in Chandigarh. We are still making some amazing memories together. We used do 48-hour train journeys from Chandigarh to Mumbai in second class compartments of Punjab Mail. We used to jam with dholaks and guitars to entertain ourselves as the train would stop at every station. Other passengers were impressed by our music and they would give us money, especially 100 rupee notes and that would fund the rest of our trip.
Favourite food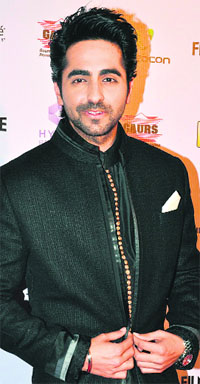 I love Punjabi, Mughlai and Chinese food. My most favourite dish is rajma chawal. If I had to pick a restaurant dish, it would be chicken curry at Pal Dhaba in Chandigarh.
The 'dad' feeling
My son's name is Virajveer and he is only a year old. He has my eyes and my dimples and the rest he takes from my wife. I cannot really indulge him at the moment as he is too young. I am still getting used to the 'dad' thing and I have been so busy in the last year that I have not spent enough time with him.
Beliefs in supernatural
I am a believer in the supernatural but not in the negative forces. My Man Friday committed suicide in my room and I still sleep there and stay in the same house. Initially, I had moved in with Shoojit Sircar because the death was a huge shock for me. It was an emotional loss. And at that time my schedule was such that it was more convenient to travel from Shoojit's place instead of mine.


straight talk: Ayushmann Khurrana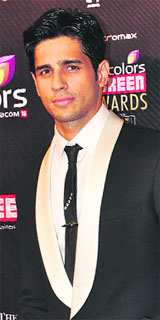 Ferry ride for Siddharth
Siddharth Malhotra is shooting in Madh Island for Hasee Toh Phasee and he takes the ferry ride everyday to reach there from Versova as it only takes a couple of minutes. He is more than happy to sign autographs and pose for pictures with people who ask him to do that.
short cut: Siddharth Malhotra
Huge opening
Yeh Jawaani Hai Deewani may have got mixed to positive reviews but the film has made Rs 62 crore in its opening weekend itself, making it the biggest hit of Ranbir's career and his biggest opening. Its collections have surpassed the Dabangg movies' opening as well.
Ranbir in KJo's next
Karan Johar has confirmed that Ranbir Kapoor will star in his new film which will begin next year. The rest of the cast is not confirmed. Ranbir is currently busy with the Kashyap brothers' movies like Besharam and Bombay Velvet. Karan will fly to New York later this year to write the script of the movie with his team of writers.
When Abhishek meets Al Pacino
Abhishek Bachchan attended Al Pacino's An Evening With Pacino, a one-man act in London recently. The actor later got a chance to meet Pacino.
In the show, the international star not only re-enacted famous scenes from his cinematic classics like The Godfather, Scent Of A Woman and Carlito's Way, reminiscing about his illustrious career but also had a live question and answer session.
He said, "I love being on the stage, it's a big passion of mine. It was a privilege to perform in London at the Palladium after so many years. I loved the live element of the event and being so close to my fans in the UK. The last time I was here was for the docu-drama Wilde Salome. It's always great to be back."
Being a fan of his work, for Abhishek Bachchan, watching Pacino perform live was a dream come true.
Interestingly, when Abhishek Bachchan had got stitches above his right eye after an injury during the shooting of Bol Bachchan, he had joked that how he had got Pacino's scar face look.
dream moment: Al Pacino (in black) and Abhishek Bachchan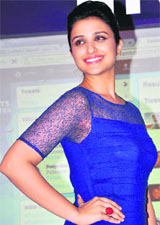 Parineeti hurt
Parineeti Chopra suffered a mishap on the sets of Hasee Toh Phasee. There was a close up of her hand being shot and the camera box hit her face, knocking her unconscious. Her face and the area near her eyes started bleeding and they had to put an ice pack. She continued shooting as the scene did not require the use of her face. The other shoots had to be rescheduled.
hard time: Parineeti Chopra

Music time
Shruti Haasan is cementing her place as an actor in Bollywood and down South and she has had no time to focus on her musical career. She wanted to shoot a music video for one of her songs but has not been able to do that so she hopes she gets some time off soon and can shoot her video.
note worthy: Shruti Haasan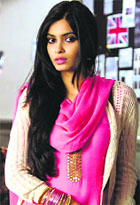 P(l)enty of endorsements
Diana Penty may not have movies on hand but she is getting many endorsements. She endorses one hair-care brand has been signed on by another shampoo brand that wants to enter the Indian market. She was chosen after a survey because of her lovely long dark hair.


hair & there: Diana Penty

Sharing screen space
R Balki is working on a script which will bring Shah Rukh Khan and Amitabh Bachchan together on screen again. They have previously worked in Mohabbatein, Kabhie Khushi Kabhi Gham and Bhootnath. Amitabh Bachchan is Balki's favourite and he wants to work with SRK too. This film is still in the initial stages.

R Balki