Advocate-General's office, launching pad for VIPs' kin
Chandigarh, June 5
Punjab Advocate-General's office is the headquarters of VIPs and their kin. Available information suggests, the number of law officers in the AG office is triple the strength of judges. Barring a few, most are well connected. The state government not only appointed as Additional Advocate-General the Chairman of the Shiromani Akali Dal's legal cell, but also the relatives of sitting and retired High Court and Supreme Court Judges.
Clearing backlog a priority, says CJ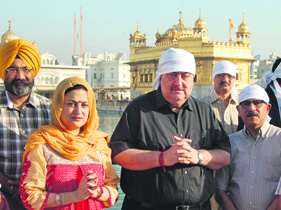 Amritsar, June 5
Punjab and Haryana High Court Chief Justice Sanjay Kishan Kaul today stressed the need to adopt technology to tackle pendency of cases. During his visit to the Golden Temple here, the Chief Justice said reducing pendency was a priority. He said nearly 11.51 lakh cases had piled up in Punjab, Haryana and Chandigarh courts.
Punjab and Haryana High Court Chief Justice Sanjay Kishan Kaul and his family members at the Golden Temple on Wednesday. Photo: Vishal Kumar

Coal shortage at plants gets acute, govt holds talks with PENAM
Bathinda, June 5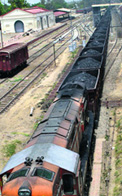 Not a single consignment of coal has arrived at any of the three thermal plants at Ropar, Bathinda and Lehra Mohabbat from PENAM coal mine in Jharkhand since June 2. Officials say parleys are on with the management of PENAM to sort out certain "issues" at the earliest. Lehra Mohabbat thermal plant is the worst hit as it has coal stock for just 11 days. The PSPCL has shut down its one unit for the want of coal although the official explanation is that there is less demand for power these days. The daily requirement of coal at Ropar plant is 19,550 MT (six rakes), at Lehra 13,500 MT (four rakes) and Bathinda 5,400 MT (one-and-a-half rakes). Against the daily requirement of 11-12 rakes, only five rakes (one Lehra and four Ropar) were received on June 1, five rakes (four Lehra and two Ropar and one Bathinda) on June 2 and no rake was received since then.
Mann appears for court hearing
Sangrur, June 5
Shiromani Akali Dal (Amritsar) president Simranjit Singh Mann was here today in connection with appearance in a local court in a case registered under Section 188 of the IPC against him and 51 other members and activists of his party on December 14, 2007 at Sangrur police station. All of them were arrested on that day when they were about to start 'Fateh March' in the city. The court today fixed July 6 as the next date of hearing in this case.

Hospitals' upgrade on mind, govt transfers 523 doctors
Chandigarh, June 5
Moving ahead with its programme to upgrade 100 hospitals in the state, the Punjab Government has ordered the transfer of 523 Senior Medical Officers (SMOs) and Medical Officers with immediate effect. More transfers are in the pipeline.
Six-laning of Jalandhar-Amritsar road
Crores stuck over Rs 6,000 arbitration fee
Jalandhar, June 5
Work on six-laning of the Jalandhar-Amritsar stretch has come to a halt with the National Highway Authority of India (NHAI) and the Divisional Commissioner-cum-arbitrator locking horns over the payment of arbitration fee of just Rs 6,000.
Scarcity of raw material may delay work on Ropar bypass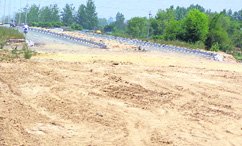 Ropar, June 5
Completion of the four-lane Ropar bypass is set to be delayed as the contractor has suspended work on the project. While the PWD department is preparing to terminate the contract and seize the earnest money of the contractor, it has expressed inability to continue work in the absence of raw material due to the ban on mining in the state.
A view of the four-laned Ropar bypass on which work has been stalled. Photo by writer
Dal Khalsa holds march, wants list of those killed during Operation Bluestar
Amritsar, June 5
On the eve of Operation Bluestar anniversary, radical Sikh organisation Dal Khalsa today passed a resolution on "Sikh self-rule". Its activists organised a procession in the city. They carried placards and old photographs of the damaged Akal Takht. They raised slogans in favour of Jarnail Singh Bhindranwale and against the Government of India for "crime against humanity".
Rules changed, govt houses lying vacant
Chandigarh, June 5
Several senior officials of the state government have become ineligible to apply for government houses in sector 39 and 42 here ever since changes were effected in the Punjab Government Houses (General Pool) Allotment Rules 1983.
Power cuts despite govt claims: Cong
Jalandhar, June 5
Senior Congress leaders of the state today lambasted the SAD-BJP Government for imposing long and unscheduled power cuts on all sectors, including industry and agriculture.
CM okays Rs 1,434 crore for six border districts
Chandigarh, June 5
Punjab Chief Minister Parkash Singh Badal today approved funds to the tune of Rs 1,433.97 crore for the development of 18 blocks in six border districts of Amritsar, Ferozepur, Fazilka, Gurdaspur, Pathankot and Tarn Taran. The funds are allocated for the year 2013-14.
Power trading corp opposed
Jalandhar, June 5
The Punjab State Electricity Board (PSEB) Engineers' Association has announced it would oppose the government's decision to set up a Power Trading Corporation (PTC) here. Deputy CM Sukhbir Badal had recently said that Punjab CM approved the setting up of the PTC.
Protesting jobless linemen lathicharged in Patiala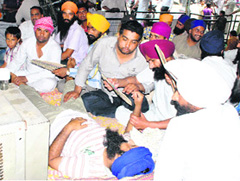 Patiala, June 5
Jobless linemen protesting outside the Punjab State Power Corporation Limited (PSPCL) headquarters were today lathicharged by the police here today. According to the agitating protesters, the police was playing into the hands of the state government. They alleged that the government was not adhering to their justified demand for jobs as was promised before elections.
Jobless linemen on fast outside the PSPCL headquarters in Patiala on Wednesday. Tribune photo: Rajesh Sachar

HP imposes entry tax on road to Sikh shrine
Ropar, June 5
The Himachal government has imposed entry tax on the road to Guru Ka Lahore Gurdwara. Several lakh Sikh pilgrims visit the shrine, where tenth Sikh guru Gobind Singh had got married. It is situated in Bilaspur district, 12 km from Anandpur Sahib. The proposal to set up the booth was mooted during the previous regime, of the BJP. However, it was dropped after Sikh leaders and Naina Devi constituency MLA Randheer Singh objected. Takh Keshgarh Sahib Jathedar Giani Tarlochan Singh condemned it, demanding abolition of entry tax on the road. — TNS