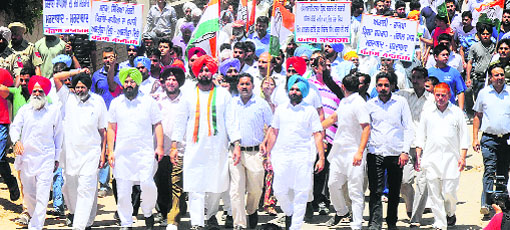 Congress MLA Jagmohan Singh Kang and party workers on way to Education Minister Sikander Singh Maluka's residence in Kansal village, on the outskirts of Chandigarh, on Wednesday. Tribune photo: S Chandan
Effect of Books Purchase Scam
2 ministers want to be recused from land price fixing panel
Chandigarh, May 29
Two Punjab ministers have requested to be recused from membership of a Cabinet sub-committee on land price fixation following the controversy over the decisions of purchase committees formed by Education Minister Sikander Singh Maluka.
Confined illegally, 3 Cong leaders freed by HC officer
Malout, May 29
A warrant officer of the High Court post-midnight rescued three local Congress leaders who were allegedly confined illegally at Malout (City) police station in a murder case.

Ray of hope for Jassi's husband
Ludhiana, May 29
The relentless battle of Sukhwinder Singh alias Mithu, husband of honour killing victim Jaswinder Sidhu aka Jassi (24), to bring the architects of his wife's murder to book has received an impetus with the receptionist of the beauty saloon where Jassi worked reportedly testifying against Jassi's mother and maternal uncle.
Victim Jaswinder Sidhu alias Jassi

Khemkaran MLA blames BSF for drug smuggling
Chandigarh, May 29
Khemkaran SAD legislator Virsa Singh Valtoha today alleged that rogue elements in the Border Security Force (BSF) as well as government agencies were involved in drug smuggling from across the barbed wire fence with Pakistan.


Protesting to get heard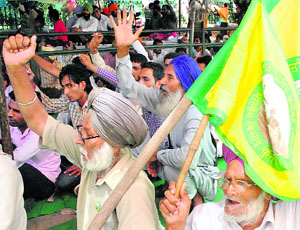 BKU activists join a protest rally by the PSEB Techincal Service Union in Patiala on Wednesday. Tribune photo: Rajesh Sachar
Toll rates slashed
Chandigarh, May 29
Punjab Chief Minister Parkash Singh Badal today approved the revised toll policy aimed at rationalising rates besides enhancing user acceptability.
Review approval to new tubewells, demands expert
Chandigarh, May 29
Former Chief Engineer (Irrigation) GS Dhillon has said the state government should not release fresh power connections for tubewells in Punjab in view of its critical position on the sub-soil water front. Chief Minister Parkash Singh Badal had three days ago ordered the release of power connections for new 25,000 tubewells.
Mullanpur renamed New Chandigarh
Chandigarh, May 29
The Punjab Regional Town Planning and Development Board, which met under the chairmanship of Chief Minister Parkash Singh Badal today, approved renaming Mullanpur as New Chandigarh.
State teachers feted in Delhi
New Delhi, May 29
Five teachers from Punjab were honoured at a function organised by Mohinder Singh Syngle Education and Research Society at Siri Fort Auditorium here today where BJP's senior leader LK Advani was the chief guest. The teachers were given a cash award of Rs 1 lakh each.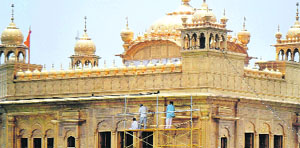 Exercise to restore glitter to Golden Temple underway
Amritsar, May 29
The Golden Temple seems to have been regaining its glitter with the annual exercise of cleaning up its gold plates underway for the last few days.

The gold plates being cleaned up at the Golden Temple on Wednesday. Photo: Sameer Sehgal

Punjab Jail Dept fails to act against 2 'tainted' officials
Patiala, May 29
Despite talking tough against drug abuse and promising strict action against those found violating norms in his department, Punjab Jail Minister Sarwan Singh Phillaur is on a sticky wicket for not taking action against two senior jail officials, one of whom now faces a Vigilance probe.
Expired medicines
Panel finds irregularities in hospital stock records
Patiala, May 29
Taking cognisance of media reports pertaining to the distribution of expired medicines at Government Rajindra Hospital, Punjab Chief Minister Parkash Singh Badal today formed a committee to probe the matter.
Shuttle service at Takht Keshgarh Sahib
Anandpur Sahib, May 29
The Shiromani Gurdwara Parbandhak Committee has introduced shuttle service for devotees visiting Takht Sri Keshgarh Sahib from today. A battery-operated car will commute between the parking area and the entry of the gurdwara ferrying devotees who find difficulty in moving by foot.
12 medical students down with typhoid
Ludhiana, May 29
As many as 11 students of Dayanand Medical College and Hospital staying at the undergraduate hostel on the college campus are in the grip of typhoid.



Loot of gambling money: Four cops booked, HC told
Chandigarh, May 29
Less than a year after a former High Court Judge filed a petition in the Punjab and Haryana High Court for the completion of a probe on alleged loot of gambling money by senior Punjab Police officers including IPS officer RP Mittal, Punjab Police has booked four of its officials.
Defamation case: Warrants against Punjabi film actors
Sangrur, May 29
In a defamation case filed against the team of Punjabi film "Taur Mittran Di", non-bailable warrants of arrest have been issued against actor and producer Jimmy Shergill, actors Amarinder Gill, Ranvijay Singh, Surveen Chawla and eight others.
Punjab justifies Bhullar's posting as Mohali SSP
Chandigarh, May 29
The Punjab Government, it seems, is all out to have Gurpreet Singh Bhullar as the Mohali Senior Superintendent of Police (SSP).
Octogenarian's plea for appointment as lambardar quashed
Chandigarh, May 29
Octogenarian Harbhajan Singh thought he was still young enough to be appointed lambardar. But, Nawanshahar deputy collector did not share his enthusiasm. And, now the Punjab and Haryana High Court has made it clear that age can be a bar in the appointment of a lambardar.