SGPC to fund education of baptised Sikh students till Class XII: Makkar
Amritsar, May 25
SGPC president Avtar Singh Makkar has announced that a committee will facilitate free education till Class XII for baptised Sikh students belonging to baptised families in the SGPC-run institutions. Talking to mediapersons here today, Makkar said those wishing to avail the facility will have to certify every year that they are baptised. He said the SGPC had already set up hockey academies in Patiala, Faridkot and Amritsar, to curb apostasy among the young generation. He said around 1,200 players participated in selection trials, out of which 120 would be trained and their expenditure would be borne by the SGPC.
Biggest international Sikh fest in Malaysia on May 30
Singapore, May 25
Preparations are on for the four-day festival of Barsi, said to be the largest Sikh event outside Punjab, at Gurdwara Sahib Malacca in the Malaysian state of Malacca, starting May 30. The festival commemorates the death anniversary of Baba Sohan Singh, a Sikh saint who lived in Malacca and passed away in 1972 at Ipoh General Hospital near the Malaysian capital of Kuala Lumpur.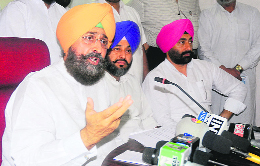 Cong wants Maluka probed by CBI
Chandigarh, May 25
Punjab Pradesh Congress Committee president Partap Singh Bajwa today demanded a CBI probe into the alleged bunglings in the purchase and supply of academic material in the Education Department, represented by Sikander Singh Maluka in the state Cabinet.
Punjab Congress Committee chief Partap Singh Bajwa addresses mediapersons in Chandigarh on Saturday. Tribune photo: S Chandan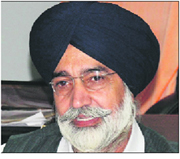 Back-to-back controversies
Chandigarh, May 25
Hardly had the controversy over the Education Department's diktat to teachers to make students purchase practical notebooks published by a specific publisher settled that another trouble came to haunt it. This time, books with content promoting vulgarity and extremist thoughts had reached school libraries. The Tribune had highlighted both these issues in detail in these columns.
All these issues are being investigated separately.
— Sikander S Maluka, education Minister
Cong panel to prepare report on zila parishad elections
Chandigarh, May 25
PPCC president Partap Singh Bajwa has decided to set up a five-member committee to prepare a report on the recently concluded zila parishad and panchayat samiti elections. "I will name members of the committee tomorrow. They will visit each district, listen to all those who contested the elections and prepare a report accordingly", said Bajwa.


2,500 deportees to get passports after 8 yrs
Jalandhar, May 25
Over 2,500 deportees in Punjab, who have been running from pillar to post for several years to get their passports, can now breathe easy. They are set to get their passports within the next month as the regional passport authorities have carried out a massive drive to clear the backlog of such cases.
Fill vacant posts reserved for SCs, Verka tells state govt
Jalandhar, May 25
The National Commission for Scheduled Castes (SCs) has asked the Punjab government to immediately fill the vacant posts reserved for SCs on the pattern of Union and Haryana governments. Dr Raj Kumar Verka, Vice Chairman of the Commission, wrote a letter to Punjab Chief Minister Parkash Singh Badal on Thursday to fill the 40,000 posts lying vacant in various departments for the last ten years.
CM okays Rs 15 crore for power to deras in border areas
Chandiagrh, May 25
Chief Minister Parkash Singh Badal today announced to provide 24-hour uninterrupted power supply on the urban pattern to 1,557 deras/dhanis in the border and kandi region across the state at a cost of Rs 15.30 crore.
State awaits central funds for scholarships
Chandigarh, May 25
Months after the Punjab Congress raised the issue of failure of the state government in releasing funds for SC/ST students under the post-matric scholarship scheme, it has now come to light that the Centre has not sanctioned funds (Rs 186.74 crore) for the purpose for the last two years.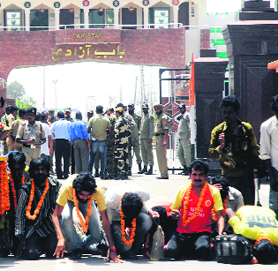 Pak releases 45 fishermen
Amritsar, May 25
The Pakistan government repatriated 45 Indian fishermen through the Attari-Wagah border route near here today. All the fishermen were residents of Gujarat and had accidentally entered Pakistani waters. All the fishermen were residents of Gujarat and had accidentally entered Pakistani waters. They were arrested by the Pakistani forces and sentenced to six to seven months' imprisonment. Though Pakistan's interim Prime Minister Mir Hazar Khan had announced the release of 51 Indian fishermen, only 45 were repatriated today.
Fishermen released by Pakistan pray after crossing over to India at the Attari-Wagah border on Saturday. Tribune photo: Vishal Kumar

Govt inks MoU to hone skills of rural students
Badal (Muktsar), May 25
For ensuring all-round development of rural students, the state government has signed a memorandum of understanding (MoU) with an organisation, International Award for Young People, to initiate a premier self-development programme in government schools.


6 arrested for Qadian shootout; cops under fire for reaching late
Qadian, May 25
A day after it drew flak for "laxity" in the case, the police today booked 12 persons for allegedly firing at two SAD-BJP workers. Batala Senior Superintendent of Police Tulsi Ram (Qadian area is in his jurisdiction) said of the six persons, five had surrendered while one was nabbed. He denied the police was under pressure, as was being alleged by Congress leaders of the region. The main accused, Jarnail Singh Mahal, a former Congress activist who had switched over to the SAD, is at large.