THIS ABOVE ALL
The struggle to decode the divine
'Since there were as many communities worldwide as were the contenders, each saint was accommodated and got the slot of God, but within their own communities.'
Khushwant Singh

Sarinder K Sabharwal from Gurgaon has sent me a piece on the existence of divine power which is very revealing. I reproduce it for my readers to help them in their beliefs.
"We all believe that there is a divine power which controls the existence and movements of all the planets in our solar system and has also created life on the Earth. Since the answer has been unexplainable for millions of years, from the time life came into existence on this planet, all humans have remained in awe of the creation by the invisible divine power, and out of reverence emanating from intense fear, earthquakes, lightning, cyclones and the tsunami in Japan, christened the divine power as God.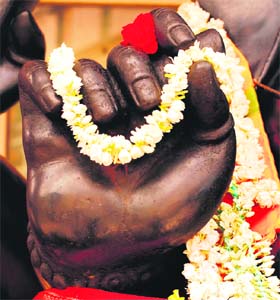 Some have begun to drift away from their acclaimed Gods.
"Different communities worldwide have had different sages from times immemorial, who, after hundreds of years, were first transformed into 'saints' by their followers, crediting them with miracles as a result of their superstitious and beliefs. With the passage of time, they were further upgraded and their followers started worshipping them as 'Gods'. Finally, there were hundreds of contenders to the single-coveted throne of the divine power of God. Since there were as many communities worldwide as were the contenders, each saint was accommodated and got the slot of God, but within their own communities, leaving out again, the question of the existence of the abstract divine power unanswered for posterity.
"Notable among the Hindu community, to which I also happen to belong, some have started drifting away from their acclaimed Gods for centuries, like Lord Rama, Lord Krishna, Lord Shiva and Hanumanji. Many others have started finding solace in worshipping Sai Baba of Shirdi. Sai Baba and Sheranwali Mata of Vaishno Devi are catering to the growing popular demand. Somehow, it has now become a fashion statement among the new rich and the famous, especially the film fraternity, to proudly declare being a follower of some kind of a new religious sect, and thereby be able to prove having joining the league of like-minded, misguided, directionless and highly superstitious followers, devoid of any saner thinking. It is very shocking and disturbing to see even the educated flocking to such meaningless religious congregations arranged by self-styled demi-Gods. They do not believe in any reasoning. When confronted, the only answer they give is their 'aastha' (blind faith), which in a way is just a 'vyavastha' of getting away from being cornered.
"As for my personal faith, I firmly and very strongly believe in God — the invisible divine power, but at the same time having great regard and respect for all religions, I do not believe in any religion and strictly adhere to the philosophy of karma. I am also of the belief that the Gods we worship were not Gods, they were just sages but we should give them all the respect they deserve and look up to them for their wisdom and guidance.
"They were not Gods because anybody in flesh and blood, like all other human beings, inherent with all their shortcomings and weaknesses, can never be God. Religion does not come to us by choice but by default, depending upon our birth taking place in a particular community and since no religion professes hatred for other communities, why do we swear by our Gods or invoke them before attacking people of other communities with different religious faiths? In the present world order, we should give our religions a break and evolve a common religion based on compassion, love, understanding and brotherhood to check the growing intolerance towards other religions resulting in the menace of terrorism worldwide.
Who will be the PM?
Shastri proved that a poor man can be the PM, Indira Gandhi proved that a woman can be PM, Morarji proved that 'pisscholic' can be PM, Rajiv Gandhi proved that being a PM is an inheritable disorder, VP Singh proved a raja can be PM, Narasimha Rao proved that a psycophant can be PM, Deve Gowda proved that anybody can be PM, Atalji proved PM does not have to do anything at all, Manmohan Singh proved that we do not need a PM at all! So, what is the cacophony about who the next PM will be?
DLF
The real acronym of DLF, as disclosed by Sonia Gandhi, is: "Damaad Loan Fund".
Contributed by Vipin Buckshey, New Delhi
How truthful
A boy said to a girl: "I love you".
The girl said to the boy: "I love you, too", and aside, "Besides another two".
Contributed by SC Mehta, Delhi