Lahore Log
Imran has a foot in, now to push the door open
By Raj Chengappa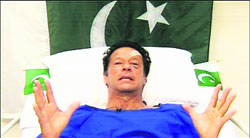 PTI chief Imran Khan speaking from the hospital bed.
EVER since Imran Khan was admitted to the Shaukat Khanum Memorial Cancer Hospital and Research Centre after he fell off a forklift during an election rally on May 7, it is guarded like a fortress. The Punjab police's elite counter-terror forces wearing black T-shirts with 'No Fear' emblazoned on them guard the hospital entrance and the wards that house him. It's the hospital Imran built in memory of his mother who died of cancer.
It is past 10 in the night, but Imran has a stream of visitors, including party men waiting to see him. Aleema Khan, his younger sister, regulates the traffic even as she discusses with friends allegations of extensive rigging against candidates of Imran's party, Pakistan Tehreek-e-Insaaf (PTI), in the just concluded General Elections. Much to Imran's disappointment, the PTI won only 27 of the 272 directly elected seats in the National Assembly, but even then the cricketing icon has emerged as a powerful third force in Pakistan's maturing democracy.
Aleema tells a group of politicians who have come from Khyber Pakhtunkhwa (KPK) not to stay long as it would put a strain on his health. In KPK, the PTI made substantial gains and emerged the single largest party in the simultaneously held Provincial Assembly elections, winning 34 of the 99 seats. In doing so, the PTI routed the Awami National Party, the largest Pashtun national party in the state, notching a significant victory in this troubled province that borders Afghanistan. Khan is a Pashtun himself by birth, but prefers to identify himself with the state of Punjab, where he grew up.
Before his KPK party members saw him, Nawaz Sharif, the Pakistan Muslim League-Nawaz (PML-N) chief, who is expected to be the next Prime Minister of Pakistan after the PML-N emerged the single largest party in the Parliamentary polls, dropped by. This was their first meeting after Imran's injury and the blistering no-holds-barred election campaign. Both congratulated each other on their party's success. Wishing him speedy recovery, Nawaz joked that from now they should only "play friendly matches" in politics. Imran's staff also told me that before Nawaz met him, Rahul Gandhi had called Imran and had inquired about his health.
It's close to midnight before Imran's aides says I could see him. We take a lift to the second floor and then two flights of stairs to the special ward where he is housed. Commandos ask us to deposit our phones and any other electronic items, including tape recorders and cameras. His aides say Imran had hairline fractures in two of his vertebrae and it would take several weeks before he could walk again.
I walk into his room and Imran, wearing a hardened cobalt-blue sleeveless gown and lying supine, greets me. He looks trim, even lean, despite turning 60. He is in obvious pain as turns uncomfortably to one side so that he could face me and talk. I congratulate him on his party's success. He tells me the PTI should have got many more seats in the vitally important state of Punjab given the visible support it enjoyed.
I mention to him that I was witness to the enthusiasm for his party in Lahore on voting day and narrate how I met two non-resident Pakistanis from Dubai, both chartered accountants, who had flown in just to vote for him. Imran's eyes light up and he says that while cricket had taught him to accept the results once the game was over and move on, his party wanted re-polling and recounting in certain constituencies where rigging was obvious. If the investigation that the PTI wants done by the Election Commission found irregularities in these booths, it would validate its argument that the elections results were suspect.
I tell Imran that the election results have given him the most difficult laboratory in KPK to prove his "Naya Pakistan" mission, but if he pulls it off then the next general election is his. I also mention that the PTI's success in ruling KPK depended on several other stakeholders cooperating, like the federal government soon to be headed by Nawaz Sharif, the Americans, who carry out drone attacks regularly in KPK, and the Afghan government. Not to mention the Taliban that is extremely active in the region. "We will make it a success," Imran says confidently and points out that that the onus is also on the federal government to help the state, so the PML-N can't wash its hands of the responsibility.
His aides signal that the time is up and I wish him speedy recovery and depart. It's past midnight but Imran has still several visitors waiting for him. His aides say he works till fairly late and is an early riser. It's apparent that Imran would not let a few fractured vertebrae get in the way.
Early that morning, I met Khurshid Mahmud Kasuri, former foreign minister of Pakistan, who contested on the PTI ticket but lost. Kasuri says he finds the results of the elections, particularly in Punjab, highly suspect, and adds, "I have seen three waves in Pakistan in my lifetime, that of Zulfikar Ali Bhutto when I was young and people knew that Bhutto would win. The second was Mian Nawaz Sharif wave in 1997 and everybody saw he was the most popular leader, and the third one was in 2013, the Imran Khan wave. The irony is everybody saw the Imran wave, but Nawaz Sharif won in Punjab."
Kasuri then adds dramatically, "As of May 12 (the day of the results), Imran Khan is effectively Prime Minister in waiting." If Nawaz Sharif doesn't deliver in his third term as Prime Minister, then going by the current trends, it may be Imran Khan's turn to lead the nation in 2018, or even earlier. Imran Khan may now have a foot in the door, but it will take a lot of proving to do in KPK to push it open all the way.
Musharraf and Zardari: Arrested development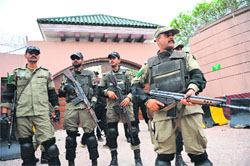 Pervez Musharraf is in house arrest at his residence in Islamabad. — AFP
While Nawaz Sharif basks under the glow of a creditable victory in the parliamentary elections, his bête-noire, General Pervez Musharraf, glowers in the confines of his house in Islamabad, isolated from his friends. Musharraf has been under house arrest, ordered by courts trying his various misdemeanours, including charges of treason while he was President, soon after he returned to contest the elections. The courts had barred him from contesting the four National Assembly seats that he had filed his election papers for. But his All-Pakistan Muslim League (APML) managed to win only one seat in the National Assembly and another in the KPK provincial Assembly.


Pervez Musharraf
There has been widespread speculation in Pakistan as to why Musharraf returned to Pakistan from the comforts of his posh house in London. Some believe it was delusions of grandeur that he always suffered from that made him spurn the advice of his friends in the army and return. Others say that a Turkish Sufi seer he believes in predicted that Musharraf would not only be at the helm of affairs in Pakistan again but also emerge a leader of Muslim nations across the world.
Yet others say that the former commando was using his tactic of surprise attacks to force the army to support him in dealing with vexatious cases that he is being tried for. His friends, though, believe that Musharraf returned because he genuinely believes that he is not guilty of the charges being levelled against him and wants to fight out the cases in court and clear his name.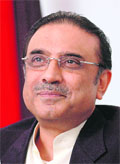 Asif Ali Zardari
Initially, there was resentment among retired generals who felt that a former army chief being tried for treason would sully the name of the armed forces and lower its prestige. But the current Army Chief, General Ashfaq Kayani, has apparently decided that he wouldn't interfere in the process and would allow the law to takes its course.
With Sharif returning as Prime Minister, he may offer him the same deal as Musharraf gave him after the coup in 1999 — go into exile, either in London or Jeddah, and not return for the next 10 years — in return for the cases being pardoned. Meanwhile, Musharraf's friends in the army have reportedly politely warned Nawaz Sharif not to set up a Kargil commission that he was planning in order to pin the blame on the former President for launching the attack. It will be interesting to see if Sharif heeds the advice.
Meanwhile, the joke doing the rounds in Lahore is that ever since Asif Ali Zardari became President in 2008, he has been virtually under house arrest. Living in a gilded cage, Zardari rarely stirs out of his house or addresses gatherings except at must-do events. Even during the elections, unlike Kayani, who cast his vote in a polling booth, Zardari preferred to send his via postal ballot. Others say that what's happening to Musharraf in terms of cases being filed against him after he demitted office as President is being seen as a dress rehearsal for Zardari when he demits office in September.
Post Script: On my way back from Lahore to the Wagah border, Majid, my driver, asked me sadly: "What will happen to Sunjoo bhaya now?" He was referring to Sanjay Dutt and his prison term. On Sanjay's fate, it appears many Indian and Pakistani hearts beat as one.