Ladakh intrusion: Beijing's strategic shift
The Chinese action is a violation of the 1994 Agreement on maintaining 'peace and tranquillity' on the borders. It is thus fair to assume a serious thought process behind it. It could be that the new leadership in Beijing wishes to speedily establish a new set of rules of engagement — both political and military — for other states in its neighbourhood
Lt-Gen (retd) VR Raghavan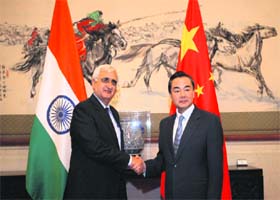 External Affairs Minister Salman Khurshid shakes hands with his Chinese counterpart Wang Yi during a meeting in Beijing, China, on Thursday. — PTI
AFTER many decades of carefully developed consensus on avoiding military conflict and resolving the boundary dispute through negotiations, Beijing sprung an unpleasant surprise. Its military action of occupying a forward position in Ladakh, though not wholly unanticipated, only reinforces the image of a belligerent state. While the 'five-tent action' was not in itself a military threat of significance, it is indicative of a new approach on the border dispute. Since the Chinese action is a violation of the 1994 Agreement on maintaining 'peace and tranquillity' on the borders, it is fair to assume a serious thought process having gone behind it. In this instance, Chinese actions speak far louder than the shrill language used by it officers in the meetings of border commanders.
It is useful to recall that China's 1962 military offensive in Ladakh had commenced with similar military moves. Its forces had closed up to Indian posts, almost surrounding some, and insisted on their withdrawal. The Indian Army, not wanting to commence a shooting match, did likewise and opened new posts. The Forward Policy, as it was termed, where this writer led such a group in erstwhile NEFA, now Arunachal Pradesh, ultimately unfolded into a full-scale war. As we now know from documents in public domain, the Chinese plan had been carefully thought out and approved by Chairman Mao, who had larger strategic purposes behind this.
The repeat of the Chinese forward border move, 50 years after 1962, can also be seen as part of a strategic continuum. At the time it was couched by Beijing as response to Indian moves, an argument now ominously repeated. Indian moves in 1962 were in response to China's construction of a major highway through Aksai Chin in Indian territory. The reality in 2013 is vastly different, in which the Chinese have over a decade and a half improved their military infrastructure significantly against Indian border, both in Arunachal Pradesh and Ladakh. The Indian side is attempting, albeit belatedly, to improve infrastructure and military capacity on its side. There should thus be no cause for complaint since all this is taking place within Indian territory. The case being made out that Indian forces acting aggressively have led to the Chinese action is thus only a weak explanation for the belligerent Chinese military action. It is also similar to the sequence of events in 1962.
Actual control
Indian activity on the Line of Actual Control (LAC) in Ladakh is worth a thought or two. The LAC is in fact a non-existent line! During the 1962 war, the PLA advanced many miles into Ladakh. This was to secure enough territory to provide depth to its highway in Aksai Chin. On achieving this operational purpose, the PLA withdrew but retained a meaningful presence in Aksai Chin. Its military thereafter patrolled regularly and demonstratively up to the Karakoram Pass in northern Ladakh and to other areas in the south. In the lengthy negotiations which followed, the Chinese indicated that the area which they patrolled was the de facto Line of Control. Indian and Chinese patrols have over the decades adhered to this line, which is neither marked on maps, nor by any pillars, etc., on ground. Chinese have often referred to the LAC as "you know where it is, as we do where it is". Patrols from both sides would leave evidence of their having visited points on the LAC by way of cigarette packs, food tins, etc. If occasionally they saw each other, they waved, looked at each other through binoculars and went their ways.
This arrangement of mutual acceptance of the LAC and Rules of Engagement worked adequately over the decades, even as Beijing and New Delhi engaged strenuously to define the boundaries in all sectors, extending from the Karakoram Pass in Ladakh, through UP-Tibet, up to the MacMahon Line to the tri-junction of China, India and Myanmar. This was hugely reinforced by the 1994 Sino-Indian Agreement, which confirmed the commitment of both sides not to use force to change status quo and established clear Rules of Engagement for each other's military. President Jiang Zemin, during his visit to India, where he addressed the Lok Sabha, had reinforced this Agreement.
The major change in the situation came about by the wide-ranging development of infrastructure in Tibet. It included the now famous Lhasa rail line, numerous airfields and permanent military garrisons. This impressive engineering and economic investment surprisingly extended close to Indian borders in Arunachal and to the Indian claim lines in Ladakh. In its usual meandering fashion, the Indian government took a decade to start work on its side and the network of tracks, roads and creation of new military capacity began to emerge. The forces which manned the LAC and the Arunachal border began to improve and strengthen their tactical position through observation towers and defences. Patrolling became frequent, leaving no one in doubt of the Indian determination to defend its positions. The Indian decision to raise two more Mountain Divisions in Arunachal Pradesh evoked considerable attention.
The developments in Ladakh are more likely to be guided by a shift in strategy in dealing with India than response to Indian capacity-building in Ladakh.
What next
Should India expect some more of such 'five tent' actions elsewhere in Ladakh, or even in Arunachal Pradesh on the McMahon Line! The reality of a deliberate violation of a carefully drafted 1994 Agreement, in the face of improved dynamic of India-China relations, is therefore at best a provocative step and at worst part of a larger inimical politico-military strategy. What can be India's options, given its memories of 1960s and the evidence of Beijing's choice of assertive and even muscular PLA actions in the Asia-Pacific and the South China Sea?
The actions of the new leadership in Beijing are being closely watched in all major capitals. Its demonstratively different and militarily visible measures in the South China Sea have not left anyone in doubt of a new politico-military dynamic operating from China. This was in evidence even before the US 'Pivot,' now framed as a rebalancing of relations and military postures, was announced. It will be true to say that the Chinese shift in operational postures had led to the US response.
Indian policy makers will need to determine if the developments in Ladakh are a spillover of the new Chinese strategy for dealing with its neighbours. It could be that the new leadership in Beijing wishes to speedily establish a new set of rules of engagement — both political and military — for other states in its neighbourhood. These leaders had also unmistakably suggested that the India-China boundary issue should be settled before long. Does it mean that Beijing no longer looks at this as an issue left over from colonial history, requiring time to resolve! If that be the case, Indian diplomacy and military establishment will find a new set of challenges ahead.
Sophisticated handling
Notwithstanding the hyper response from the Indian media, particularly the electronic, New Delhi handled the mini-crisis with skill. The Foreign Office, MOD and the Army, backed by the IAF's substantial assets in reserve, worked closely. National Security Adviser Shivshankar Menon's role in allowing all players to have a say and yet bringing about a single coherent plan requires special mention. The Cabinet accepted the option analysis and gave a go-ahead, in itself an achievement for a beleaguered group of political leaders. Only those who know the challenges in such operational coordination can understand the effort it entails. The Army had offered more than one contingency plan which would put pressure on the Five Tent elements and on Beijing. Such initiatives would have placed the Five Tent position in jeopardy and in turn forced Beijing's hand, to avoid a loss of face.
Not long thereafter, the Chinese team changed tack and sought a way out through a mutual pullback. The peremptory demand for the Indian troops to go back had mellowed. A small but carefully planned military initiative, backed by diplomatic skills, had brought about a positive response, without escalating the situation. The Foreign Minister's carefully crafted statements left many wondering about the future of the Chinese Foreign Minister's trip to New Delhi. All this combined to get Beijing and its PLA Command to descend from its arrogant posture. The longer the standoff lasted the greater would have been Beijing's loss of credibility as a 'rising but responsible' power.
India will need to brace itself to other new demonstrations of Beijing's belligerence, requiring a long-term strategy involving politico-military plans. We may see the Chinese return to showing intransigent postures, perhaps even during its PM's visit. The demonstration of sturdy resolve, confident military action, and skilful diplomacy during the Ladakh standoff has set new markers in Indian crisis management. As has been famously said, military action without a diplomatic plan never succeeds while there can be no diplomacy without a military backup.
— The writer is a former DGMO and was a Commanding General in Ladakh