Only 50% licensed arms deposited so far


Chandigarh, May 12
With less than a week to go for the panchayat samiti and zila parishad elections, only 50 per cent out of the total about 3.50 lakh weapon holders have deposited their firearms till date. Police sources said in Tarn Taran district, only 6,304 licence holders had deposited their weapons out of 12,014 till Friday evening.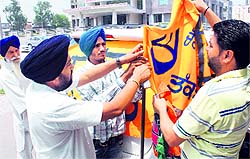 SAD workers gear up for poll campaign in Rajpura on Sunday. Photo: JS Virdi

SAD role in rejection of nominations, says Bhattal
Chandigarh, May 12
Former Chief Minister and senior Congress leader Rajinder Kaur Bhattal today said the State Election Commission should explain why such a large number of the nomination papers of Congress candidates were rejected? She alleged the ruling party was using unfair means to win the panchayat samiti and zila parishad elections. She urged the EC to take action against returning officers who rejected nomination papers of Congress candidates on "flimsy" grounds to help the ruling party.
2 CPI candidates complain against returning officer
Faridkot, May 12
Two CPI candidates today complained to the Faridkot Senior Superintendent of Police (SSP) that their nomination papers for the zila parishad and panchayat samiti elections were shown withdrawn using fake papers.
BJP goes all out in Pathankot dist
Pathankot, May 12
The newly carved out Pathankot district will elect its 10-member zila parishad for the first time. The district is considered to be a BJP stronghold. All the three assembly seats in the district have BJP legislators. Consequently, the SAD has given all the 10 seats to its alliance partner.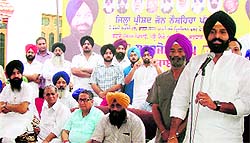 UPA's fall imminent, says Majithia
Jalandhar, May 12
Revenue Minister Bikram Singh Majithia today said the countdown to the political fall of the Congress-led UPA Government has begun.


Revenue Minister Bikram Singh Majithia addresses a rally in Mukerian on Sunday. A Tribune photograph

Congress to Centre: Revoke law officer's appointment
Chandigarh, May 12
The Punjab Pradesh Congress Committee (PPCC) has urged the Union Law Minister to rescind the appointment of Rupinder Khosla as Assistant Solicitor General of India, in charge Punjab and Haryana High Court.
Bhaniarawala sentence today
Security up in native Nurpur Bedi
Ropar, May 11
Tight security arrangements have been made in Nurpur Bedi and its surrounding areas of the districts as an Ambala court is slated to pronounce the quantum of punishment in a case against Baba Piara Singh Bhaniarawala tomorrow.
Sharif's ancestral village hopes for better Indo-Pak ties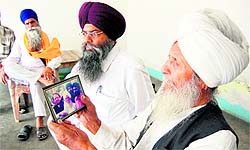 Chandigarh/Jatti Umra (Tarn Taran), May 12
When former Pakistan Prime Minister Nawaz Sharif's party took the initial lead in the general election results in the neighbouring country, celebrations broke out at his nondescript village, located 35 km from Tarn Taran.


Octogenarian Massa Singh shows the picture he had got clicked with Nawaz Sharif during his visit to Pakistan


Govt announces 40% subsidy on solar pumps
Chandigarh, May 12
Aiming to tackle the impending power crisis in summer, the state government today announced 40 per cent subsidy on purchase of solar pumps to encourage farmers for using these pumps for irrigation.

Fall in wheat yield, courtesy March rain
Chandigarh, May 12
The authorities expect a 15 lakh tonnes decline in wheat production in the state this year. In financial terms, farmers will suffer a loss of about Rs 2,000 crore due to the low yield. About 108 lakh tonnes of wheat has arrived in various markets so far.

Faridkot jail staff want better medical care for addicts
Faridkot, May 12
Confronted with an increased number of drug addicts in the Faridkot Central Jail and inadequate medical facilities for them, the jail staff and doctors want the government to order a compulsory medical examination of all new inmates.

Prisoners can expect a good cup of tea
Chandigarh, May 12
Prisoners in Punjab can look forward to a good cup of tea. Acting on a petition filed in public interest expressing apprehension that second-rate tea will brew in the state jails, a Division Bench of the Punjab and Haryana High Court has expressed hope that substandard tea will not be purchased for the inmates.

Canadian film-maker to trace roots of Sikh immigrants


Chandigarh, May 12
Biologist-turned film maker David R Gray of Victoria (Canada) is in Punjab to trace descendants of some early Sikh settlers in his country, including those who fought in the World War I and worked in British Columbia forests to make them habitable.




David Gray

Damage to SLIET campus pegged at Rs 12 crore
Longowal (Sangrur), May 12
As normalcy returns to the local Sant Longowal Institute of Engineering and Technology (SLIET), authorities estimate the damage to the campus to be around Rs 12 crore.

Ropar admn faces acute staff crunch
Ropar, May 12
The common man in Ropar is at the receiving end with the under-staffed administration delaying the execution of most works.

Medical officials threaten stir
Bathinda, May 12
The Punjab and Chandigarh Medical and Sales Representatives Union (PCMSRU) has threatened to go on strike against a leading pharmaceutical company, accusing it of forcing medical representatives to leave the company by opting for the voluntary retirement service (VRS).

PSPCL officials oppose setting up of trading company
Jalandhar, May 12
Punjab State Power Corporation Limited (PSPCL) officials are up in arms against the Punjab Government's move to set up a separate trading company for the sale of the surplus power available with the corporation.

Hundreds participate in Sangrur marathon
Sangrur, May 12
Hundreds of men, women and children today participated in the marathon, organised by the District Athletics Association in association with the Shaheed Bhagat Singh Anti-Drugs Foundation in its campaign against drugs.

Lecturers flay varsity for abolishing semester system
Ludhiana, May 12
The Punjab Commerce and Management Association (PCMA) today condemned the move of Panjab University (PU), Chandigarh to abolish the semester system in postgraduate courses in colleges. Lecturers teaching at various PU colleges are members of the PCMA.

Acting Chief Justice lays stone of lawyers' chambers in Sangrur
Sangrur, May 12
Acting Chief Justice of Punjab and Haryana High Court, Justice Jasbir Singh today laid the foundation stones of the extension block of Lawyer's Chambers and the Alternative Disputes Resolution Centre (ADRC) here.



Inter-state robbers' gang busted
Sangrur, May 12
The district police today claimed to have busted an inter-state gang of robbers, who had allegedly tried to rob a branch of Punjab and Sind Bank at Khanauri on the intervening night of April 17 and 18. The police arrested three persons, Mohandeep and Karamjit Singh of Kaithal district, and Rakesh of Banarasi village in Sangrur district.