CM in poll mode, visits Lahaul-Spiti
Manali, May 16
Chief Minister Virbhadra Singh's two-day tour of Lahaul-Spiti district is being viewed as an exercise to prepare a political ground for the upcoming Mandi Lok Sabha bypoll.
Trekking camp concludes
Dalhousie, May 16
The fifth batch of the nature study-cum-trekking camp organised by the Youth Hostels Association of India (YHAI), which started on May 11, concluded here today.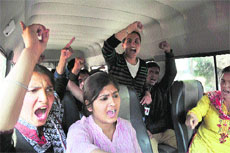 Tension in HPU continues
Shimla, May 16
Tension following student clashes in Himachal Pradesh University (HPU) continued today as activists of the Students Federation of India (SFI) started a protest rally on the campus and courted arrest.


Students raise slogans after being arrested at HPU in Shimla on Thursday. Photo: Amit Kanwar

Freedom fighter dies at 102
Bilaspur, May 16
Freedom fighter Jagannath Sahod (102) died in his home village Sangaaswin under Baloh gram panchayat near Ghumarwin last night. He had been ailing for some time. He was given a state funeral with the police firing several rounds in the air before reversing arms and sounding the Last Post at the village cremation ghat in Bhallu on the bank of the Sukkar khad.
Relief for monkey-bite victim demanded
Mandi, May 16
Activists of the Aam Aadmi Party (AAP) yesterday demanded compensation for monkey-bite victim Nisha, who is under treatment at the PGI in Chandigarh. The activists cited the medical reports of Nisha, released by the neurosurgeon at the PGI, which said, "Nisha has broken her skull and blood clots have affected her brain. She needs a major surgery."
Kangra Polytechnic wins gold in 400-m relay race
Kangra, May 16
Host Government Polytechnic, Kangra, bagged the gold medal in the 400x100-m relay race and Goverment Polytechnics of Sundernagar and Pragati Nagar the silver and bronze medals, respectively, in the event on the second day of the19th Himachal Pradesh Inter-Polytechnic Athletics and Cultural Meet here today.
Sirmaur royals pray at Nahan temples
Nahan, May 16
Maharani Padmini Devi of Jaipur, who is the daughter of the former ruler of Sirmaur state, today paid obeisance at various religious places at Nahan along with the newly crowned minor Maharaja of Sirmaur state, Lakshya Raj Singh.
MCM DAV College lecturers continue protest
Kangra, May 16
Lecturers of MCM DAV College, Kangra, yesterday observed the 50th day of their protest by holding a "mute demonstration" at the college gate, covering their mouths with black strips.
Nurpur MC passes Rs 3.40-cr annual budget
Nurpur, May 16
The Nurpur Municipal Council (MC) passed its annual budget proposals for the current fiscal (2013-14) year recently. The budget meeting was presided over by Krishna Mahajan, MC Chairperson.