Fit case for President's rule, say Bajwa, Capt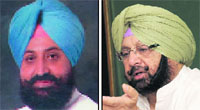 Chandigarh, May 16
Punjab Pradesh Congress Committee (PPCC) president Partap Singh Bajwa and former Chief Minister Capt Amarinder Singh today expressed concern over the "political violence" against party candidates and workers during the block samiti and zila parishad elections.
PS Bajwa (L), Capt Amarinder

Revenue Minister's election opponent fears for his life


Amritsar, May 16
A day after Cabinet Minister Bikram Singh Majithia exhorted the party workers in Kathunangal to "decimate the Congress", his political opponent Sukjinder Raj Singh alias Lalli Majithia today feared for his life and that of his family. Lalli, who had lost the assembly election to Majithia, said, "If anything happens to me or my family members, Bikram will be responsible."

SR Singh

Don't notify panchayat poll: HC to state
Chandigarh, May 16
In a setback of sorts to the Punjab Government, a Division Bench of the Punjab and Haryana High Court today verbally asked the state not to issue notification for the forthcoming panchayat poll. The verbal directions will remain in operation at least till May 29, when the Bench takes up the matter again.

Set own house in order, Majithia tells Congress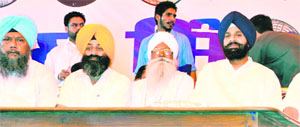 Batala/Amritsar, May 16
Revenue Minister Bikram Majithia today said instead of targeting the SAD on almost every issue, the opposition Congress should do some introspection in view the number of scams involving its ministers and, thus, set its own house in order.


Revenue Minister Bikram Majithia (R) at a rally in an Amritsar village on Thursday. Tribune photo

SAD-BJP govt has pushed state into debt trap: Tewari
Ludhiana, May 16
Union Information and Broadcasting Minister Manish Tewari today alleged that the Akali-BJP government had pushed the state into a debt trap.
BJP going strong in Pathankot
Pathankot, May 16
Zila parishad elections in this district are being held for the first time. Ever since Pathankot was carved out as a new district prior to the 2012 assembly elections, it has been without a civic body. Decks have now been cleared for a new 10-member body.
MLA's kin appointed poll observers
Jalandhar, May 16
In what may be termed as a clear attempt to misuse the political influence of the ruling party, two of the three poll observers appointed by the State Election Commission in the district are from the family of a sitting SAD MLA.
Gruesome attack in Ferozepur village
Family of six set on fire, 3 succumb to injuries


Bathinda, May 16
Lakhwinder Singh, his father and brother allegedly poured petrol on six members of a family of Jattawali village near Malahwali in Ferozepur while they were asleep last night and set them on fire.
From left: Victims Bachan Kaur, Tasveer Kaur and Jasbir Kaur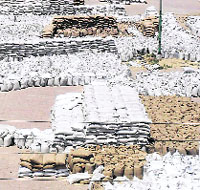 Tardy lifting a worry for commission agents
Amritsar, May 16
Even as government agencies have procured a bumper wheat crop this season, a sizeable stock is yet to be lifted from various grain markets in Amritsar and Tarn Taran districts.




Wheat bags lying at the Amritsar grain market on Thursday. A Tribune photograph

Panel fails to fix cane procurement price
Chandigarh, May 16
Punjab Sugar Control Board's sub-committee, constituted to fix the procurement price for sugarcane, today failed to take a decision in this regard with farmers' representatives and the sugar industry taking opposite positions.
Spot-fixing: Ready to assist Delhi police, says Mohali SSP
Mohali, May 16
The Mohali police is ready to assist the Delhi Police in any further investigations into the IPL spot-fixing.
Excise inspector suspended
Patiala, May 16
The Excise and Taxation Department has suspended an inspector after he was found indulging in illegal practices.




Police told to book rapper Honey Singh
Chandigarh, May 16
The Punjab Government today ordered registration of a case against rapper Honey Singh for rendering vulgar songs, two days after it was pulled up by the Punjab and Haryana High court on the matter. Senior Superintendent of Police, Nawanshahr, Dhanpreet Kaur, has been asked to book the singer under Section 294 of the IPC for his song "main hun balatkari" (I am a rapist).
collection of application fee by misusing govt bodies' names
HC tells Punjab to probe
Chandigarh, May 16
The Punjab and Haryana High Court today directed the Punjab Government to set up a special investigation team (SIT) under an Inspector-General rank officer for investigating the scam involving collection of application fee from unemployed youngsters by misusing the names of government organisations.
Youth gets life term for raping 5-yr-old
Ropar, May 16
A local court today sentenced Manohar Mishar (20) to life imprisonment for raping a five-year-old girl.