| | | |
| --- | --- | --- |
| | OPED SOCIETY | |
Are WE Not adult enough?
Is the belief that porn fuels sexual violence against women a leap of logic? A writ petition has been filed in the Supreme Court to make watching porn a non-bailable offence. The court has asked the government for a response
Namita Aavriti
A withering cascade of funny tweets, sharp and witty counters to a legal petition on banning pornography has been doing the rounds of social media. As much as the idiotic mendacity of Kamlesh Vaswani's petition is indeed amusing, I'm reminded of a distinction made by the feminist Judith Butler, between a judge's pronouncement, and a journalist's diatribe or columnist's droll retort. The judge's words have a direct consequence on someone's life or property, sometimes so effective and swift that the word and the act are inseparable. While the words of the ordinary person or the journalist have the power to suggest, demolish or even ridicule arguments, they do not immediately translate into action and often get absorbed into the stickiness of everyday life.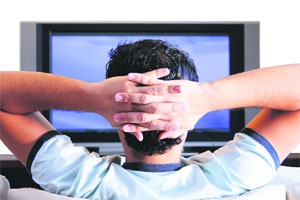 Adult Act : it's not easy to pin down the relation between porn and imagination, and how we act — Thinkstockphoto
It is the advantage of harnessing legal language that some words just sound more effective than others. The public interest litigation against pornography is one of those examples, with its repetitive, asinine hammering about the impact of porn on peace of mind, porn as cyanide, porn as a security threat, but wrapped up in legalese and demands to ban this scourge that is "directly responsible for increased sexual violence". Even though there is no coherent legal argument, the petition seems to wield a draconian potentiality — a sort of Kafkaesque in-the-wings menacing air, that makes us titter and gulp and chatter. Either that, or we really want to talk about porn?
The basis of the petition is a frightening array of global statistics of how much porn there is on the internet, how much is paid for it, how often 'adult search terms' are entered into search engines. Historically, the term pornography was invented to create a secret museum for erotic objects found in the ruins of ancient Rome. Like the statue of Pan, the god, screwing a she-goat. Everything in this secret museum could only be viewed by men of elevated intelligence, or weak-willed women might start looking at goats enviously, or worse, men of lesser erudition might start imagining goats to be women, or vice versa.
If the same classist and paternalistic logic is what drives State censorship today, then pornography on the internet should hardly be a problem since 90% of the population is not online. The imagined glut of pornography is not much, numerically speaking, and I say this only because the petition relies so heavily on numbers and figures.
Studies about the impact of pornography can be found to support either notion that 'porn is the theory, rape is the practice', or that porn sublimates libidinal urges, and so reduces instances of rape. As Hardik Brata Biswas's historical study of print porn from the 19th century reveals, porn in India largely consists of family scandals and incest, and here the woman is merely a prop — a willing victim or coy seductress. But the Bhadralok woman in 1850s is also the bearer of virtuous sanctity in public discourse. If nothing else, this contradiction reveals that it's not easy to pin down the relation between porn and imagination, and how we act. Biswas also points out that it is not only pornography that can be held responsible for sexual violence because, "Cultures of rape and sexual offences against women emerge equally, if not more, from everyday practices of masculinity which are omnipresent".
Whose porn is it, anyway?
The Indian slice of the global porn pie is limited by the fact that only 10% of our population is online, but 50% have mobile phones. While cyber cafes are becoming less common or are governed by fairly strict rules of identity cards etc. these have been replaced by the ubiquitous mobile phone by which people share, watch and store porn. Porn is implied in the Coke ad with Aishwarya Rai's lips wrapped around a bottle, it is the imagined aftermath of every khatiya and jhatka song. If two ministers are nestled in Parliament to watch a salacious clip, then there definitely is an overflow of smut. Most sexpert columns regularly reply to a boy saying that he watches too much porn and his tremulous enquiry about whether this is bad for 'real sex'; each innocuous wrestling video on Youtube between semi-naked men on a maidan, is followed by a string of likes and comments egging on this masti between men.
I'm not sure those who are objecting to porn have watched the kind that enjoys high circulation in India. Do not let this phase of most touching, breathless, self-involved, literally navel-gazing moment of Indian sexuality pass you by. This is mostly do-it-yourself porn made with phones and cheap cameras. Amateur porn is gritty but grainy, with a kind of in-built censorship that doesn't ever reach levels of salacious detail that industry-produced porn has. That kind of high-def porn that covers all the bases of sexual positions, preferences for bondage and taste for something a little sleazier than the last, seems like test cricket in contrast to this galli cricket played with a plastic ball.
This porn records the tentative beginnings of a sexual act or the failed attempt at a blowjob in a toilet cubicle. There is a nationwide obsession with the idea of kaand (scandal) because in this small piece of video is the story of betrayal and love gone awry. It seems that we make our own cinema these days, whether it is the secret love affair between a teacher and college student, or the sex worker who vengefully records her clients and makes a CD to sell. The first known leaked tape in India was Mysore Mallige and the latest from the rack of amateur porn are so many and plenty, that perhaps they do not need to be named anymore. But even then, there is a sense of real people whose private fecundities have suddenly been exposed.
What we often end up seeing is the ordinariness of our lives reflected back at us. We have even seen politicians, godmen, actors and actresses stumble from lofty heights to stray amongst our follies. But this array of semi-scandalous clips online or spoken about in newspapers, also includes young men who watched porn before committing sexual assault, the gay man whose cybersex video went viral, the teenage girl whose assault was photographed and tweeted, and it is then that the picture starts getting seamier, rather than steamy.
Tell me, where does it hurt?
Amateur porn when it is being watched seems quite harmless, perhaps not even explicit enough to merit the definition of pornography. Yet it often involves a disregard of the impact on lives of the people involved, especially women. There are videos of horrifying assaults, which bring us face-to-face with our ethical and moral failings as individuals who are watching this, and as a society, where the insistence of male and heterosexual needs stripped of any regard of others, is accepted and very rarely condemned.
A young man strips for a webcam while his eyes skitter from left to right trying to follow the typed instructions being given to him. Does he know this semi naked video will end up on some porn blog? Nithin Manayath, an academic writing about sexuality and technology, points out that in the Indian context sexuality is about separated spaces of sociality that we occupy, rather than a fixed sexual identity. In some spaces we are comfortable being queer, even defiant of gender norms, and in others we hide our desires, or pass as something more conventional. In recent times it is technology like the internet that has broken the tenuous barriers between different spaces.
This is what happened with Professor Siras, whose sexuality was known amongst a few people in Aligarh Muslim University, where he taught, and was acknowledged in small circles, including his students. Sting journalists leaked a video of him having consensual sex with another man, and he was unfairly fired from his job as professor of languages. Just after the courts gave him his job back stating that his sexual preference cannot be grounds for dismissal, he was found dead, possibly by suicide. If the video had circulated in only pornographic blogs perhaps, it would have made no difference, but the video was seen by the college authorities and was discussed on national television, especially because of his sexuality. Sympathetic people in the wider gay community attempted to offer solidarity but perhaps were too late or didn't quite understand the complexities of Siras' life.
So the question that is blindingly obvious is not whether watching porn is an offence, but does the law in its scope and implementation, even come close to addressing the real sense of hurt and violation that people experience. The gap between law and a sense of justice is sometimes so enormous that it can only be filled by fantasy, and perhaps in India by cinema, but not so much by the intricacies and failures of legal procedure.
Kanoon ke lambe haath
It is obvious that our desires and longings cannot really be policed. Not simply because the internet is an unmanageable technology, but because the inside of anybody's brain hooked on someone, is a pornographic den. Most of us don't even really need the help of a sexual video or image. But pornography can also be educational sometimes, for the novice, for the young woman who doesn't know how her own body can give her pleasure, for the 40 year old man who hasn't figured out his sexuality, for the man to find out where the clitoris is and perhaps get the wrong idea that its in the throat, and so on. Also you are not automatically connected to a pornographic subterranean, simply because the modem is on. It is through choice and interaction that the internet works, and this includes websites like Youporn where people voluntarily share their videos.
The valid concerns, especially around amateur porn should be about the rights of people who are captured in pornographic images. The new amendment to law for sexual offences, has introduced a section on voyeurism, which is described as capturing the image of a woman in a private or sexual act with a hidden camera or device without the consent of the woman. Disgruntled ex-lovers and boyfriends often circulate explicit clips where the woman may have consented to the making, but not to its circulation. This too is an offence under the same law, and imprisonment can be for 3-7 years, though the problem that remains is, how does the bare text of the law actually translate to the daily use and policing?
The uncomfortable reality is that turning to the law for redressal or reform has often backfired. When women's movement in the 80s asked for laws against indecent representation, they got laws that twisted their own representations and censored their expression. When activists asked for hate speech regulation, they themselves were often charged for being anti-national. When women asked for a law that dealt with offensive messages, that same section 66-A of the Information Technology Act is used by the State to target a tweet that merely refers to Robert Vadra's wealth or to take down Aseem Trivedi's cartoons. Rather than the slippery slope of censorship, it seems more just to criminalize the invasion of privacy and voiding of consent, though with the law one can never tell when it will turn against us.
The writer is a Fellow at Center for Internet and Society, Bangaluru, and has published a monograph titled "Porn: law, video, technology"
Porn- the academic way
* Todd Kendall, an economist at Clemson University in the US, looked at the growth of access to net- porn and made a correlation with rape cases. He found an inverse relationship: rape cases went down.
* Another study at Texas Tech. University showed that porn might fuel positive attitudes towards women. They termed it "benevolent sexism."
* A professor from the Northwestern University, came to a conclusion after his empirical study that the number of rape cases were reduced in states where people had greater access to porn on the net, "…states with the least internet access between 1980 and 2000- and therefore the least access to internet pornography - experienced a 53 percent increase in rape incidence, whereas the state with the most access experienced a 27 per cent drop in the number of reported cases," said the report.