G R O U N D Z E R O
UPA-II: Failing to control the narrative
If one gets that sinking feeling about the UPA government, it has largely itself to blame. Despite certain achievements, the UPA has never been able to control the discourse on the key issues that confronted it in the second term.
Raj Chengappa

For a Union Government that is now among the longest in power since India's Independence, the UPA-II's celebration of its ninth anniversary was a rather lacklustre affair. Apart from UPA chairperson Sonia Gandhi, the function held at the Prime Minister's residence last Wednesday was attended by an assorted audience comprising Congress party leaders, Union Cabinet ministers, MPs, Chief Ministers of Congress-ruled states and a few of the allies of the depleted coalition.
It has always puzzled me as to why the UPA government doesn't hire the best speechwriters, graphic artists and event managers to put up an impressive show that gets carried live with certainty by all TV news channels to tom-tom its achievements. Instead, we had Prime Minister Manmohan Singh reading drearily from a prepared text rather than extempore and straight from the heart. Sonia Gandhi, in fact, spoke with far more passion and conviction and even sounded prime-ministerial!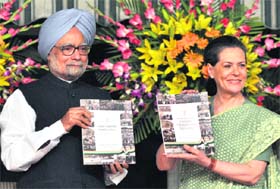 Prime Minister Manmohan Singh and UPA chairperson Sonia Gandhi at the ninth anniversary of the government.
All eyes were on Rahul Gandhi, Congress vice-president, who was seated on the dais along with UPA leaders. But when the Prime Minister spoke, for the most part Rahul seemed engaged in a conversation with Union Finance Minister P. Chidambaram. If neither was interested in their own Prime Minister's speech, then who should be?
The Prime Minister built his speech on what could be described as the four pillars of the UPA's achievements: economic growth at an average 8 per cent during this government's tenure as compared to 5.7 per cent by the NDA government that preceded it, ensuring inclusive growth, better governance and delivery of welfare programmes, besides placing India at the head table on foreign affairs.
At the end of the speech-making, a booklet was released summing up the UPA's achievements. The peacocks that roamed the Prime Minister's residence were heard calling out, but UPA leaders seemed far from proud. They do have a lot to put their heads down as the second term of the UPA government has been beset with mega scams like the 2G spectrum and Coalgate. With coalition partners steadily exiting the alliance, the policy paralysis was palpable.
It is not that the UPA-II is lacking in achievements. During its tenure, India has been among the fastest growing economies of the world despite a global slowdown. Agricultural growth has been impressive and welfare schemes like the Mahatma Gandhi National Rural Employment Guarantee Act (MGNREGA) have ensured that overall economic growth has been far more inclusive. The Right to Information Act became a key instrument in the hands of the people, ensuring accountability and improved governance. And in international relations, India has been far more assertive and respected.
The Prime Minister in his speech lamented, "Public debate often focuses less on what has been achieved and more on what is still not done." He added: "To our critics, I would only say that in many of these areas since the glass was almost empty when we started, it will take some time before it is really full. The important point is that it is filling."
Yet if one gets that empty or sinking feeling about the UPA government, it has largely itself to blame. Despite certain achievements, the UPA has never been able to control the discourse and narrative on the key issues that confronted it in the second term. For instance, when the 2G scam broke, UPA crisis managers went immediately on the defensive, even coming out with absurd statements that there was "zero loss" to the exchequer. Instead, they should have pointed out, as the just released booklet does, that under their tenure tele-density in rural areas had increased by 25 times and that India had among the lowest telecom prices in the world.
All of us are aware that there has been a tremendous growth in mobile telephony in the country, which has created a revolution in communications and connectivity. If the UPA had argued that all this would not have been possible if it had treated spectrum allocation as a purely commercial proposition and that it would take action against any person, howsoever high he may be, found indulging in malpractices (as it eventually did), it would have sounded less culpable.
In the year that remains of the present term, the UPA should begin to control the narrative rather than continue to let the Opposition have a free run. It has to do it with powerful imagery, well presented facts and its slogan "of an economically resurgent and socially just India" driven home to India's electorate using the best talent at hand. The UPA leaders should realise that the days of letting your work speak for itself are long since over. India loves hoopla and hype.