When compassion prevails over anger
FALI S NARIMAN
Some judges retire at the end of their innings on the Bench, and are not seen or heard of thereafter. When they pass on in the fullness of time, the usual obsequies are performed in what is known as a Full-Court-meeting — after which they pass out of our lives and the legal system forever. But there are notable exceptions — as was Justice JS Verma, for his judicial prowess and place in the pantheon of the Chief Justices of India.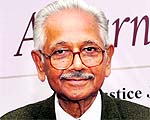 Justice JS Verma, a 'judicial hero'

Justice Verma sat as a Judge in the Supreme Court from 1989 till 1998 and as the CJI in the last nine months of his tenure. He was my judicial hero. I know of the care and time taken by him in "crafting" his judgments. He drafted his important judgments with great care: something that today's sitting judges would do well to emulate. One of his landmark judgments was Vishakha vs State of Rajasthan (1997). It was a PIL concerned with the hazards (including sexual harassment) to which working women were exposed, and the need for safeguards in the absence of enacted law. Sitting in a Bench of three judges, Chief Justice Verma fashioned an effective mechanism to fulfil an urgent social need: adopting and adapting the Convention on the Elimination of all Forms of Discrimination against Women, to which India was a party, but which was not as yet framed into law by Parliament.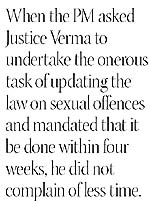 In the absence of enacted law, the court went on to "make" its own law, calling them guidelines — laying it down as the duty of all employers and responsible persons in workplaces and other institutions to prevent or deter the commission of acts of sexual harassment and to provide for procedures for resolution, settlement or prosecution of such acts.
Exercising the court's power to issue writs, orders and directions to enforce fundamental rights, he directed that these guidelines be strictly observed in all workplaces for the preservation and enforcement of the right to gender equality of working women and concluded: "These directions would be binding and enforceable in law until suitable legislation is enacted to occupy the field."
On the Bench, perhaps his failing, (which of us has none?) was that he would try to convince you that your argument was wrong. To compensate for it, he had sterling qualities of head and heart.
I was quite a favourite of his in court. Only once was he extremely annoyed with me when I appeared for a member of the Fourth Estate, who had commented on one of his judgments, having the temerity to say "the Judge should have his head examined!" Contempt notices were issued. When I stood before him on behalf of the representative of the Fourth Estate, he first expressed shock and surprise — "You, Mr Nariman, are appearing in this matter?" He then added angrily: "Ask your client to come up to the Bar." The Editor complied and Justice Verma gave him a severe verbal dressing down, during which all I did was look down and say nothing.
In contempt matters, saying nothing sometimes pays rich dividends. My client, fearing a six-month imprisonment, looked sheepish, but unapologetic. He wanted to make a speech in response to the Judge's remarks, but I asked him to shut up. The result was he was let off. Compassion, another great quality of Justice Verma, had prevailed over the temper of the moment.
He showed his true colours as a courageous rights champion when he assumed charge of what was then a very prestigious office: Chairman of the National Human Rights Commission. He made an outstanding Chairman. And whether you belong to one political persuasion or another, his personal involvement and stand taken in, what are known as "the Gujarat riots", was worthy of the highest praise. I believe it is the fearless performance of his duties as the Chairman of the NHRC that made him the superstar he was as long as he lived.
When the Prime Minister asked him last December to undertake the onerous task of updating our law on sexual offences in the Penal Code of 1862 and mandated it be done within four weeks, he did not complain of inadequate time. With the assistance of Justice Leila Seth and Gopal Subramanium, he submitted his report on the last day of the fourth week!
Since 1972, I have been practicing at the Supreme Court. There have been 26 Chief Justices since, and I have interacted with all of them. In my reckoning, Justice Verma was one of the noblest.
The writer is a constitutional jurist and Senior Advocate at the Supreme Court of India