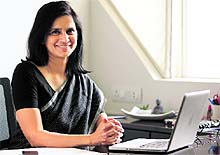 Don't let her petite frame fool you. Behind the pretty face lurks a razor-sharp mind and a vision few can match. Nina Lath Gupta, managing director, National Film Development Corporation (NFDC), whose name has often figured on the power list, has turned around the NFDC and transformed it into a profit-making venture. With innovative concepts like Film Bazaar and Screenwriters Lab, she has put it on the centre stage. In a freewheeling discussion she shares the new vistas that the NFDC hopes to cross in future. Here is a peep into her vision for the institution that has in recent times made even the most hardened sceptics sit up, take notice and applaud. Excerpts:
Why did you resign from the Indian Revenue Service and join the NFDC?
It is not as if I was not aware of the institution, for I was on its board of directors for two years. So, when there was a vacancy, I considered the option. It is one thing to sieve through a corporation's annual reports and another to be at the helm of it, but at no point have I regretted my decision.
What lessons did you learn in the IRS?
I came from an arts background and figures were Greek to me. I had no clue what a balance sheet was, let alone how to run a company and make it financially viable. Working for the IRS taught me all this.
What were your first thoughts when you joined the NFDC?
I joined the NFDC at a stage when it needed to be reoriented. That change could not have happened in days, weeks or months. Besides financial viability, there was the question of how to make it relevant to the film industry. Most people forget that the NFDC by its very nomenclature and mandate has two objectives which are dichotomous. On the one hand it has to follow the path of development, and on the other, as any other corporation, it has to keep its head above the water and not be in the red.
How did you envision the Film Bazaar which has become a meeting ground for international producers and distributors with Indian filmmakers?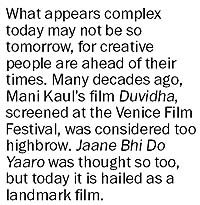 During my visits to film festivals like Cannes where hundreds of films are shown, I wondered how we could make our cinema matter and how to place it at the international level and seek international funding. Like any other business, cinema is about networking. Yet it is a high-risk venture, so how do we minimise risks by building relationships. That was the crux. And I dare say the concept has worked wonders. Today Film Bazaar has a brand value, market and platform for finance, and attracts filmmakers from India and abroad. This year at the Cannes Film Festival, four Indian films are being screened. Out of these, Dabba and Monsoon Shootout began their journey from Film Bazaar.
What is the biggest achievement of the NFDC?
The fact that films like Miss Lovely, part of the Film Bazaar the previous year, could raise finance from the private sector means that the NFDC has transformed into a successful business model. What people forget is that production is only a very small aspect of the NFDC. It might have been the focus in the 70s, 80s and 90s, but today we would rather films find finance outside the NFDC.
What is the rationale behind Screenwriters Lab?
We do not provide skill sets to writers, but create an environment where writers can reach the depths of their creative abilities. It is about constant interaction and engagement.
What is on the anvil?
For us at the NFDC it has been a three-pronged approach — content development, skill development and development of audiences for good cinema. We want to make all kind of good cinema viable by building a film club and culture centre. We also plan to start cinemasofindia.com which will be a digital hub of good cinema. Our focus will be audience development. Audiences may not be ready to pay Rs 200 for films like Anhe Ghode Da Daan, but would be willing to shell out Rs 50. We would be creating alternative spaces on a test-case basis. Making multipliers of a successful model is never difficult. But at no point can we say we have arrived. At the NFDC it is always work in progress.
The NFDC is believed to be financing films that are complex and do not find much favour with audiences.
The NFDC has always pushed boundaries. What appears complex today may not be so tomorrow, for creative people are ahead of their times. Many decades ago, Mani Kaul's film Duvidha, screened at the Venice Film Festival, was considered too highbrow. Jaane Bhi Do Yaaro was thought so too, but today it is hailed as a landmark film. The same goes for Anhe Ghode Da Daan, too layered today, but it could be perceived differently tomorrow.
Which NFDC films are in the pipeline?
There is Gurvinder Singh's Punjabi film Chauthi Koot. Ketan Mehta's Mountain Man is being co-produced by the NFDC, and then there is a Malayalam film. For me all projects are equally exciting.
Are you a film buff?
I am, like you and everybody else. But I am not a specialist or a historian or a curator or even someone who can at the inception stage of a film know that this will be a great one. The NFDC does not finance films according to my whim. We have stringent rules.
Your name figures on the achievers' list. How do you feel?
Honestly, I am embarrassed. I only take life as an uphill journey. Once you have climbed one mountain, you need to move to another one.
What kind of a relationship do you share with Ramesh Sippy, Chairman of the NFDC?
It's a great relationship. I have tremendous respect for the man who has given us the all-time great film Sholay. I follow his advice and never disagree. I hope I have the same kind of wisdom when I am 70.