What Manmohan should really write to Nawaz
Raj Chengappa
Dear Mian Saheb,
Congratulations again on your convincing victory at the just concluded General Election! It was very kind of you to extend an invitation to me to attend your swearing-in ceremony via the media. I regret because of pressing prior commitments I will not be able to accept the honour of being present at this momentous occasion to convey my best wishes for your success personally.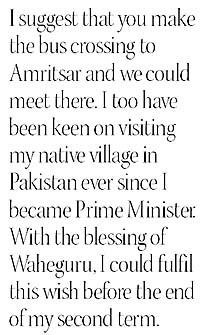 Mian Saheb, in your previous two terms as Prime Minister, you have always made efforts to have peaceful relations with India and resolve outstanding disputes through amicable negotiations. In 1999, you invited my predecessor, Shri Atal Behari Vajpayee, for a historic bus ride to Lahore, where you both signed the Lahore Declaration that laid a new road-map for resolving outstanding disputes between the two countries.
Unfortunately, as you are well aware, the Kargil intrusions by the Pakistan Army the same year and the brief war that followed abruptly shattered the peace process that Vajpayee Saheb and you had put into motion. Efforts to revive relations by subsequent governments, including those headed by President General Pervez Musharraf and Prime Minister Yousaf Raza Gillani made little headway. The incidents involving the beheading of an Indian soldier at the LoC and the death of Sarbjit Singh in Lahore, not to mention Sanaullah in Jammu, meant that relations between the two countries are once again at the nadir.
Therefore, when I called to congratulate you the other day, I was happy to hear you say that you had made improvement of relations with India your top priority and that you would like to pick up the threads from where they were dropped in 1999 after Kargil. On many occasions in the past you had mentioned that as regards Kargil, General Musharraf had acted of his own volition, without your prior knowledge or approval. While I may be inclined to believe you, India as a nation remains to be convinced that your offer of renewal of friendship will remain steadfast and not be derailed again.
| | |
| --- | --- |
| Nawaz Sharif | Manmohan Singh |
I understand you are in the process of government formation and that almost 90 per cent of the members elected from your party, the Pakistan Muslim League-Nawaz (PML-N) belong to the province of Punjab. And that in the other three Provinces — Sindh, Balochistan and Khyber Pakhtunkhwa — you would have to find ways of arriving at a balance with the Opposition parties who have captured power there to enable you to have a truly national presence.
Then there is the Pakistan Army that we understand continues to have a decisive say in the conduct of foreign affairs in the country. The armed forces are likely to baulk at any move you make to either reduce their influence or assert civilian supremacy over them. The extremely volatile situation in Afghanistan and the dangerous transition underway is another cause for worry and will exhaust both your political capital and time if you are not careful.
That is why I propose that you plan your first visit to India soonest. Do not be deterred by reports in the Indian media that my UPA government is on its last leg after a series of political setbacks that we have faced. The Congress party's creditable win in the Assembly polls in Karnataka is a good indicator that we are still a force to reckon with. The UPA government's tenure lasts till next May and you and I know that a year is a long, long time in politics.
There are some low-hanging fruits that you can pick to demonstrate your sincerity and determination to improve relations with India. The third round of the so-called "Resumed Dialogue" between us to discuss the eight subjects of concern has, in fact, been halted in the past few months. You can call for its early resumption and I will immediately reciprocate.
We understand that the previous government had agreed on according India the Most Favoured Nation, or MFN, status before its tenure ended but was unable to execute it. As a major Confidence Building Measure, or CBM, your government could announce MFN status for India on the eve of your visit that will result in trade being boosted between the two countries.
We could also clear the visa-on-arrival proposal for groups ranging from 10 to 50 at the Wagah border, which still remains to be implemented as part of the recent visa agreement we signed to facilitate greater interaction between the peoples of the two countries.
Another major area of concern of ours that needs to be addressed urgently is punishing the perpetrators of the 26/11 attacks. It's been five years since the attack and progress on the trial has proceeded at a snail's pace. There was some forward movement recently when a judicial commission was formed by the previous Pakistan government to cross-examine the four witnesses in India in a bid to break the legal logjam. That, too, has been inexplicably stalled and it would help if you announced ways of speeding up the process for me to say that we can get back to business as usual.
I do not want to overload you with any more CBMs as these three will set the tone for relations between India and Pakistan to proceed in future. I read in The Tribune that you were keen on visiting Amritsar, where your parents had their home. I suggest that you make the bus crossing to Amritsar and we could meet there. I too have been keen on visiting my native village in Pakistan ever since I became Prime Minister. With the blessing of Waheguru, I too could fulfil this wish before the end of my second term.
I look forward to your cooperation and friendship to ensure durable peace between our two countries.
Warm regards,
Manmohan Singh
(Prime Minister of India)
raj@tribunemail.com