Farmers fail to pay for canal water
Sarbjit Dhaliwal
Tribune News Service
Chandigarh, May 23
Canal water for irrigation is not free yet most farmers who were issued bills for using the canal water have yet to pay the charges.
A senior official of the Irrigation Department said that bills worth Rs 250 crore had been issued to farmers over the past three years, but a sum of only Rs 3 crore had been realised so far. Deputy Commissioners have been assigned the task to recover the dues with the help of revenue officials such as tehsildars and patwaris.
A notification levying Rs 150 per acre per annum for canal water was issued by the state government in January 2010. Farmers were to pay Rs 75 per acre twice a year for land under canal irrigation.
When Parkash Singh Badal took over as Chief Minister in 1997, his first Cabinet decision was to give free power and free canal water to farmers. Following this decision, the post of "nehri (canal) patwari" was merged with the revenue patwari cadre.
However, the Congress government in 2002 decided to levy canal water charges again. Most farmers did not pay the charges and these continued to accumulate.
In January 2010, the Parkash Singh Badal-led government waived the accumulated charges and decided to levy water charges at Rs 150 per acre per annum.
Now, the farmers have been issued hefty bills. A BKU leader,Ghuman Singh Rajgarh, claimed that a farmer who owned 22 acres near Nabha had got a bill of Rs 34,000. At Sangatpura village, some farmers had been charged at Rs 500 per acre.
Balbir Singh Rajewal, BKU president, said farmers in Hansro village near Nawahshahr had been charged at Rs 3,310 per acre. A senior official said that bills had been prepared on the actual use of canal water supplied through various outlets. For instance, if water meant for 500 acres was actually used for 100 acres, the farmer concerned would have to pay the bill for the water which otherwise would have gone to other farmers.
Contradicting the official, farmers say if water meant for 500 acres is used for 100 acres, it will cause water-logging.
Belated move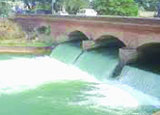 Bills worth Rs 250 cr issued to farmers over the past three years


But an amount of only Rs 3 crore realised so far


Deputy Commissioners told to recover dues with the help of revenue staff


A notification levying Rs I50 per acre per annum for canal water was issued in January, 2010


Farmers were to pay Rs 75 per acre twice a year for land under canal irrigation