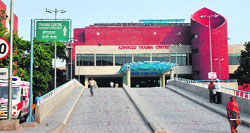 CAG pulls up PGIMER
Chandigarh, May 23
Slamming the PGIMER for keeping some of its private rooms reserved for VIPs throughout the year despite a long waiting list of patients, the Comptroller and Auditor General (CAG) of India stated that the institute could have utilised the rooms and earned a revenue of Rs 22.25 lakh.
Snag in aircraft keeps passengers stranded for 4 hrs
Chandigarh, May 23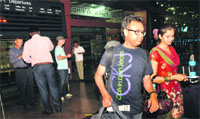 Over 100 passengers remained stranded for over four hours at the Chandigarh domestic airport today after Jet Airway's outbound Chandigarh-Delhi-Banglore flight no 4235 developed a technical snag and took off late at night with special permission from the ATC.

Passengers come out of the Chandigarh airport after delay in the Jet Airway's flight due to a snag on Thursday. Tribune photo: Vicky Gharu
Rapper Hard Kaur courts controversy
Chandigarh, May 23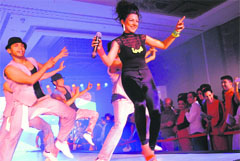 After rapper Honey Singh, now singer Hard Kaur has courted a controversy. The singer shocked everyone by hurling abuses on stage during her performance at a hotel in Chandigarh on Wednesday night.




Rapper Hard Kaur performs at a hotel in Chandigarh on Wednesday night. Tribune photo: Manoj Mahajan
2 Chandigarh Police constables acquitted in murder bid case
Chandigarh, May 23
The Court of Additional District and Sessions Judge, Preeti Sahni, today acquitted two Chandigarh Police constables in an attempt to murder case. The Court acquitted constables Rajesh Kumar and Niharika of the charges.
Doctor jumps to death in Sukhna
Chandigarh, May 23
A 33-year-old doctor from Ludhiana allegedly committed suicide by jumping into Sukhna Lake late last night. The body of the doctor, Dinesh, was found floating at the regulatory end of the lake around 4 pm today.



Sec 17 traders oppose MC's decision
Chandigarh, May 23
Traders of Sector 17 today opposed the MC's decision of imposing hourly parking charges in Sector 17.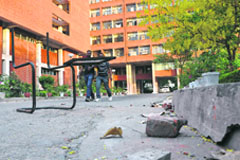 Three PSEB employees injured
Mohali, May 23
Three employees of the Punjab School Education Board (PSEB) were injured after they were pelted with stones during a protest on the PSEB premises this evening.


A broken chair and stones that were pelted during the protest at the PSEB office in Phase VIII, Mohali, on Thursday. Tribune photo: Vicky Gharu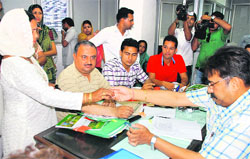 Panchkula MC poll
Candidates have criminal past
Panchkula, May 23
Candidates contesting the Panchkula Municipal Corporation elections have a number of criminal cases registered against them.


Officials distribute party symbols at Mini-Secretariat in Panchkula on Thursday.
Tribune photo: Nitin Mittal
Study tour of MC officials ends abruptly
Chandigarh, May 23 The foreign study tour of two officials of the Municipal Corporation, SS Bida, Chief Engineer, and Mukesh Anand, Superintending Engineer, B&R (building and roads), ended before it started.
Only 10 councillors stick to their promise
Chandigarh, May 23
It seems that the MC councillors have forgotten their promise of donating their one-month salary cheque for the financial assistance to the family of Harpreet Singh Sodhi, a resident of Sector 45-C, who had died in a road accident involving stray cattle.
No internal audit in PGI since 2002
Chandigarh, May 23
The PGIMER has not conducted any internal audit since 2002, thus raising a question over the self-assessment system of the institute.
Findings of CAG report
A report of the Comptroller and Auditor General (CAG) of India for 2011-12 states that the PGI's internal audit system never functioned after 2002. It has been "non-existent" till date.
Punjab, Haryana owe Rs 462.72 lakh to PGIMER: CAG report
Chandigarh, May 23
The governments of Punjab and Haryana owe Rs 462.72 lakh to the PGIMER as the annual cost of 200 beds. The Comptroller and Auditor General (CAG) of India, in its report for 2011-12, found that both the states were not paying the cost of beds on a regular basis.
UT Admn submits copy of proposal to ministry
Chandigarh, May 23
Just about a month after the Punjab and Haryana High Court took cognisance of the vacancies of Judges in the Chandigarh District and Sessions Court, the Chandigarh Administration today submitted a copy of its proposal to the Union Ministry of Law and Justice.
Cops learn to deal with trademark violations
Chandigarh, May 23
The Chandigarh Police and FICCI CASCADE (Committee Against Smuggling and Counterfeiting Activities Destroying the Economy) as a part of its capacity building programme to sensitise and train the police officers, organised a training programme for 75 policemen of Chandigarh, Haryana and Punjab.
11 policewomen yet to be sent for lower school training
Chandigarh, May 23
Even after pronouncement of CAT orders, the 11 UT women constables are yet to join the lower school training course at Madhuban.
NGO launches project to promote girl child
Chandigarh, May 23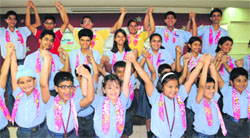 Yuvsatta, an NGO, in association with the Peace Club of Gurukul Global School, Chandigarh, launched a Girl Star Project to promote girl child and sensitise students to gender issues and problems being faced by girls in society, here today.

Students of Gurukul Global School join hands during the launch of Girl Star Project on Thursday. Tribune Photo: Pradeep Tewari
Summer camps to be a gala affair
Chandigarh, May 23
From bollywood personalities to innovative activities, this year's summer camps have a lot in store for children of the tricity.


CBSE classes X, XII results to be out soon
Chandigarh, May 23
The annual result of the CBSE for class X and class XII is expected soon. Class XII result could be announced either on May 25 or May 26, while class X result is expected on May 28 or May 29, said board officials at the CBSE regional office in Panchkula.