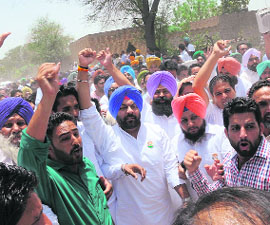 Congress workers raise slogans against the Punjab Government at Mann village on Monday. A Tribune photo
Residents blame 'outsiders' for ruining village peace
Mann (Muktsar), May 27
Most houses in this village, a known citadel of the Congress, are large with imposing gates. The streets are dusty and brick-laned in contrast to paved streets in the nearby Badal village. The pond is still "kutcha" and drains in dilapidated condition. There is no health centre. The village has an ayruvedic doctor, Gurtej Singh, to take care of medical needs of its population.
Education Department rocked by Scandals
Ambala firm develops cold feet
Chandigarh, May 27
The owner of an Ambala-based firm that had dumped science kits in godowns today developed cold feet, saying: "We were not allotted tenders for supplying kits to schools. It was all a misunderstanding".
Cong rejects probe by retired judge, says it's mere eyewash
Chandigarh, May 27
The Pradesh Congress has rejected the probe to be held by retired High Court Judge AN Jindal into the alleged irregularities in the procurement of books by the Education Department.
Milkfed expansion plan gets government's nod
Chandigarh, May 27
Deputy Chief Minister Sukhbir Badal today approved a mega expansion plan of Milkfed under which four milk plants costing Rs 250 crore each will be set up.
Capacity of Bist Doab canal to be augmented
Jalandhar, May 27
In an effort to give a boost to the agriculture sector in Doaba, the Punjab Government has chalked out a plan to give a facelift to the Bist Doab canal and its distributaries. A sum of Rs 211 crore would be spent to increase the canal's irrigation capacity to 1,72,981 hectares from 30,364 hectares now.
Govt restores heritage site, but fails to revive tourism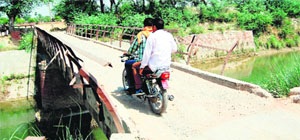 Attari (Amritsar), May 27
Even as heritage structures in different parts of Amritsar are crying for attention, a heritage site which has been restored at Pul Kanjri, a historic village associated with Maharaja Ranjeet Singh, has failed to attract tourists' attention due to lack of promotion.

The lone bridge connecting Attari with Pul Kanjri village. Photo: Sameer Sehgal


CBSE Class XII results
DAV student Harleen is Amritsar topper
Amritsar, May 27
Harleen Hanspal, a student of non-medical student of DAV Police Public School, seems to have stolen the show in the CBSE Class XII results declared today.


Harleen Hanspal,
non-medical (97.8%)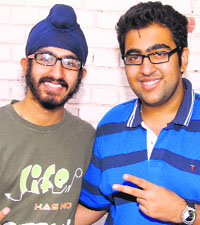 Apeejay duo shines
Jalandhar: Roop Kunwar ingh and Anurag Batra of Apeejay School, Jalandhar, shone as the CBSE Class XII results were declared today. The duo scored 97 per cent marks in the commerce stream. In the non-medical stream, Shivam Arora of the Delhi Public School, here, bagged 96.2 per cent. Rudatadeep Kaur (96.2 percent) and Sumant Ahuja (96 per cent) of the MGN Public School and Surbhi Singla of the Delhi Public School scored 96 per cent marks.




Roop Kunwar, Anurag Batra, commerce (97%)

Bathinda toppers
Bathinda: In the CBSE Class XII examination results declared today, students of various city schools came out in flying colours. While doing so, they have also proved that being satisfied with distinctions or 80 per cent marks was a thing of passé.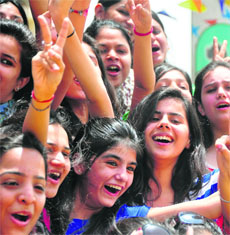 Ludhiana topper Ritish scores 98.6%
Ludhiana, May 27
Ritish Goyal of Sacred Heart Senior Secondary School, BRS Nagar, has made the district proud by standing first in Class XII CBSE results declared today. He secured 98.6 per cent marks in non-medical stream. Ritish got 493 out of 500. Son of a doctor, Ritish aims to become a computer engineer. "It is not important to study 8-9 hours, but one should study with full concentration," he said.


Students celebrate after the declaration of the CBSE Class XII examination in Ludhiana. Tribune photo: Himanshu Mahajan

Save Bhullar, Takht chief urges Badal Govt
Amritsar, May 27
Akal Takht chief, Giani Gurbachan Singh, today asked the state government and the SGPC to step up efforts to save Devinderpal Singh Bhullar from the gallows because of his medical condition.
5 of family killed in mishap
Abohar, May 27
Five members of a family died today as the car in which they were travelling rammed into a tree near Panjkosi village in Abohar sub division today.



HC fines firm Rs 60 crore for delaying highway project
Chandigarh, May 27
The delay in completing the six-laning of the 291-km Panipat-Jalandhar highway project has cost the concessionaire and its director dear. Taking up the issue, the Punjab and Haryana High Court today directed the concessionaire to pay a penalty of Rs 60 crore for the delay. The director has been asked to pay Rs 7 crore.
Principal Secy pulled up for misleading court
Chandigarh, May 27
The Punjab and Haryana High Court today minced no words in asserting that Punjab Principal Secretary (Education) and Director, Public Instructions, were guilty of misleading the court and concealing facts. The officials have been granted the last opportunity to put up their defence.
Quota in PG courses
Rural medical officers can't be equated with PCMS docs: High Court
Chandigarh, May 27
The Punjab and Haryana High Court has ruled that rural medical officers, working with zila parishads in Punjab, cannot be equated with PCMS in-service doctors.



Dera followers clash with SGPC members
Doraha, May 27
The conflict between SGPC members and dera followers over 21 acres of land in Bilaspur village took an ugly turn yesterday as they came to blows and hurled stones at each others.