Students protest outside minister's house, demand his dismissal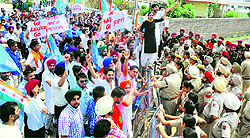 Chandigarh, June 2
Hundreds of students affiliated to the National Students Union of India (NSUI) today staged a protest march against Education Minister.


NSUI activists protest outside Education Minister Sikander Singh Maluka's house in Kansal village, near Chandigarh, on Sunday. Tribune photo: S Chandan

Coal crisis at Lehra thermal plant may hit power supply
Bathinda, June 2
The shortage of coal at Lehra Mohabbat power plant is likely to hit power supply in the state ahead of the paddy season.

State plans to reduce land under paddy cultivation
Jalandhar, June 2
Concerned over the depleting water table in 110 of the total 138 blocks of the state, the Punjab Agriculture Department plans to encourage farmers to sow alternative crops and reduce the land under paddy cultivation.
PSEB Class X results today
Mohali, June 2
Punjab School Education Board (PSEB) chairperson Dr Tajinder Kaur Dhaliwal declared that the Class X results of the board would be declared tomorrow at 11 am.
Apprehended Pakistani national repatriated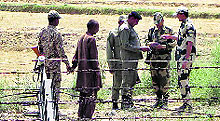 Ferozepur, June 2
In a goodwill gesture, the Border Security Force (BSF) yesterday handed over a Pakistani national Gulam Abbas (22 years) to the Pakistan Rangers. He was apprehended on Friday night at around 11:15 pm near Border Out Post (BOP) Harbhajan in Ferozepur sector.

Pakistani national Ghulam Abbaas being handed back to the Pakistan Rangers in the Ferozepur sector on Sunday. A Tribune photograph

Indo-Pak trade via rail route dips further
Amritsar, June 2
The bilateral trade between India and Pakistan via the rail route has dipped further over the past few months.
Traders mull stir if truckers' issue at ICP not resolved
Amritsar, June 2
A day after the local truckers created ruckus at Attari, the traders under the banner of Confederation of International Chambers of Commerce and Industry (CICCI) today said they might be forced to stop the trade if the "so-called union" resorted to lawlessness by trying to force their writ.

Lyallpuri: A hero of the peasantry
Jagjit Singh Lyallpuri was the last Left stalwart who dedicated his entire life for the amelioration of the downtrodden of Punjab. He was born on April 10, 1917, the year when the Russian Revolution took place. Those were the times when anger against the British rule was brewing in India, particularly after the Jallianwala Bag massacre in Amritsar in 1919.
Jagjit Singh Lyallpuri (1917-2013)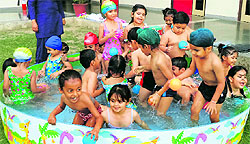 Children try to beat the heat during a splash pool party at Millennium School in Patiala on Sunday. Tribune photo: Rajesh Sachar

Kabaddi World Cup in November
Chandigarh, June 2
Punjab Deputy Chief Minister Sukhbir Singh Badal today cleared the decks for holding the fourth edition of the Kabaddi World Cup in the second half of November 2013. Men and women's teams from 25 nations would vie for record prize money in the fortnight-long sports extravaganza.
Punjabi varsity to conduct research on Census data
Patiala, June 2
Punjabi University has become the second institution in the country after Jawaharlal Nehru University to set up a workstation for research on micro-data from census on its campus. This will enable the university to carry out meaningful research and make the data easily accessible to a large number of people for its optimum use.
Cargo scanner brings respite to traders
Amritsar, June 2
With the cargo scanner being installed at the Integrated Check Post (ICP) in Attari, the trading community feels that it will act as a deterrent and check any instance of smuggling of banned goods/contraband from the other side of the border. The ICP authorities say the scanner will become functional within a week.
Nishan's transfer puts borstal staff on their toes
Ludhiana, June 2
Local borstal school authorities have tightened security in the area near Tajpur Road after notorious criminal Nishan Singh (20) was shifted there on May 30.

Will improve facilities in 100 hospitals: Mittal
Patiala, June 2
Punjab Health and Family Welfare Minister Madan Mohan Mittal during an official visit to a community health centre in Patiala today said the state government would improve health care facilities in 100 selected hospitals in the state.
Madan Mohan Mittal, Health Minister, Punjab
Freedom fighter cremated with state honours
Sangrur, June 2
Freedom fighter Ram Singh, who was 100 years old, was cremated with state honours here today. Ram Singh was a member of the Indian National Army (INA) that played an important role in the freedom struggle of the country. He is survived by his wife, three sons and two daughters.
3 sites approved for mining of sand, gravel in Ropar
Ropar, June 2
Residents of the area are likely to get some relief from the constant rising prices of the sand and gravel as the state government has approved three sites of less than 5 hectares each for mining of minor minerals in the district.
Govt urged to release DA
Fatehgarh Sahib, June 2
Members of the Pensioners' Welfare Association (PWA) here today urged the Punjab government to release the dearness allowance (DA) announced from January this year.
Punjabis spend over Rs 14 cr every year on superstition
Mohali, June 2
Punjabis spend a whopping over Rs 14 crore on hanging a set of lemons and green chillies at the entrances of their houses, workplaces, shops, rehris and other establishments every year.
Models by 2 Bathinda students to compete at national level
Bathinda, June 2
Models prepared by students of two schools of the district have been chosen for the national-level exhibition of the Innovation in Science Pursuit for Inspired Research (INSPIRE) awards.
Bank directed to close housing loan account, pay Rs 2,000 fine
Bathinda, June 2
The District Consumer Disputes Redressal Forum has directed ICICI (Industrial Credit and Investment Corporation of India) Bank to waive an outstanding amount of Rs 6.83 lakh and also imposed Rs 2,000 penalty on it for not issuing the NOC (No Objection Certificate).
'Fraudster' JVG chairman nabbed after 10 years
Bathinda, June 2
In a press conference held here today, Mansa police revealed that it had caught JVG chairman Vishal Kumar Sharma, who had been on the run since 2003.
4 injured in group clash in Tarn Taran
Tarn Taran, June 2
Two farmers were shot while two suffered minor injuries in a clash that erupted allegedly between two groups of the ruling SAD over a property dispute in Palasour village here today.


14-year-old gang-raped, 1 held
Kapurthala, June 2
A 14-year-old girl was allegedly gang-raped by three persons at Kolianwal village located in the jurisdiction of Fatudhinga police station in the district late last night.
5 booked for Rs 67-lakh robbery
Amritsar, June 2
The city police has registered a case against Mohali-based Kang Global Education and five unidentified persons for allegedly robbing medical seat aspirants of Rs 67.5 lakh.
Two held with poppy husk
Bathinda, June 2
The police has arrested two persons with poppy husk in two separate cases.
Woman ends life
Sangrur, June 2
A 33-year-old married woman allegedly committed suicide at Dhadogal village in the district yesterday.
Smack seized from undertrial
Patiala, June 2
During a routine cheching, the authorities have recovered 20 bits of smack from the possession of an undertrial lodged in the Central Jail here.