M A I N N E W S
Pak pounds Indian posts in Poonch; soldier killed
Third firing incident since May 24
Ravi Krishnan Khajuria & Darshan Bharti/TNS
Jammu/Poonch, June 7
Pakistani troops opened heavy fire on Indian forward posts in Sabjian area of Mandi sector along the Line of Control (LoC) in Poonch district on Friday afternoon, killing a Naib Subedar of 3 Garhwal Rifles.
The attack comes two days after Nawaz Sharif took over as Pakistan Prime Minister. He had only yesterday vowed to "progressively pursue" normalcy in ties with India while actively seeking solutions to outstanding issues, including Kashmir.
Though the Army did not describe the incident as a truce violation but cross-border firing, Pakistan used heavy fire such as PIKA ammunition, rocket propelled grenades (RPGs) and under barrel grenade launchers (UBGLs). The Pakistani Army fired RPGs from two of its posts, G-Santoo and N-Santoor, on the Indian Khalsa I post.
Following the unprovoked and unwarranted firing, Indian troops retaliated and gave a calibrated response to the Pakistani firing. The situation along the LoC is tense and a high alert has been sounded.
Officiating Defence PRO SN Acharya said heavy firing began around 1pm and lasted for over two hours. "Around 1 pm heavy firing from across the LoC started suddenly on Khalsa forward post in Sabjian area of Mandi sector. Through thick forests in hilly terrain came the fire of PIKA ammunition, RPGs and UBGLs. Consequently, we also gave a calibrated response of LMG and MMG fire," he said.
In the hostile fire, one of our soldiers, identified as Naib Subedar Bachan Singh of 3 Garhwal Rifles was hit by shrapnel and died, said Acharya. He was a native of Shibu Nagar of Kotdwara tehsil in Pauri Garhwal district of Uttarakhand.
"Because of thick forest and poor visibility in the area we can't confirm the involvement of Pakistani troops in the firing. Militants are also known to use similar arms and ammunition to infiltrate into Indian territory," Acharya said.
He said the situation along the LoC was tense and the entire stretch had been cordoned off. A high alert has been sounded and a combing operation is on in the forest area close to the borderline, he added. Vigil along the LoC has been increased as the ceasefire violations could be a diversionary tactic to push terrorists into the state from Pakistan occupied Kashmir, sources said. (With PTI inputs)
Heavy gunfire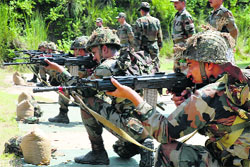 1pm: Pakistani troops open heavy firing with automatic weapons and rocket-propelled grenades on Indian posts along the LoC in Sabjian sub-sector of Poonch

Indian troops retaliate after the unprovoked firing; exchange of fire continues

Naib Subedar Bachan Singh of 3 Garhwal Rifles hit by shrapnel; martyred

3pm: The guns fall silent; entire area cordoned off; search operation launched