LIFE+STYLE

CHANDIGARH

LUDHIANA

BATHINDA

JALANDHAR

AMRITSAR TRIBUNE

JALANDHAR TRIBUNE

BATHINDA TRIBUNE

JAMMU TRIBUNE

KASHMIR TRIBUNE

DELHI

DEHRADUN

DEHRADUN PLUS

Pak pounds Indian posts in Poonch; soldier killed
Jammu/Poonch, June 7
Pakistani troops opened heavy fire on Indian forward posts in Sabjian area of Mandi sector along the Line of Control (LoC) in Poonch district on Friday afternoon, killing a Naib Subedar of 3 Garhwal Rifles. The attack comes two days after Nawaz Sharif took over as Pakistan Prime Minister. He had only yesterday vowed to "progressively pursue" normalcy in ties with India while actively seeking solutions to outstanding issues, including Kashmir.
game Shame
Shilpa bet Rs 1 lakh on IPL match: Police
New Delhi, June 7
Actress Shilpa Shetty placed bets of Rs 1 lakh for an IPL match, the Delhi Police claimed today even as investigators said they do not believe her husband and co-owner of Rajasthan Royals Raj Kundra's statement that he lost Rs 1 crore in betting. Kundra and Shilpa have denied allegations against them. Police sources said they may quizz Kundra again and call Shilpa for questioning if there is a need.
20 die in Himachal as bus falls into gorge
Nahan, June 7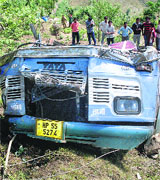 At least 20 persons were killed and 12 injured, three of them seriously, when a private bus (HP 55 5274) rolled down a 120 metre-deep gorge at Bharari village, 15 km from Nohradhar, around 7.15 am today. The ill-fated bus was carrying 35 passengers from Punndhar to Solan when the accident occurred.

The bus which fell into a gorge at Bharari village, about 50 km from Solan, on Friday. A Tribune photograph

OTHER PAGES

PUNJAB: Farmers of Muktsar village still in hiding, crops continue to suffer


HARYANA: Selja, Birender target CM


J&K: High Court orders premature retirement of 3 senior judges


HIMACHAL: Bilaspur woman to get back George Cross


CHANDIGARH: Closure report rejected again


LUDHIANA: GLADA officials act tough


DELHI: Lowest gender ratio in 5 constituencies


Business:

RIL inks Rs 12,000-cr tower sharing pact with RCom

OPINIONS: US drive against Iran


NATION: Not averse to House debate on Food Security Bill: Cong


SPORTS: Nadal still the king of clay

WORLD: Zardari set to make history; to address joint session



The tribune guide to best colleges

Budget
2013-14

INDIA CHINA WAR 50 YEAR LATER

YEAREND SPECIAL: 2012

Year of survival

The tribune 130 years
a witness to history
book released by prime minister manmohan singh

Guide to best colleges

Results of Punjab Assembly Polls 2012

HIMACHAL VOTES 2012

EARLIER FEATURES

Punjab bought copter to save money on hired one, ends up using both
Chandigarh, June 7
The cash-starved Punjab Government, which spent Rs 38 crore buying a helicopter to cut down on the expense of hiring one, has instead been using both the hired machine as well as the new one for over a month to ferry the Chief Minister, his deputy and even a few ministers across the state and even to and from Delhi.
Not averse to House debate on Food Security Bill: Cong
New Delhi, June 7
The Congress today sought to dispel the notion that the party wanted to enact the Food Security Bill through the ordinance route instead of a debate and blamed the Opposition for stalling the proceedings in both Houses as the reason for the delay. Responding to questions following the statement by Agriculture Minister Sharad Pawar favouring the passage of the Bill through discussion in Parliament Congress spokesperson Renuka Chowdhary maintained there were no differences either within the Congress or with its ally, the Nationalist Congress Party. (Details on Nation page)


14 Indian sailors rescued from Somali pirates
New Delhi, June 7
Fourteen Indian sailors have been rescued from the clutches of Somali pirates in a joint EU-NATO counter-piracy operation in the Gulf of Aden, the EU said here today. "Fourteen Indian soldiers are now safe, after pirates, who took control of their cargo vessel on June 5 in the Gulf of Aden, abandoned the attack hours later after EU Naval warship HSwMS Carlskrona, together with NATO counter piracy Dutch warship HNLMS Van Speijk closed in," a statement from the EU office said.

Kundra placed IPL bets: Police
June 7, 2013
Opposition CMs reject anti-terror body despite amendments
June 6, 2013
Cabinet nod to real estate regulator
June 5, 2013
Punjab woos industry with tax sops
June 4, 2013
Srinivasan steps aside, Dalmiya called back as interim BCCI chief
June 3, 2013
Shukla resigns as IPL chief, Srinivasan's exit imminent
June 2, 2013
Pressure mounts on Srini as two key BCCI members quit
June 1, 2013
The new gold rush
May 31, 2013
Pressure mounts on BCCI chief to go
May 30, 2013
Bastar attack: Cong wants CM to go
May 29, 2013
Major offensive against Maoists in Bastar jungles
May 28, 2013