AC vegetable carts given away to Sirsa SC farmers, rehri-pullers
Sirsa, June 6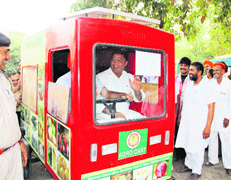 The Sirsa MP, Dr Ashok Tanwar, gave away air-conditioned vegetable and fruits carts to 11 farmers and rehri-pullers belonging to Scheduled Castes on Tuesday.
MP Ashok Tanwar sits in an air-conditioned cart during a function to distribute these carts to the poor in Sirsa. A Tribune photograph

Govt to construct 3,308 houses for poor in Sirsa
Sirsa, June 6
Sirsa MP Ashok Tanwar has said that the government will construct 3,308 houses for the poor in Sirsa under the Rajiv Awas Yojna (RAY) at a cost of Rs 133.19 crore. Tanwar was addressing officials of the district at a meeting of the District Vigilance and Monitoring Committee recently. He said the authorities had selected two sites in the town for the purpose.