Sarna opposes memorial inside Delhi gurdwara
New Delhi, June 6
The proposed building in memory of the 1984 riot victims at Gurdwara Rakabganj Sahib would violate the sanctity of the shrine, claimed president of the Shiromani Akali Dal (Delhi), Paramjit Singh Sarna.
Centre passing the buck for failing to seal border: Sukhbir
Chandigarh June 6
Deputy Chief Minister Sukhbir Singh Badal today accused the Union Government of passing the buck for its failure to seal the border to check the smuggling of drugs and arms.
BSP leader Manhera's widow joins SAD
Chandigarh, June 6
Satvir Kaur Manhera, wife of late BSP leader Maan Singh Manhera, today joined the SAD along with her son Parwinder Singh Manhera and supporters in the presence of SAD patron and Chief Minister Parkash Singh Badal.
Central team to probe book scam: Jakhar
Chandigarh, June 6
Punjab Congress Legislature Party Leader Sunil Jakhar today claimed that the Human Resource Development Ministry would send a fact-finding committee to Punjab to probe the alleged embezzlement of central funds in the purchase of books for schoolchildren.
Another protest against Maluka
Chandigarh, June 6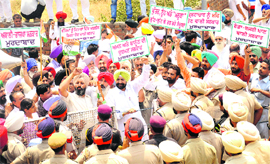 Hundreds of Congress workers, led by Mohali legislator Balbir Sidhu, today staged a protest outside the residence of Education Minister Sikander Singh Maluka in Kansal village here and demanded his immediate dismissal from the state Cabinet for his alleged role in the book scam.
Mohali MLA Balbir Sidhu leads a protest against the Education Minister outside his residence in Kansal on Thursday. Tribune photo: Pradeep Tewari

Amritsar admn cancels 429 arms licences
Amritsar, June 6
The Amritsar administration has cancelled 429 arms licences after conducting a probe into the fake arms racket that was busted in Patiala in October last year. During the probe, the authorities zeroed in on 433 licence holders. They were asked to furnish relevant documents, but only four turned up.
Willing to make certain corrections, Mittal tells doctors
Chandigarh, June 6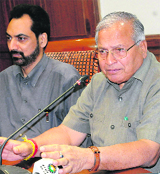 Instead of issuing threats to launch an agitation or submit resignations en masse, doctors unhappy with their transfer orders should approach the Health Department with their representation, said Health Minister Madan Mohan Mittal at a press conference here today. He said all "genuine" cases would be considered sympathetically.


Health Minister Madan Mohan Mittal at a press conference in Chandigarh on Thursday. Tribune photo: Manoj Mahajan

Agri university sells admission forms worth Rs 1.25 crore
Ludhiana, June 6
Punjab Agricultural University (PAU) has received an overwhelming response from students keen to join the university in various undergraduate and postgraduate programmes in the coming academic session. The varsity has received 9,412 applications this year, which is far more than those received last year.
195 dairy farming units set up in Patiala last year
Patiala, June 6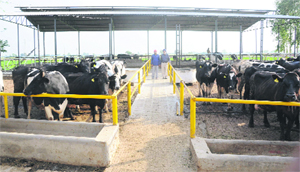 With a view to promoting dairy farming in the state and motivate farmers towards crop diversification, the Dairy Development Department, Punjab, had allocated loan worth Rs 18.38 crore to the farmers and set up 195 dairy units in the district in 2012-13.


A dairy farm near Patiala. A Tribune photo
Existing units should get incentives: Industrialists
Sangrur, June 6
Former president of the Sangrur District Industrial Chamber (SDIC), Sangrur, Sumer Garg, has condemned the state's industrial policy-2013 at an SDIC meeting at Sunam today. He said existing industrial units were not given any incentives whereas a red carpet had been rolled out for new and large industries.


Mission admission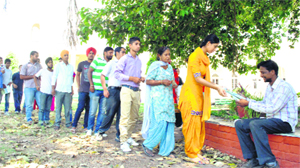 Students stand in a long queue to buy admission form at Government Mohindra College in Patiala on Thursday. Tribune photo: Rajesh Sachar
Violence on SLIET campus
Panel grills students, parents, employees
Sangrur, June 6
A two-member inquiry committee appointed by the Union Ministry of Human Resources Development today questioned several persons, including students, parents and employees, regarding the violence that rocked the Sant Longowal Institute of Engineering and Technology (SLIET) campus at Longowal on May 6.
All-women bank at Patiala
Chandigarh, June 6 The State Bank of Patiala has started an all-women branch at Patiala to give a boost to its personal banking initiative. General Manager, Retail Network, M V Krishna said here today the existing personal banking branch at Patiala had been converted into an all-women branch following feedback received from account holders.
One dead as shelter at Sirhind railway station collapses
Fatehgarh Sahib, June 6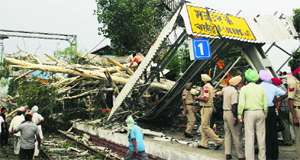 A commuter was killed and three were seriously injured when uprooted by a gale, a eucalyptus tree fell on the shelter of the Sirhind railway station this evening. The deceased was identified as Parkash Kaur, a resident of Bassi Pathana. Ramandeep Kaur alias Rani, wife of Head Constable Paramjit Singh posted with the CIA Staff, Sirhind, Puneet Lal of Madhubani in Bihar and his son Shankar were injured in the incident.
The collapsed shelter
Stone of lawyers' chambers laid
Ferozepur, June 6
District and Sessions Judge Fatehdeep Singh today laid the foundation stone of lawyers' chambers and inaugurated the drinking water facility on the premises of sub-divisional courts complex in Guruharsahai.
False case against two villagers
Sangrur SSP told to act against 2 police officers
Sangrur, June 6
Additional Sessions Judge-cum-Special Judge, Sangrur, Virinder Aggarwal has acquitted Tara Singh and Jagtar Singh, both residents of Herike village in the district, in a case of corruption registered against them at the Sherpur police station on August 12, 2011.
Three hurt as Patti truckers open fire during clash
Amritsar/Tarn Taran, June 6
The ongoing tussle between two groups of transporters over control of the Central Majha Truck Union at Patti turned bloody today.