star track

Not so perfect ending…
The glamour world often attracts everyone, but behind the glitzy curtain of showbiz lies the dark world where insecurities can often be a fatal flaw
Life was not a bed of roses for many actresses in Bollywood. With the sudden death of Jiah Khan, this reality has once again struck us. With no consistency in their personal and professional life, the stars in reality do not actually have the 'oh-so-perfect' life as projected in the media. Unfortunately some stories don't have a happy ending. We take a look at some of the beauties who left us a little too early.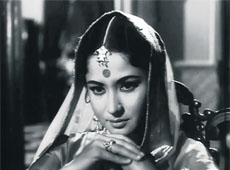 Meena Kumari
She was 40 years old when she died of cirrhosis of liver caused by excessive drinking. The saddest part was when she died, her super hit film Pakeezah was still running in all the theatres. She didn't even get a chance to see how much people loved her and appreciated her performance in the film.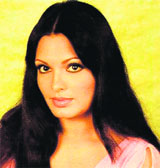 Parveen Babi
She had quite a sad death. She died in her Juhu residence. As she lived alone, nobody got a hint of what was in store for her. Her door was locked from inside, so the police had to break open the door and that's when they found her body three days after her death. It's still unclear if it was a natural death or a suicide case.
Madhubala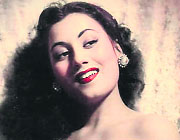 She is regarded as one of the most beautiful faces of Bollywood. This legendary actress too died at an early age of 36. Her performances in films like Mughal-E-Azam, Howra Bridge and Kaala Paani to name a few are remembered till date. The sad part was that she was surrounded by a number of people when she was a big name, but during her last days when she was bedridden, she had no one stood besides her. She died a lonely death.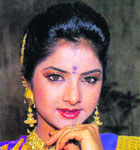 Divya Bharti
At the age of only 19, she fell to her death off a five storey apartment building in Mumbai, sadly ending a potentially successful career. She was secretly married to Sajid Nadiadwala. The situations behind her death were considered suspicious by the media. However, despite an investigation, police found no evidence that her death was a murder. To this day her death remains a mystery.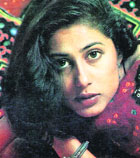 Smita Patil
The day Smita Patil passed away; it was a great loss for Bollywood. She died at an age of 31. She passed away after giving birth to her youngest son Pratiek Babbar, who is now an accomplished actor. Smita was not just an amazing actress but also a newsreader and a photographer.

Nafisa Joseph
A tall, lithe and strikingly beautiful, she won Miss India contest in 1997. Her poise and personality had the makings of a winner. A few nights before her death, she called off her marriage with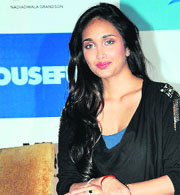 automobile parts businessman Gautam Kanduja. She committed suicide at the age of 26. Her mother blamed her fiancée for the suicide.
Jiah Khan
She committed suicide by hanging herself. Before committing suicide, Sooraj and Khan had called each other for more than 10 times and they had an argument. It was also revealed that she had tried to kill herself eight months before as well but doctor Anant Pal Singh saved her. She was only 25.
The blessed girl
Actress and fashionista Evelyn Sharma is on cloud nine. After the super success of Rohan Sippy's Nautanki Saala and her much-appreciated performance with Ayushmann Khurranna in the number Dil Ki Toh Lag Gayi; the girl is being noticed all over again in Bollywood's latest blockbuster Ayan Mukherji's Yeh Jawaani Hai Deewani.
And why not! "Starring with Ranbir is every girl's dream," beams the 23-year-old half-German half-Indian, who has received a positive response from public as well as the industry. Beautiful, charming, entertaining, sexy and appealing — are words the critics have used for her. "I've never played a sexy character like Lara before, and I admit all the flirting was a lot of fun," she gushes.
Apart from having set a mark as a fashion icon in India over the last few months, Evelyn has also become a sought-after face for campaigns. "Year 2013 has been Evelyn's best so far. And come to think of it; it's just her beginning. She is blessed," quips her publicist.
Meanwhile, Yeh Jawaani Hai Deewani continues to roar at the box-office, having joined the 100-crore-club, even before completing a one-week-run in theatres.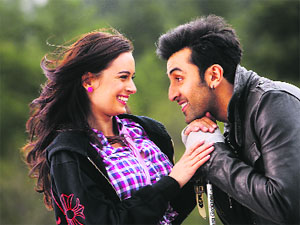 The worldwide net collections of the film as of now; are in the range of Rs 111-114 crores. In fact, YJHD even managed to break into the US Top 10 and was at the ninth spot over the weekend.
Evelyn has Issaq with Prateik Babbar coming up for release next month, followed by Yaariyaan; the directorial debut of T-Series' head honcho Bhushan Kumar's wife Divya Kumar; and Evelyn's fifth release in a year. Indeed, this chick is blessed!


Flirting fun: Evelyn Sharma with Ranbir Kapoor
Tamannah to romance Saif Ali Khan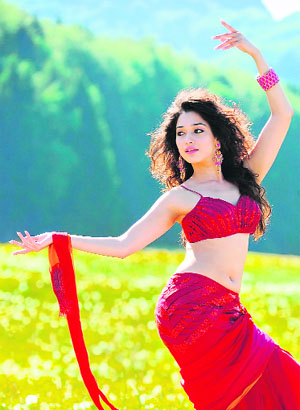 It seems like a good going for Tamannah in Bollywood. The heroine from the South Indian film industry got her first major break in Sajid Khan's comic action movie Himmatwala, which released this year. Her hero in the film was Ajay Devgan.
Though the film didn't do much at the box office, her performance was noted by the audience and the critics alike. Director Sajid Khan was so pleased with her performance that he has decided to cast her in his next film as well, opposite Saif Ali Khan.
The film is named as Humshakal and is heard to be the remake of Angoor (1982). Along with Saif; Riteish Deshmukh, Sonal Chauhan and Esha Gupta are also the part of the star cast of the upcoming movie.
The shooting for the film is scheduled to begin from September this year. The film promises to be a 'paisa wasool' for the viewers. Well, let's wait and watch!

Step up: Tamannah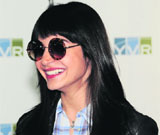 Zipping around
Anushka Sharma has bought to two new cars. Recently she wrapped up a shoot in the wee hours of the morning and enjoyed a ride back to the suburbs from South Mumbai. She drove herself.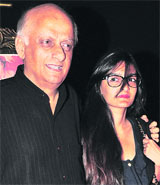 Fancy ride: Anushka Sharma
All in the family
Mukesh Bhatt's daughter Sakshi wants to become a producer when she grows up and has no interest in being in front of the camera. Her brother Vishesh is a director. Mukesh Bhatt is very excited that his daughter is following his footsteps and he would not be surprised if Alia Bhatt acts in a film produced by Sakshi and directed by Vishesh!
in dad's footsteps: Mukesh Bhatt with daughter Sakshi
Value what you have!
Nikhil Dwivedi is making himself useful. He raised his voice against wastage of food at an up-market restaurant which does not allow people to pack and takeaway the food and throws it away instead. He felt bad because he has been taught not to waste food and there are so many people dying of hunger and here food is being thrown away.
Desi Bond
After Ranbir wraps up Besharam and Bombay Velvet, he will start shooting for Vikram Singh's Roy in which he plays a brooding thief on the lines of James Bond.