Varun's a gadget guru

Varun Dhawan, who gathered a fan following for himself post Student of The Year, is addicted to technology and loves social networking too. He talks about the same as he has been roped in for a number of technology brands in the country.




Technology freak:

Varun Dhawan

Need of the hour
Nowadays, technology is not a hobby but the need of the hour. I have a busy schedule and I travel a lot because of my profession so I cannot watch TV or read newspapers. I rely on my mobile and tablet for everything.
Near and dear
Being connected and staying up-to-date with technology is the mantra of today's youth and I don't see anything wrong with it. We have so many channels of communication. Social media keeps us connected to our near and dear ones, no matter where they are and I am totally into it. You don't miss out on anybody's special occasions whether marriage, birthday, graduation, promotion, etc.
Facebook first
Facebook is a very important part of my life. I am proud to say that I am among the first few people who joined Facebook, way before it was launched in India. Facebook had just been launched and it was limited to campus use and it was more exclusive. I was studying in the UK and I was 16-years-old and I joined it.
In touch, always
I am on almost every second social media platform. I have a large group of friends across the world and we cannot always meet up and chat, so we bond via social media. I know what is going on in everyone's lives. Sometimes, people drop by too if they see my status mentioning that I am in their locality. Of course, meeting friends in person and enjoying a meal or a party has its own charm.
Working at it
My room is a den for gadgets. I love stocking up on gadgets related to music and movies. So I have cameras, video games, gaming gadgets, portable hard disks and other such inventions. The hard disk is very useful as I can carry information and entertainment wherever I go. I want a huge 3D television in my room now and I am working towards getting it.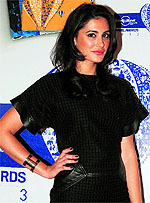 Nargis Fakhri's wanderlust
Nargis Fakhri loves to travel and has stayed in many countries around the world. She chose to become a model so that she could travel the world for free. She talks about her favourite destinations and shares some travel tips.



Going places: Nargis Fakhri
Single and loving it
I like travelling on my own and don't mind my friends coming with me. Being on your own gives you time to introspect. I have taken many vacations with friends but I want to go on a solo holiday now. I also think that many actors and actresses going on a holiday together will be fun!
Wild child
I remember visiting Costa Rica, a few years ago and it is a real paradise on earth, especially for nature and forest lovers like me. The rainforests have unique flora and fauna. There are so many adventure activities because there is the Caribbean Sea on one side and the Pacific Ocean on the other side. I loved my holiday in New Zealand too where I did jet-skiing, abseiling, water-rafting and caving.
All roads lead to Greece
I feel everyone ought to visit Greece at least once. There is great beauty, food, culture, music and very many tourist places over there. The people are amazing! You can settle in Greece, really! The islands and historic ruins are unmatched in their beauty and awesomeness. It has everything you need for a great holiday.
On the sidelines

Pooja Gupta, who plays a heroine in Shortcut Romeo, feels sidelined by Ameesha Patel during the promotional activities as Ameesha is going all out and hogging the limelight.
Second best: Pooja Gupta
Reading between the lines


Anushka Sharma and Sushant Sungh Rajput have left for Belgium to shoot for Peekay. He took along the book Young Titan: The Making of Winston Churchill by Michael Shelden and she took along a crime thriller novel called Dark Places by Gillian Flynn.


Flip mode: Sushant Singh Rajput
Bookworm: Anushka Sharma
Jackie Chan's India bound
Action superstar Jackie Chan, best known for Rush Hour series, The Myth and The Karate Kid, is all set to visit India this month as a part of the China Film Festival to be held in the capital.
Indo China Economic and Cultural Council (ICEC), State Administration of Press, Publication, Radio, Film and Television and People's Republic of China are jointly organising the China Film Festival, which will be held from June 18-23.
"Jackie Chan is visiting Delhi in conjunction with the China Film Festival. Chinese Zodiac, his latest film, also directed by him will be the opening film of the six-day festival. He is here as a part of a 20 member delegation visiting India," said Irfan Alam, member secretary, ICEC.
Chan will be a leading member of the delegation visiting India, along with actors and those involved in creating these moving images, from the Chinese film fraternity.
The film festival will offer a variety of films from alternative, contemporary, action, adventure, new age cinema to period dramas.
The 59-year-old had previously visited the country in 2008 to participate in, Kamal Hassan starrer, Dasavatharam's music release function. Chan worked with Indian actress Malika Sherawat in The Myth. — PTI
Kim Kardashian upset with Kanye West?
Pregnant reality TV star Kim Kardashian is reportedly upset with boyfriend Kanye West for throwing his birthday party in New York last week instead of LA.
The 32-year-old Keeping Up with the Kardashians star, who is no longer able to fly as she is due to give birth to the couple's first child early next month, is upset that the rapper celebrated his 36th birthday at a star-studded bash without her in New York City, reported a publication.
"Kim is so close to giving birth and she's big and uncomfortable and knowing Kanye partied with all of their friends really made her mad," a source said. The rapper celebrated with his friends including Beyonce, Jay-Z, Nas, Kourtney Kardashian at a restaurant, because he was performing at the Governor's Ball in the city.—PTI
Back door exit


Ranveer Singh and Deepika Padukone have kept everyone guessing about their relationship status.  They enjoyed a dinner together at a suburban restaurant in Mumbai and sneaked out from different exits. This amused the other guests.

Dinner date: Ranveer Singh
Guessing game: Deepika Padukone

Huma and the chocolate factory!
Huma Qureshi cannot cook even though her family runs a restaurant chain. She loves chocolate and would love to have a chocolate factory that serves chocolate delicacies.
Sweet nothings: Huma Qureshi
Hopping onto Hollywood
Neetu Chandra has, apparently, bagged a Hollywood film with director Joe Johnston. She was chosen because of her Indian features. She will go to Los Angeles next month to sign the contract. She auditioned via Skype.