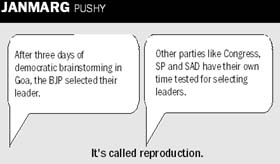 Nod to purchase 90 MW power
Chandigarh, June 12
A day after the Ministry of Power allocated around 30 MW of power to Chandigarh from its unallocated quota, the former today allowed the Administration to purchase 90 MW of power to meet the demand and supply gap. The UT Administration had demanded more financial power for the UT Administrator from the Ministry of Power in February this year to purchase power up to Rs 100 crore.


No power backup for generators
Chandigarh, June 12
The city is reeling under water crisis as the MC has failed to provide generators for power backup at over 200 tubewells. Water supply is affected whenever a power cut is imposed in the areas where the tubewells are installed.

The broken boundary wall and the tubewell in a bad condition in Sector 45 in Chandigarh. Tribune photo: Parvesh Chauhan

Employee caught stealing Rs 50,000 from Mansa Devi temple
Panchkula, June 12
An employee of the Mansa Devi Temple was today caught by a Home Guards volunteer when he was slipping away with a wad of Rs 50,000 from the temple. The accused has been identified as Sunil. The Home Guards volunteer informed the secretary of the shrine board and the police was called.
Temple employees counting the offerings. A file photo


Biker's world comes crashing down
Chandigarh, June 12
Nineteen-year-old Rishav, who had a passion for bikes, will never be able to ride one ever. Reason: His right leg was crushed under a car on Monday night and doctors had to amputate it.
Rishav's father Jaswinder Singh (right) and Gagandeep's father Arvinder Singh at the PGI; and the car that hit the victim's motorcycle. Tribune photos: Manoj Mahajan

Inspector's murder
Accused to be produced in city court today
Chandigarh, June 12
The suspended constable of the Chandigarh Police, Basant, and his accomplice Sarita, who allegedly killed a police inspector and injured a Home Guards volunteer, will be brought to the city on production warrants on Thursday under tight security.



Basant and Sarita

Valley youth gets gift of vision at PGI
Chandigarh, June 12
A decade after he lost his vision in a blast in 1994, 33-year-old Gowhar Altaf finds his native place in Anantnag more beautiful. Being lucky enough to find a donor, he regained vision and calls it nothing less than a rebirth.


Gowhar Altaf at the PGI on Wednesday. Tribune photo: S Chandan







Traffic signals across city in complete mess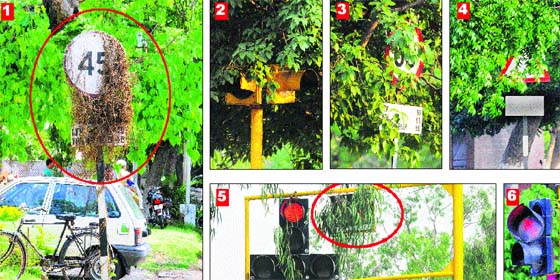 Systematic Chaos: (1) A speed limit signboard covered with wild grass in Sector 8; (2) Traffic lights covered with tree leaves in Sector 9 A; (3) Another speed limit signboard covered with tree leaves at the Sector 9/10 roundabout in Chandigarh; (4) A partially visible traffic signboard in Sector 27; (5) A traffic timer covered with branches of a tree in Sector 17; (6) A broken traffic light near the MC office, Sector 17, Chandigarh. Tribune photos: S Chandan
Community centres a shambles
Mohali, June 12
In the absence of any check and maintenance, the condition of community centres at Sector 71 and Phase VI here has been worsening day by day. Miscreants have stolen taps, showers, bulbs, tube lights, fans, manhole covers, etc. from the premises.
A car dumped in the unkept lawn of the community centre; and (right) stray dogs roam freely on its premises in Sector 71, Mohali. Tribune photos: Parvesh Chauhan
Broken windowpanes; and (right) toilets with damaged sinks and stolen taps at the community centre in Sector 56, Phase VI, in Mohali

Shortage of sand gravel
Mohali admn identifies 4 new mining sites
Mohali, June 12
To overcome the shortage of sand and gravel in the region, the Mohali administration has identified four new mining sites in the area. Three sites are located in Dera Bassi and one at Majri (Kharar).
A mining site at Sohana village in Mohali. Tribune photo: Vicky Gharu



UT Admn delays projects of Railways
Chandigarh, June 12
Due to lackadaisical approach of the UT Administration in clearing projects of the Railways in Chandigarh, a number of major plans have not seen the light of the day, yet.

The construction of road under the railway bridge is hanging fire at Halo Majra, Chandigarh. Tribune photo: Manoj Mahajan


GMADA officials gear up to deal with waterlogging
Mohali, June 12
With the monsoon fast approaching, the Greater Mohali Area Development Authority (GMADA) is racing against time to create 'water- holding' points in two residential areas to save residents from the misery caused by waterlogging.
20 nurses commissioned
Chandigarh, June 12
Twenty probationer nurses of the 44th batch of the School of Nursing, Command Hospital, Chandimandir, were commissioned as Lieutenants into the Military Nursing Service. Chief of Staff, Western Command, Lt Gen TS Gill presided over the commissioning ceremony.
PCS-HCS officers reshuffled in MC
Chandigarh, June 12
The Commissioner of the municipal corporation has reshuffled the departments of the PCS-HCS officers in the MC. In the reshuffling, key departments like enforcement and establishment have been taken back from Lalit Siwach, Additional Commissioner II, an HCS officer, and given to Sunil Bhatia, Additional Commissioner I, a PCS officer.


New block of cowshed inaugurated
Chandigarh, June 12
MC Commissioner Vivek Partap Singh today inaugurated the new block in the Sector 45 cowshed. The new block is maintained by a city-based NGO, Gauri Shankar Seva Dal. MC Commissioner Vivek Partap Singh said that arrangements made to accommodate cows were satisfactory.
MC Commissioner Vivek Pratap Singh inaugurates the new block of the cowshed in Sector 45, Chandigarh, on Wednesday. Tribune photo: Parvesh Chauhan
8-year-old boy electrocuted in Nehru Colony
Chandigarh, June 12
A eight-year-old boy died after he was electrocuted at his residence in Nehru Colony in Sector 58 on Wednesday evening. The police said, the deceased was identified as Sanju, son of a scrap dealer.
HEALTH NOTES
Forum set up
Chandigarh: The Infusion Nurses Society on Tuesday set up a forum to improve patient care in North India. Experts stressed on safe infusion practices to provide a platform to nurses and healthcare professionals to exchange the latest know-how about infusion therapy techniques.
CHANDIGARH SCAN
Nominated
Congress leader Prem Kumar has been nominated as the member of the Zonal Railway Users' Consultative Committee of the Northern Railway. Kumar is the general secretary of the Chandigarh Beopar Mandal. The committee works towards improving rail services. The panel comprises one representative each from Uttarakhand, Uttar Pradesh, Punjab, Haryana, Jammu & Kashmir, Himachal Pradesh and Delhi.


Laughing away the blues
Chandigarh, June 12
The Comedian of The Year Show at Tagore Theatre saw the 12 finalists tickling the funny bone of the audience today. Punjabi actor and comedian Mehar Mittal was the chief guest while theatre director Kuldeep Sharma, actor Surinder Sharma and theatre director Kamal Arora were the judges. The satire was the highlight of the show. The finalists were from Punjab, Haryana and Chandigarh. — TNS
A participant at The Comedian of The Year show at The Tagore Theatre in Chandigarh. Tribune photo: S Chandan





| | |
| --- | --- |
| Go Green: Children take part in a plantation drive organised by Panjab University Staff Club in Sector 14, Chandigarh, on Wednesday. A Tribune photograph | Illegal possession: Migrants encroach upon a footpath at Sector 9 in Panchkula. Tribune photo: Nitin Mittal |

class XI admissions
Huge response, limited number of seats in schools raise concern
Chandigarh, June 12
This year's admission process for Class XI is expected to put a lot of pressure on the existing infrastructure in government senior secondary schools of the city. Owing to a limited number of Class XI seats available in government schools, the massive response to the centralised admission process of the UT Education Department has raised serious concerns.


Students go through the prospectus for admission to Class XI at Government Girls Senior Secondary School in Sector 20, Chandigarh. Tribune photo: Manoj Mahajan
college admissions
PU to give weightage to NSS participation
Chandigarh, June 12
In a bid to encourage schoolchildren to participate in National Service Scheme (NSS), Panjab University has decided to give special weightage to NSS volunteers during admissions to colleges and university. The varsity has sent a letter to all the affiliated colleges in the city in this regard.


Broadening horizons, inculcating values
Established in 1981, the college is one of the pioneer institutes dedicated to the cause of women education. It is a multi-faculty institute which endeavours to impart holistic education to students by instilling in them ethical and high moral values.
Dev Samaj College for Women, Sector 45, Chandigarh

Gogol's play staged at Panjab University
Chandigarh, June 12
Students of the Department of Indian Theatre today staged Russian dramatist Nikolai Gogol's play Revizor (The Inspector General) on the department premises at Panjab University. The play, designed and directed by Professor Mahendra Kumar, was based on the translated version of the 150-year-old text.
Students enact a play, The Inspector General, at the department of Indian theatre in Panjab University, Chandigarh, on Wednesday. Tribune Photo: S Chandan
Banur varsity introduces marine engg
Chandigarh, June 12
Banur-based Gurukul Vidyapeeth University today launched a course in marine engineering. Chairman of the institute Manmohan Kumar Garg said the AICET approved BTech course would be as per the NDA norms.
FROM SCHOOLS
Summer camp concludes
Chandigarh: Thoda Masti Thoda Fun Summer Camp held at Saupin's School concluded on Wednesday. Over 20 children participated in several activities during this camp. The two-week camp, conducted by Rahul Gupta, trained children in dance, art and craft besides other activities.