Boundary wall of school razed in Sonepat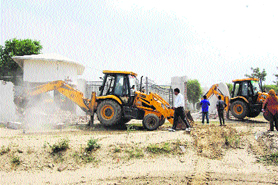 Sonepat, June 14
The demolition squad of the Department of Country and Town Planning demolished unauthorised construction at Golden Era Public School, Rathdhana Road, today. A number of constructions, including 40 structures in an unauthorised colony opposite the school were also demolished.


The boundary wall of the Bright Era Public School on the Rathdhana road being razed in Sonepat on Friday. Photo by writer

Two arrested for duping trader of Rs 5 lakh
Sirsa, June 14
The Sirsa Police today arrested two persons for duping a trader on a promise to get him appointed as a reporter of a news channel. The accused Sukhchain and Nachhatar, both residents of Tohana town of Fatehabad, allegedly cheated a trader Sonu Grover, a resident of Rania, by taking Rs 5 lakh from him for getting him placed as head of a Haryana news channel. A case was registered against the accused under Sections 419, 420, 467, 468, 471 and 120B, IPC, on the complaint of Sonu logged with the city police station, Sirsa, on December 24, 2012. The police said raids were being conducted in the city to nab the other accused.
3 booked for duping man of Rs 42 lakh
Rohtak, June 14
Three persons, including a manager of a private firm, have been arrested for duping a person of Rs 42 lakh. The registration of the case follows an inquiry conducted by a DSP on the directions issued by the IG, Rohtak Range, in response to a complaint lodged by the complainant recently.
10 more luxury buses for Gurgaon soon
Chandigarh, June 14
Haryana Roadways plans to upgrade its fleet of buses by adding 10 luxury Volvo buses for Gurgaon under the Gurgaon city service. Director General, Haryana Transport Department, Arun Kumar, said: "Currently Haryana Roadways is plying 100 buses each in two shifts in city service, out of which 40 buses are semi-low floor Ashok Leyland and rest are standard ordinary buses especially designed for city operations. Presently these buses carry about one-lakh passengers and cover an area of 22,000 km on 15 routes in a day."
Met dept forecasts scattered rains
Hisar, June 14
The scattered rains in the region continuing since the past three days may last for a little longer. The Agriculture Meteorology Department of Chaudhary Charan Singh Haryana Agriculture University (CCSHAU) has predicted possibility of light rains up to June 18 with moderate winds at isolated places.
Twin sisters honoured for scaling Everest
Sonepat, June 14
Chief Minister Bhupinder Singh Hooda has congratulated twin sisters Tashi Malik and Nungshi Malik of Anwali village of Sonepat district for setting up a new world record in mountaineering by climbing Mount Everest. Hooda said the state was proud of their achievement.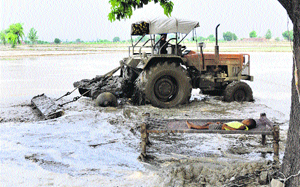 A child sleeps on a cot as his father prepares his field for paddy transplantation at Gharunda in Karnal on Friday. Tribune photo: Ravi Kumar

Couple found dead
Hisar, June 14
The bodies of 28-year-old woman and her brother-in-law Amit, 30, from Bapora village of Bhiwani were found in the fields of Dhana village of Hisar on the Delhi road near Hansi today. A pack of Celphos tablets was found near the two bodies. Amit's motorcycle was also recovered near the bodies.
Woman raped in moving vehicle
Bhiwani, June 14
A woman from Atela village in Bhiwani was allegedly raped by a youth in a moving vehicle. Two other accused in the car overpowered and gagged her and the third accused raped her. The accused threw her out of the vehicle after committing the crime. The victim was also molested by the driver of the car. The incident took place when the victim got into a taxi on her way back home after visiting a doctor at Loharu. SHO Ramesh Kumar Allawadhi said, the identity of the accused is yet to be ascertained. The victim alleged she boarded a Bolero-make vehicle which was waiting for passengers. The driver drove the vehicle as she got in. Three youths and the driver started molesting her, she alleged. — TNS
No challans for Haryana buses
Chandigarh June 14
Director General, Haryana Transport Department, Arun Kumar, has appealed to the Haryana Roadways employees not to cause inconvenience to the passengers by stopping their Delhi bus services. He said he had already taken up the matter with the Delhi Police, which had assured not to challan the buses in next few days. Arun said the Delhi Police had also assured that the challans would be issued only after video recording of buses. A nodal officer would also be designated on behalf of the Delhi Police and in case of any inappropriate challan, grievance could be taken up with him, he added. — TNS
Chief Secy may get extension
Chandigarh, June 14
Haryana Chief Secretary PK Chaudhery, who is due to retire on June 30, is likely to get an extension. According to the sources, Choudhery, a 1977 batch IAS officer, is slated to get an extension for a period of three months following which, the state government would decide his successor. Chaudhery came back from a Central deputation to join as Chief Secretary on April 1 last year superseding his two batchmates — Raj Kumar Kumar and Krishna Mohan. While Raj Kumar retired last year, Krishna Mohan will retire on September 30. — TNS