PUNJAB

HARYANA

JAMMU & KASHMIR

HIMACHAL

REGIONAL BRIEFS

NATION

OPINIONS

LETTERS

BUSINESS

SPORTS

WORLD


M A I N N E W S
JD(U) parts ways with BJP
Jitters for NDA as JD(U) dumps 17-yr-old ally after Modi elevation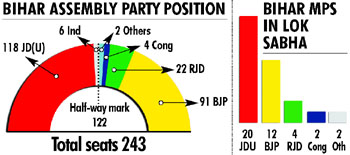 Patna, June 16
Denting the NDA ahead of the 2014 Lok Sabha elections, the JD(U) today parted ways with the BJP in Bihar to protest against the elevation of Narendra Modi, bringing to an end a 17-year-old alliance that had held firm in national politics.
The NDA is now left with only three constituents — the BJP, the Shiv Sena and the Shiromani Akali Dal (SAD).


We decided that it is not possible to walk together. So we have to chart a different path for the JD(U)
— Sharad Yadav, JDU chief
We cannot compromise with our basic principles. We are not worried about the consequences
— Nitish Kumar, Bihar CM
All BJP ministers sacked in Bihar

Heading the 8-year-old coalition in Bihar, the JD (U), which doesn't need the BJP support to run the government, removed 11 ministers of the saffron party from the state Cabinet


The party also decided to seek a vote of confidence on June 19 in the wake of "new situation"
Today, not only has the alliance broken, but our hearts are broken
— Sanjay Raut, Shiv Sena
The NDA has been certainly fractured but it is a temporary setback
— Naresh Gujral, SAD MP
We are saddened by what has happened. It has weakened our stance against Congress
— Rajnath Singh, BJP chief
JD(U) president Sharad Yadav and Bihar Chief Minister Nitish Kumar announced the breakup at a press conference, exactly a week after Modi was made the BJP's campaign committee chairman. Yadav also quit as NDA convenor.
"We cannot compromise with our basic principles. We are not worried about the consequences. The BJP is going through a new phase. As long as there was no external interference in the Bihar alliance, it ran smoothly. Problems began whenever there was external interference," Kumar said without taking Modi's name even once in the half-an-hour press conference.
Though JD(U)'s decision comes a week after Modi's elevation in Goa, the party's National Council had a few months ago set a deadline of December asking the BJP to name its PM candidate. The party has always made its aversion to Modi clear on a number of occasions. Kumar had three years ago cancelled a dinner with senior BJP leaders, including LK Advani because of Modi's presence.
When asked whether he was referring to Modi, Kumar said: "Those who understand have understood, those who don't are naive". In an indirect reference to Modi's new appointment in the BJP, Kumar said that there was no problem when the late Pramod Mahajan and Arun Jaitley were made campaign committee chiefs in the past. "Everybody knew what were our basic concerns," he said in an apparent reference his and his party's serious reservations over projecting Modi. In the 243-member Assembly, the JD (U) has 118 MLAs and BJP 91. The JD (U) just needs four MLAs for a majority. Independents and 'others' account for 6 MLAs. The main Opposition RJD has 22 and the Congress four. Yadav told reporters that the decision was taken "to honour the sentiment of party workers and leaders who were not in agreement with the brand of politics practised by the coalition partner in the past 7-8 months. "We decided that now it is not possible to walk together and decided to chart a different path for the JD(U)," he said. Kumar said he has recommended to Governor D Patil sacking 11 of ministers from his government in Bihar as they were not discharging function as ministers for the past few days and also did not attend Cabinet meeting called today. The 90-minute JD(U) meeting today passed a three-page resolution on political situation and circumstances pushing it to sever ties with the BJP While Congress vice president Rahul Gandhi has said that senior leaders of the party would decide whether to bring the JD(U) within the UPA fold, one of his party MLAs Tausheef Alam has made a strong pitch for supporting Nitish Kumar government after the split to strengthen secular forces. — PTI