LIFE+STYLE

CHANDIGARH

LUDHIANA

BATHINDA

JALANDHAR

AMRITSAR TRIBUNE

JALANDHAR TRIBUNE

BATHINDA TRIBUNE

JAMMU TRIBUNE

KASHMIR TRIBUNE

DELHI

DEHRADUN

DEHRADUN PLUS
Cong makes key changes, Cabinet expansion today
Ministerial berths likely for Oscar Fernandes, Birender Singh
New Delhi, June 16
The Congress today effected major organisational changes as it prepared to reshuffle the Union Council of Ministers on Monday, hoping these changes will inject new enthusiasm into the party and provide greater momentum to governance in the run-up to the 2014 Lok Sabha polls.

India-made trucks may push Tatra out
Will ramp up indigenous production and reduce Army's dependence on foreign vendors
New Delhi, June 16
Considered as the 'backbone' of the Indian Army's rapid response to any attack along the western front for long, the Czech-built Tatra trucks may not be purchased from now on. The reason: India-built trucks have now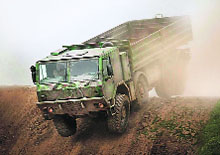 improved a lot and could be selected for forthcoming expansion drive or replacements for Tatra trucks, resulting in saving foreign exchange and unhinging India's reliance on foreign suppliers.
ON WAY OUT: An 8X8 heavy duty universal cargo/troop carrier from the house of Tatra.

OTHER PAGES

PUNJAB: SAD 'solidly' behind BJP: Badal


HIMACHAL: War of words between Sukhu, Dhumal


CHANDIGARH: Monsoon is here, early


LUDHIANA: Youth drowns in Sutlej


DELHI: Central funds needed in case of vertical growth of city: Lovely


Business:

SEBI finalising new anti-money laundering guidelines

OPINIONS: Pak for Indian power


NATION: JD(U) split an insult to 2010 coalition mandate, says BJP


SPORTS: Fanning the fires in stands and streets

WORLD: Car bombs, shooting kill 30 in Iraq


The tribune guide to best colleges

Budget
2013-14

INDIA CHINA WAR 50 YEAR LATER

YEAREND SPECIAL: 2012

Year of survival

The tribune 130 years
a witness to history
book released by prime minister manmohan singh

Guide to best colleges

Results of Punjab Assembly Polls 2012

HIMACHAL VOTES 2012

EARLIER FEATURES
Oil on mind, Khurshid to visit Iraq this week
New Delhi, June 16
After China, it's India's turn to woo oil-rich Iraq to meet its growing energy needs. With Indian imports of crude from Iran dipping by the day, External Affairs Minister Salman Khurshid is heading to Iraq this week to discuss the possibility of increasing oil imports from the Arab nation.

Monsoon arrives in Haryana, Punjab a fortnight early
New Delhi, June 16
Monsoon today roared into Delhi and hit Punjab and Haryana almost a fortnight in advance as heavy rains lashed northern India, driving away the heat and spreading cheer among the people. Strong easterlies pushed the monsoon clouds over the national capital with seasonal rains now having covered the entire country almost a month in advance, MeT officials said. "Monsoon reached Delhi today and also covered the entire country," said IMD director Brahm Prakash Yadav. The normal date for the arrival of monsoon in Delhi is June 29.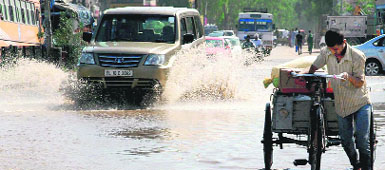 Rain lashed Chandigarh and its vicinity on Sunday. A Tribune photograph

Party to decide on JD(U): Rahul
June 16, 2013
Nitish calls alliance with BJP difficult; signals split
June 15, 2013
Govt defers food Bill ordinance
June 14, 2013
Modi's rise puts BJP-JD(U) alliance on the rocks
June 13, 2013
RSS steps in, Advani withdraws resignation
June 12, 2013
Modi vs Advani: BJP plunges into crisis
June 11, 2013
Modi prevails, gets top BJP poll post
June 10, 2013
Storm in BJP intensifies over Modi
June 9, 2013
Nod to Amritsar-Kolkata industrial link
June 8, 2013
Kundra placed IPL bets: Police
June 7, 2013